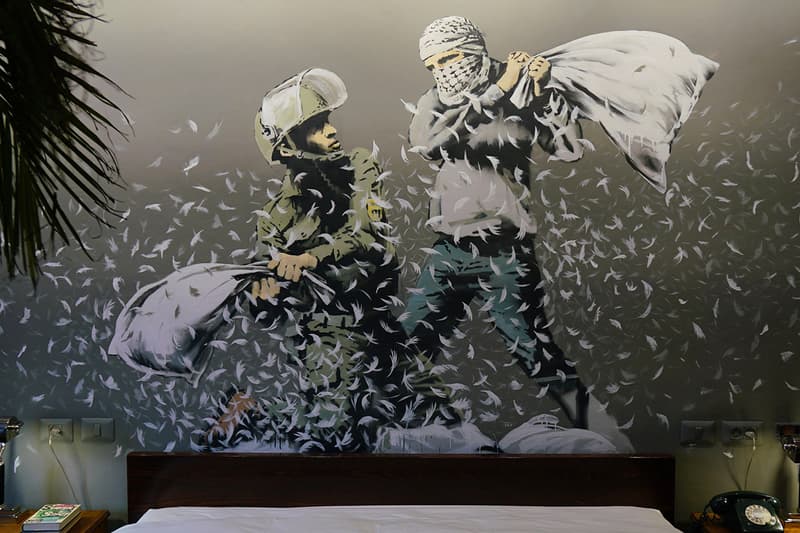 Banksy's Gift Shop, JR's Politically-Charged Mural & More Noteworthy Art Stories
Including rare portraits of JAY-Z, Kendrick Lamar, and more.
---
There is never a shortage of enthralling artworks to be seen across the globe. This past week alone was filled with news of world-renowned artists opening new shows and even creating monumental pieces that are equally eye-catching as they are thought-provoking. One example is JR's politically-charged plaster of a Mexican toddler in Tecate, Mexico overlooking the southeastern San Diego County in California. The piece was erected the same week President Trump proclaimed that he would eliminate a program that permitted young immigrants who arrived in America illegally as children to live in the United States.
From Bethlehem to Paris, view a list of notable, international art stories below, and then let us know your thoughts.
Banksy's Gift Shop at the Walled off Hotel
In a series of recent Instagram posts, Banksy unveiled the official gift shop for his Walled Off Hotel situated directly across from the Israeli security border in the West Bank city of Bethlehem. The announcement spotlighted a series of mini-souvenirs inspired by the elusive artist's acclaimed artworks such as his Flying Balloon Girl stencil and a military-grade grappling hook made out of a crucifix. Head over to the Walled Off Hotel's official website to learn more.
JR's Politically-Charged Portrait Mural at U.S.-Mexico Border
Storied French artist JR has erected a large-scale portrait mural at the U.S.-Mexico border. The artwork—which was inspired by a young Mexican boy named Kikito—is a response to President Trump's controversial decision to construct a wall between Mexico and America. The piece is currently located in Tecate, Mexico. Head over to JR's official Instagram page to stay updated on his latest works.
Daniel Arsham's Long-Anticipated Future Relic 08
Last week, Daniel Arsham finally released the Future Relic 08 which was inspired by a vintage Panasonic radio. As with the previous pieces, the decaying boombox is displayed in EVA foam inside a white box and comes complete with a pair of art-handling gloves. All in all, the art object marks the second to last installment of the coveted series.
Tom Sachs's "Objects of Devotion" Exhibit in NYC
Earlier this September, Tom Sachs launched his "Objects of Devotion" exhibit at the Sperone Westwater gallery in New York City. The presentation spotlights a plethora of Sachs's handmade sculptures that were built from common materials such as plywood, Tyvek and other hardware. Standout pieces in the exhibit include The Cabinet (2014) wall-mounted sculpture that was constructed out of Con Edison barriers, rock samples from his Space Program 2.0: MARS (2012) installation, and the McMaster/Toilette Paper Holder (1996) sculpture. "Objects of Devotion" is currently on view at the Sperone Westwater gallery until October 28.
"Objects of Devotion" is currently on view at the Sperone Westwater gallery until October 28.
Sperone Westwater

257 Bowery
New York, NY 10002
Ari Marcopoulos's "Machine" Exhibit in Paris
Seasoned photographer Ari Marcopoulos currently has a show dubbed "Machine" at the Frank Elbaz Gallery in Paris, France. The exhibit is essentially a retrospective containing archival images from Marcopoulos's extensive portfolio. JAY-Z, Kendrick Lamar, and The Beastie Boys are just a few A-list talents showcased in a striking series of portraits taken by Marcopoulos in the past couple of years. Accompanying the photos is a sizable eight-channel video installation that spotlights several of the artist's intimate short films.
"Machine" is currently on view up until October 14.
Frank Elbaz Gallery
66 Rue de Turenne,
Paris, France
75003