The City Guide to Jerusalem
Where to Eat, Sleep & Play in the Holy City.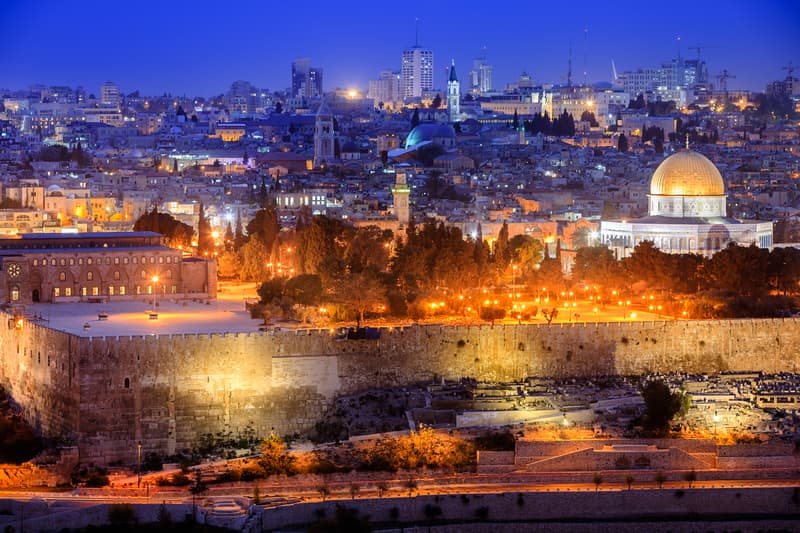 Jerusalem is a historical ancient city revered for millennia and home to the sacred spots of the world's three largest monotheistic religions of Judaism, Christianity and Islam. Less than an hour drive from Tel Aviv, the city of Jerusalem feels a world apart and has its own unique atmosphere, offering a breath of fresh air. While the city certainly has a reputation for its religious focus, Jerusalem also has a vibrant art, luxury hospitality and culinary scene perfect for a relaxing getaway worth worshiping.
Jerusalem's artsy crowd stems from the Bezalel Academy of Arts and Design, regarded as one of the world's top art schools. Its large community of students and alumni add flavor to the greater urban population, itself a colorful and multicultural space of varying faiths and cultures.
Meanwhile, numerous hipster pockets have formed throughout the city, bringing a bit of Tel Aviv joie de vivre to the sacred terrain. With art galleries, speakeasies, artisanal shops, museums and numerous design festivals, culture aficionados will fit right in to this beautiful limestone-adorned city.
Where to Dine:
Cafe Bezalel
Wake up, don your shades, and head to Cafe Bezalel, a buzzing brunch spot with a design-minded clientele. Enjoy an espresso, incredible breakfast or lunch and selection of design magazines while people-watching in the cobblestoned alleyway of lower Bezalel Street. Did we mention it's open on Shabbat for Saturday brunch?
Address: Bezalel St 8
Azura Iraqi restaurant
A no frills family-run hideaway in the Machane Yehuda marketplace offering some of the best Middle Eastern food in the country. Take a break from the hustle of the marketplace, gather your pita and dive into the world-famous hummus along with other classic dishes like salads, dips, meats, shakshukas and other Middle Eastern staples.
Address: Ha-Eshkol St 4
Talbiye
A posh retreat in the upscale neighborhood of Talbiya, home to the President's crib, and a short walk to the Prime Minister's residence. This beautiful restaurant and wine bar belongs to Jerusalem and London hospitality heavyweight, MachneYuda Group. The intimate and nostalgic European interiors and atmosphere are the perfect host for a glorious meal and cocktail from morning to evening.
Address: Chopin St 5
Adom Restaurant
Adom is a sleek restaurant and wine bar located in Jerusalem's "First Station," a former historical train station transformed into a brand-new leisure piazza with boutiques, restaurants and bars, and a continuous park trail created from the now-defunct railway tracks. Adom's refined menu features delicious in-house aged meats, seafood, fish, gnocchi, fresh pasta and risotto along with daily seasonal specials crafted by chefs Moti Davis and Elran Buzaglo.
Address: David Remez St 4
Mona Restaurant
Located inside the upscale Jerusalem Artists' House, this intimate and rustic garden bistro run by chef-owners Moshe Gamlieli and Itamar Navon serves a modern Israeli cuisine for the refined palette. Start with dishes such as Red Tuna Sashimi, Mushroom Polenta and Tartare de Boeuf and finish with Hangar Steak, Lamb Ragout Pappardelle and Fish Fillet. Meals complimented by a top wine menu and Pierre Huet Pear Cider.
Address: Shmu'el ha-Nagid St 12
Café de Paris
Situated in the heart of the Rehavia neighborhood and nearby "Paris Square," this European-styled café serves a dairy-focused kosher cuisine by Chef Marcus Gershkovich. Enjoy classic Israeli breakfasts, French brioche, Eggs Benedict, delectable salads, fish, pizzas and vegan breakfasts. Later grab coffee at the attached sister bakery, Grand Café and enjoy pastries, desserts, cakes, French baguettes and artisanal challah.
Address: Sderot Ben Maimon 1
Where to Art:
The Museum For Islamic Art
The Museum For Islamic Art opened its doors in 1974 and features one of the most important permanent collections of Islamic art in the world, with art objects and archaeological artifacts from the 7th to 19th-centuries. The Museum was established by Vera Bryce Salomons to cultivate cultural dialogue and become a bridge between Arab and Jewish cultures. In addition to the permanent collection, the museum hosts a rotating exhibition schedule showcasing art and artists from across the Muslim world. The basement also holds one of the globe's most extensive watch and clock collections, with masterpieces from Breguet, including Marie Antoinette's watch.
Address: HaPalmach St 2
Jerusalem Artist's House
Head to the Jerusalem Artist's House for a constantly curated (and free) exhibition space showcasing the latest innovative work by young and emerging Israeli artists. The Ottoman-era building was the original home of the Bezalel Academy of Arts and Design, founded by Boris Schatz in 1906 and since 1965 has served as the home of the Association of Painters Sculptures – Jerusalem Artists. The space serves as a career-launching platform for art school graduates and hosts the Biennale for Contemporary Drawing in Israel.
Address: Shmu'el ha-Nagid St 12
Terra Sancta Museum
The newly renovated Terra Sancta Museum is run by the Franciscan convent and lies within the Old City of Jerusalem along the Christian pilgrimage route of the Via Dolorosa. At the second station of Flagellation lies a brand-new Multimedia wing with a 15-minute interactive tour and light show taking guests through the history of Jerusalem, beginning with the birth and life of Jesus through present day Christianity and touching upon spirituality and religion through a historical-archaeological lens.
Address: Via Dolorosa St 1
The Israel Museum, Jerusalem
For world-class art, look no further than the Israel Museum, Jerusalem, regarded as the country's premier art institution. The Museum houses ancient artifacts along with a stellar contemporary art collection and rotating exhibitions from the likes of Giacometti, Picasso and most recently, Ai Wei Wei. Spread over 20 sprawling acres, the Museum's Archaeology, Fine Arts, Jewish Art and Life Wings hold encyclopedic collections dating from prehistory to the present—as well as the most extensive collection of biblical archaeology in the world.
Address: Derech Ruppin
Jerusalem Design Week
Jerusalem Design Week occurs every June and features seven days of events and exhibits organized by the Design Center of Jerusalem. The event hosts 150 designers from around the globe to showcase exhibits, projects and displays throughout various artist enclaves and museums in Jerusalem. The must-see venues include Hansen House, Bezeq Building, Museum of Nature, The Museum For Islamic Art and a number of public spaces. The week is complimented by film screenings, lectures, meetings and workshops.
Where to Sleep:
Villa Brown Jerusalem
Villa Brown, the Jerusalem outpost of Tel Aviv's Brown Hotels Group, introduces contemporary boutique luxury to the ancient city. This picturesque 19th-Century villa has been transformed into a 24-room hotel along with a garden bistro-café, rooftop spa and terrace, meeting center, library and a unique underground "Cave Bar." The property merges Neoclassical, Ottoman and Eclectic-design-styles with contemporary interior influences of velvety red, emerald, and mauve adorning the public and private spaces. Overlooking the Ethiopian Church, the hotel is just a five-minute walk to the Old City Walls and city center.
Address: Ha-Nevi'im St 54
David Citadel Hotel
Situated in Jerusalem's city center — overlooking the beautiful Old City Walls and Tower of David — the David Citadel Hotel is the hotel of choice for highly-esteemed guests, politicians, and celebrities including the Clintons and Kardashian-Wests. The 385-spacious rooms and suites, along the with the outdoor swimming pool, spa, fitness classes and fine dining options, make it the perfect choice for a balanced stay of relaxation and adventure.
Address: King David 7'
Bezalel Hotel
Bezalel Hotel is a 37-room urban boutique property housed within a restored landmark building and situated steps away from the bustling Machane Yehuda market, Bezalel Street, and the Bezalel Academy of Arts and Design's School of Architecture. The hotel pays homage to Israeli culture and design with original furnishings, local craft and a contemporary art collection to ensure a visually satisfying stay and the perfect launch pad for enjoying the best of Jerusalem's cultural scene.
Address: Mesilat Yesharim St 1
Where to Drink:
Gatsby Bar
While liquor certainly is not illegal in the Holy City, this Jerusalem hidden speakeasy will transport you to a luxurious retreat away from the outside commotion…that is, if you can find it. Head to Hillel St. 18 and locate the unmarked entrance where you'll be lead behind the secret bookcase passageway to the dimly lit and sensuous salon. Dapper mixologists will concoct you one of the best cocktail in the Middle East.
Address: Hillel St 18
Mamilla Hotel Rooftop
Act like you belong and ride the elevator up to the luxury hotel's rooftop for a panoramic view of the Jerusalem skyline. Standing at the crossroads of the Old City and Modern Jerusalem, this stunning vantage point is best enjoyed at sunset along with libations from the expert barmen. Have a drink and head a few flights down to worship your mind and soul at the hotel's Akasha Spa.
Address: Shlomo ha-Melekh St 11
Toy Bar
Get your boogie on at this miniature Jerusalem nightclub without any pretension. A duplex establishment offers an upstairs bar area for schmoozing, boozing and noshing, and a more vibrant downstairs lounge and dance floor for those preferring a more lively evening. A favorite among the city's student population, Toy Bar is a staple for great music and alcohol at reasonable prices.
Address: Dhu Nuwas Street 6
Where to Shop:
Gili's Skate Shop
Gili's opened its doors in 2002 and is Jerusalem's original skate shop. The shop has become the de-facto epicenter of the skater scene and a favorite around the country for its support of the larger skateboard scene in Israel. Pop in and score your boards, wheels, kicks and accessories before heading to the concrete skate park at Jerusalem's Gan Sacher park or skater hangout at Safra Square on Jaffa Street.
Address: Queen Shlomzion 11
First Floor
First Floor rests along the trendy Bezalel Street in Jerusalem's city center and is a hub for designers to create, manufacture and sell their work. Nestled within Nocturno Café, this full floor shop features the products of more than 19 Israeli designers selling clothing, jewelry and home styling. First Floor creates a dialogue between customer and designer, introducing a new consumer experience to view and purchase direct products from the resident leather goods shop, jewelry atelier and dress shop.
Address: Bezalel 7
Sophia
Next door on Bezalel street is Sophia, a cozy Israeli design boutique with one-of-a-kind fashion forward clothing, shades, jewelry, bags, shoes and accessories. The selection includes items made from more than 65 local designers, perfect for a truly unique souvenir.
Address: Bezalel 2
Parallel Studio Shop
An innovative studio workshop and store run by four Jerusalemites, two clothing designers (Adi Yair & Anton Strisko), a leatherworker (ALUSH) and silversmith (BAARA Jewelry). Shop the studio, interact with the designers, and get a behind-the-scenes look at the creative process behind all the products sold.
Address: Kiakh Street 5
Israel Museum Gift Shop
The Israel Museum Gift Shop is a must for design-lovers. Browse the ornate and innovative Judaica, jewelry, Dead Sea scrolls replicas and art pieces, or purchase vintage posters and art books from the Museum's current and past exhibitions. The collection spans such diverse and colorful topics as Hebrew typography, Bauhaus architecture, Middle Eastern art, ancient archaeology, fashion photography and contemporary art.
Address: Derech Ruppin 11