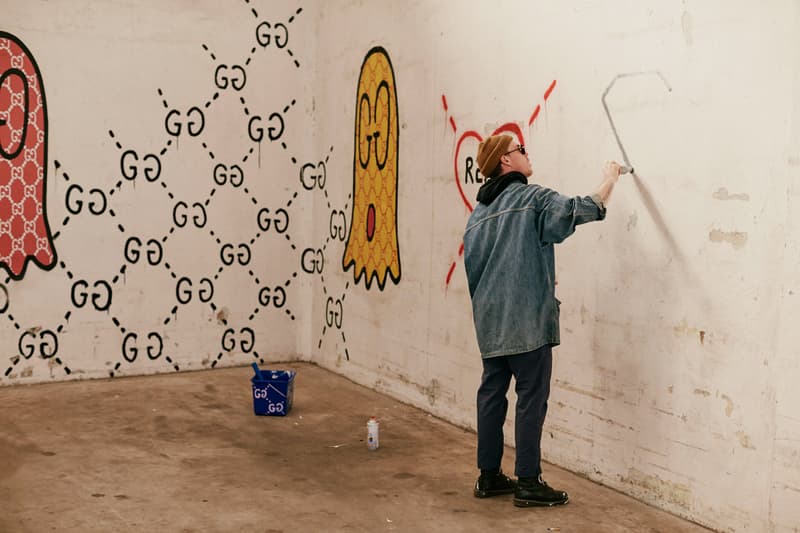 The Man Behind GucciGhost, Ai Weiwei's Security Fences & More Must-See Artwork
Including the world's largest outdoor photo exhibition.
---
Artists often utilize works of art as a form of inspiring political change. Take for instance Ai Weiwei's upcoming "Good Fences Make Good Neighbors" project. The outdoor exhibit is comprised of security fences that will be placed in over 300 spots across NYC's five boroughs. The sizable showcase may seem to be a reaction to Donald Trump's U.S.-Mexico border wall, but it's actually an overarching reaction to the international migration crisis. Moreover, Istanbul-based photographer Serdar Bilgili's massive photo exhibit on the facade of a luxury building could also hold political connotations as it deals with community relations (in a more positive light as compared to Ai Weiwei's).
From Ai Weiwei's politically-driven installation to Daniel Arsham's enthralling "Lunar Garden," here's a list of new and occurring artwork.
The World's Largest Outdoor Photo Exhibit
Istanbul-based photographer/sports executive, Serdar Bilgili, is currently developing what may just be the world's largest outdoor photo exhibit in the Nişantaşı neighborhood of the Turkish capital. Portraits of the country's leading fashion designers, architects, and even antique dealers are embellished on the expanding facade of VK108—a luxury skyscraper undergoing construction that will span approximately 67 meters (220,000 feet) once completed.
To learn more about the The Portraits of Nisantasi, visit VK108's official website.
Ai Weiwei's Sprawling Security Fence Installation in NYC
Ai Weiwei and the Public Art Fund will build a large-scale exhibition across all five New York City boroughs. Titled "Good Fences Make Good Neighbors," the acclaimed Chinese artist/activist will install security fences that occupy approximately 300 locations in the Big Apple. Furthermore, a series of individual artworks will also be on display.
"Good Fences Make Good Neighbors" will launch on October 12 up until February 11. Head over to the Public Art Fund's website as well as the Kickstarter campaign to learn more.
Daniel Arsham Brings His Lunar Garden to New York City
Daniel Arsham has partnered with art/fashion publication Visionaire to create a new immersive exhibit called "Lunar Garden." The forthcoming presentation will be located at 330 Hudson Street in New York City. As a whole, Arsham has reimagined a traditional Japanese Zen garden using a pink sand gradient for the very first time.
"After spending many years traveling to Japan I became fascinated with the dry gardens in Kyoto – specifically the way in which the gardens are permanent yet completely ephemeral and remade every day. I was also intrigued by the way light catches the patterns that are raked in the gardens. With the introduction of color into my work in 2016 I began to experiment with color gradients across these gardens," said Arsham in a statement.
"Lunar Garden" will launch on September 5.
Gallery at Cadillac House
330 Hudson St.
Manhattan, NY 10013
"Trouble" Andrew's "The Real Buy" Exhibit at Milk Gallery
Artist Trevor "Trouble" Andrew—famously known for his GucciGhost project—is set to launch a New York Fashion Week exhibit called "The Real Buy" at Milk Gallery in New York City. Andrew's forthcoming showcase "crosses the boundaries between art installation, live event and looks inside Trevor's work space," said the gallery in a statement. Conclusively, visitors will get a firsthand look at the artist's signature DIY process and learn how he reimagined Gucci's logo.
"The Real Buy" will launch on September 6 up until September 23. Head over to Milk Gallery's official website to learn more about the exhibit.
Milk Gallery
450 W. 15th St.
New York, NY 10011
Neckface Teams up With Baker on a Limited Series of Skate Decks
Street artist Neckface has once again teamed up with iconic skate imprint Baker on a limited capsule comprised of three unique skate decks and one long-sleeve T-shirt. Altogether, the items in the capsule feature the California creative's heavy metal-inspired motifs spanning scratched skulls, monster-like hands and distorted typography.
Take a look at the skate decks above and view the full Necklace collection at Baker's official website. Prices range approximately between $28 USD and $150 USD.