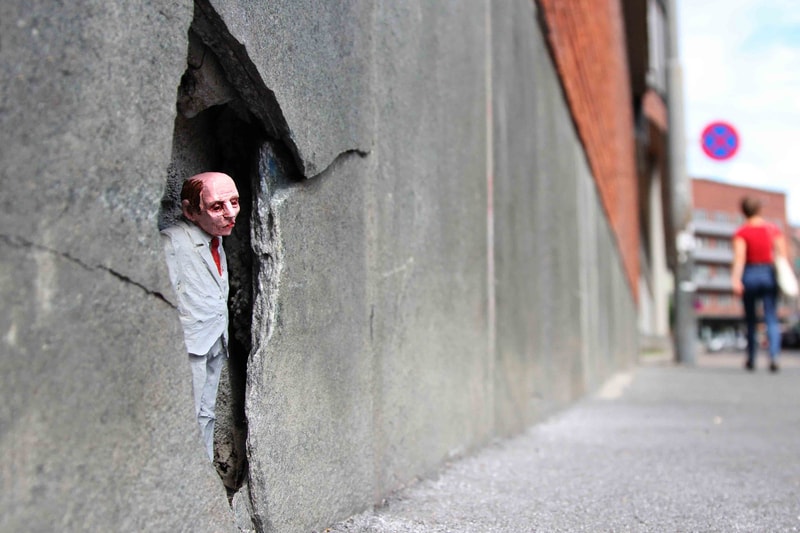 Miniature Sculptures, Paper Cameras, & More Unconventional Artwork You Need to See
Including pop culture paintings on bed sheets.
---
Art has never been shy to take on various forms. Now more than ever, creatives across all genres are ditching the traditional canvas to produce mind blowing works out of cement, paper, and even bed sheets. This week's roundup highlights the work of five acclaimed artists from across the globe. From Isaac Cordal's miniature public sculptures to Walter Robinson's bedlinen-based artwork, check out our list of unconventional pieces below.
Isaac Cordal Kicks off Nuart Festival 2017 With New Miniature Sculptures
The annual Nuart Festival in Norway is set to launch on August 31 and will last until September 3. To mark the occasion, Spanish artist Isaac Cordal installed a total of 21 sculptures from Frysja in the north to Grønland in the south. The miniature cement figures were placed in wall gaps, street lights, as well as flag poles. The pieces celebrate the diversity of locals in the aforesaid regions while raising awareness for socioeconomic issues. Head over to Nuart's official website to learn more.
Lee Jihee Creates Intricate Paper Sculptures Inspired by Vintage Cameras
Seoul-based artist Lee Jihee meticulously creates paper sculptures inspired by vintage cameras. The artist's latest creations consist of a 1952 Leica IIIf Red Dial, a 1948 Vidmar Camera, and a 1927 Tropen Adoro. Jihee uses vibrant colored paper to assemble these life-sized artworks. Visit Jihee's official Behance account to view more projects.
Federico Tobon Uses a Power-Drill to Bring Hand-Drawn Illustrations to Life
Los Angeles-based artist Federico Tobon used a very unconventional technique to animate his latest flipbook. Tobon inventively utilized a power drill to animate 24 hand-drawn pages of artwork. The pages were attached to the chuck of a drill and once the tool was turned on, the still frames began moving. The result is nothing short of fascinating. Check it out above.
Walter Robinson Paints Pulp Fiction on Bedsheets
New York-based artist and art critic Walter Robinson painted on a handful of patterned bed sheets to develop his latest project. The paintings depict '50s starlets, Lichtenstein-esque characters, and other pop culture fauna. The artwork is part of his new exhibit called "The Americans" at the Vito Schabel Gallery in St. Moritz, Switzerland. Take a look at select paintings above and then head over to the gallery's official website to learn more.
Vito Schabel Gallery
Via Maistra 37
7500 San Maurizio
Switzerland
Tom Bob's NYC Street Art Will Make You Do a Double Take
American visual artist Tom Bob has invaded the streets of New York City with his whimsical creations. Bob ingeniously uses street furniture, sewer plates, as well as electrical terminals to produce playful characters, animals, as well as popular cartoons. Take a look at a few favorites above and then check out the artist's official Instagram account to view more.