Five Buzzing Labels From Berlin Fashion Week You Should Know About
Direct from Germany's fashion capital.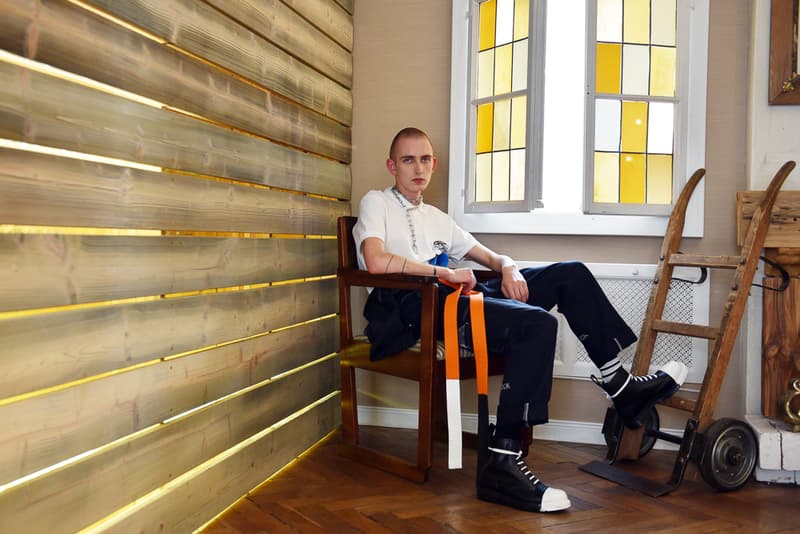 Although Paris, London and Milan stand firm as the fashion capitals of the world, Berlin and its fashion hopefuls are quickly solidifying the German capital as an emerging fashion hub. At this season's Berlin Fashion Week, a new thriving class of innovative and creative designers from Germany and the surrounding European region showcased an impressive range of progressive design concepts. At the helm of both returning designers and new faces, displays of expert tailoring and styling flooded the runways. Among the pack, a few labels struck an even higher cord, confidently carving their place among fashion's competitive landscape. Below, the standout labels from Berlin Fashion Week 2018 spring/summer.
IVANMAN, Blue-Tinged Practical Workwear
About the Designer
Designer Ivan Mandzukic founded his Berlin-based label in 2010 and has utilized it as a vehicle to tap the perfect cut. Through a deep understanding of shapes and forms, Mandzukic experiments with progressive garments while paying homage to classic silhouettes. Additionally, the designer constantly adds to his dynamic color palette while displaying a penchant for contrasting textiles. Aside from his precarious balancing act, Mandzukic has proven his design prowess by producing cohesive collections comprised of highly wearable garments season after season.
Latest Collection
German Fluxus artist Joseph Beuys' personal style and practical workwear served as the main inspiration for IVANMAN's latest 2018 spring/summer collection. The collection focused on boxy cuts and an overarching blue tone accented by functional pockets and string detailing. The collection was topped off with a collaboration with traditional menswear purveyor Monokel Berlin, resulting in a series of custom-tailored jackets that served to express a balance between progressive concepts and tradition.
Instagram: @ivanmanberlin
Shop Here
SADAK, Offbeat Reinterpreted Classics
About the Designer
Formally trained in fashion design at Kunsthochschule Weißensee Berlin and stage and costume design at the Academy of Art in Belgrade, Serbian-born designer Sasa Kovacevic has made a name for himself with his globally presented collections and work in the film industry. In addition to creating costumes and design for films like The Hunger Games: Mockingjay – Part 1, the young designer has exhibited his internationally praised garment ranges in Paris and Tokyo. Nominations for various European fashion awards including a European Design Award and a Baltic Fashion Award have served to cement Kovacevic place amongst Europe's up and coming creative generation.
Latest Collection
SADAK's latest collection titled, "Slave Sauvage," is a celebration of diversity through a range of aggressively reinterpreted classics. Inspired by a set of miniatures found at the Belgrade's ethnographic museum, the 2018 spring/summer range blends unconventional tailoring and street styling with the edge of '90s subculture. While the striking subversive nature of the collection is an expression of Slavic and Western-European elements which inform the design of the collection's garments.
Instagram: @sadak_official
Shop Here
Odeur Studios, Exaggerated Streetwear Staples
About the Designer
Initially founded by graphic designer Petter Hollström in 2006, Odeur Studios began as a creative experiment to replace the traditional word-based logotype typically used to represent a brand. After a few successful T-shirt lines, Hollström met communications and marketing specialist Gorjan Lauseger at a fashion fair in Stockholm. The two bonded over their similar design aesthetic and decided to elevate Odeur Studios. Inspired by a mutual subversive view of fashion, the duo decided to produce genderless collections to challenge the commercialized norms of fashion. Today Hollström and Lauseger are recognized for their dramatic design aesthetic which is further expressed in their diffusion lines, Odeur Artefacts and ODR.
Latest Collection
With its latest collection, Odeur Studios continued its exploration of the exaggerated offering its take on some of streetwear's classic silhouettes. Slashes highlighted the lengthed sleeves found throughout the range and served as the main detail point of the 2018 spring/summer collection. While unique sheer garments offered a unique visual contrast to the layered looks that hit the runway. Additionally, a mixture of black, gray, white and neon yellow added a layer of contrasting depth to the impeccably designed garments of Odeur Studios latest seasonal range.
Instagram: @odeur_studios
Shop Here
HIEN LE, Light Minimalist Looks
About the Designer
After gaining experience working in different sectors of the fashion industry, designer Hien Le decided to found his own label in 2010. Met with initial success, the young designer made his impressive Fashion Week Berlin debut in 2011 earning a nomination for "Best Newcomer" at the fashion showcase. Over the years, Le has displayed his signature focus on discreet cuts, subtle application of details and careful workmanship in his diligent design.
Latest Collection
Inspired by the poetry of dance and the interplay between body and fabric, Hien Le's 2018 spring/summer collection is built upon classic silhouettes and light textiles. The latest range of minimalist pieces constructed of silk, cotton, linen and plissé utilizes the soft flexibility of the textiles to create garments that gracefully follow the movement of the wearer. While expressing a color palette comprised of beige, blue and white, the collection's sheer elements are designed to blend with a wearer's natural skin tone. Detailing of the collection comes in the form of handmade porcelain buttons created in collaboration with Berlin-based porcelain and ceramics manufactory Schoemig.
Instagram: @studiohienle
Shop Here
Last Heirs, Eclectic Outlandish Streetwear
About the Designer
Drawing from their work at LVMH, Comme des Garcons and other established houses, Lea Roth and Max Dörner founded the international fashion collective, Last Heirs. The young design couple formed the label as a defiant stance against the established gender binaries of fashion, pushing for progression in the design of clothing. Debuting their inaugural collection at this year's Berlin Fashion Week, the designers look to build their label on experimental genderless collections that call on various genres with a distinct street edge.
Latest Collection
Last Heirs made a strong debut with its inaugural 2018 spring/summer collection of mixed media streetwear garments. Utilizing unexpected materials such as PVC and netting, the label created avant-garde pieces which were exhibited in a non-traditional presentation. Additionally, the range featured a dip toe 1460 Dr. Martens collaboration. Referencing workwear, sportswear and Punk styling, Last Heirs' first collection was a promising teaser of what to expect from the young label in the future.
Instagram: @lastheirs
Shop Here
Also, make sure to check out the five independent footwear brands to keep an eye on this year.