The Best Street Style on Instagram This Week Goes Hard on Clashing Prints
Time to brush up on some color theory.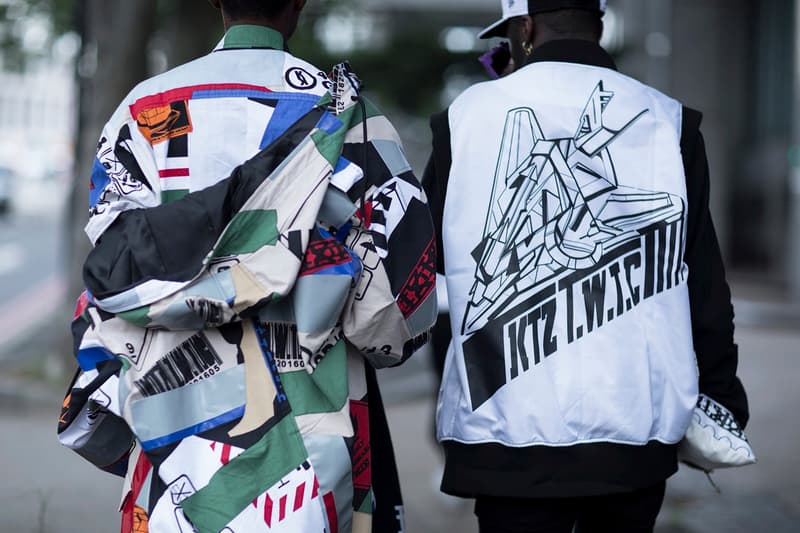 In the previous street style on Instagram article, we saw outfits lighten up on the layering and brighten up on the color palette. This week, fashion enthusiasts give the pastel monochrome look a rest and go back to flexing with outerwear, shining the spotlight on the wide-shoulder gray suit jacket. The '80s-inspired wardrobe staple proves to be versatile and modern thanks to an oversized fit and flexible color scheme. On the flip side, the other dominant trend goes to clashing prints and high-octane colors. Leopard print, tie-dye, stripes, herringbone, checks and plaid all make a bold statement on their own but an even stronger look piled together. Combined with color intensity that ditches sun-faded hues to more amped-up saturations, and you get a wild but harmonious look for the summer.
Giving minimalism a run for its money, this look hits a home-run by clashing classic textures, colors and patterns for an enviable modern look. The outfit centers around a neutral-toned color palette that combines a classic Glen plaid coat in brown, a pair of gold-tone velvet corduroy pants and old-school Converse All-Stars in mustard yellow. Layers of accessories with hits of blue — seen in the bright azure silk scarf, blue patches in the hat and blue paisley print details — complement the sepia-toned look.
This take on the gray suit features a cooler-toned Burberry jacket with a more exaggerated silhouette. The '80s padded shoulder jacket gets layered over a chunky yellow knit turtleneck and a yellow and black silk scarf peeping out below. The top gets taken in with a slim patent belt at the waist, and the overall silhouette gets balanced out with clean adidas trousers and all-white Asger Juel Larsen x The Last Conspiracy rubber sneaker boots.
A group photo of Korean indie band Hyukoh takes oversized fits to the next level. Each member wears an oversized gray suit with ample sleeves and inflated shoulders, layered over what seems to be a normal cut suit jacket tucked into belted and deep-pleated baggy suit pants. Each look is anchored by a pair of tennis sneakers or Converse, and personalised by a different shade of gray and their choice of printed undershirt.
Featuring the same summer-friendly color family as above, but looping back to previous weeks' star silhouette — the workwear jumpsuit — this outfit makes the list with its colorful accessories. A powder blue beret hits the opposite side of the colorwheel to complement the full camel suit, while orange-tinted glasses create a double play on high contrast colors. Simple black kicks and a white facial mask round out the clean Japanese streetwear look.
In case you missed it, Heron Preston hosted a rager and pop-up shop at Moscow's KM20 last week. This outfit features Heron Preston's exclusive and individually numbered "For You, The World" tour shirt featuring an illustration of the Great White Heron Bird by the very late and great NYC ornithologist John James Audubon. The graphic top is combined with baggy camo-print cargo pants and a sock-and-stiletto combo that elevates the cozy look into something more striking.
This duo treats us to an exponential output of clashing patterns and colors. The full ROYGBV appears in color-blocking and tie-dye forms on the outfit to our left, while the look to our right shows its love to orange with an Under Armour hoodie and a pair of flame-print pants that Chester the Cheetah would love.
Another group photo that puts us in the mood for summer with uplifting swathes of color. These outfits implement layering and mixing materials to make give dimension to the color-blocking theme. Classic color pairings such as blue and orange, green and red, yellow and pink make for a harmonious mix of tones that are easy on the eyes.
Tracksuit pants stripes are an easy way to add some color — or several in this case — to your outfit. This look manages to incorporate an entire rainbow of colors in the most subtle and sleek way by keeping it clean and streamlined on an all-white base. The wide-leg Chloe pants are balanced by a bold red top by Lacoste and a pair of white Nike's that correspond with some linear design details.
Anime and cartoon graphic shirts will always end up being a bold color statement that also throws it back to the '90s. This outfit features a vivid yellow Places+Faces bag and tones down the color elsewhere with a simple black beanie, sunglasses and pants. For more face masks like the one in this image, BAPE and OFF-WHITE have bolder options, or if you want to go all-out, designer Zhijun Wang creates masks out of the most hyped sneakers.
Here's a textbook example of clashing patterns and color. This combination features a multicolor houndstooth plaid sweater that's matched with salmon pink pinstripe pants from ebenbadu. The brazen look is anchored by a pair of old-school FILA crew socks and the classic Nike Air Max 97 "Silver Bullet."
Unlike the outfit above which sees different patterns working together, this example clashes the same Checker-print in different colors. The rest of the outfit is coordinated with a red and blue scheme that either takes the form of an indigo jean jacket and red pants, or a white hunting vest with hits of color on the collar and pocket details.
Gullyguyleo's take on the red and blue theme opts for a statement-making wide-stripe Stone Island pullover and some fearless Nike Air Max Plus Tuned 1 TNs in blue and orange. Adopting the same approach as other examples in this edition, the rest of the outfit is balanced out with black pants and a black beanie. And in true Instagram form, the photo's backdrop matches the outfit's red and white geometric theme.
British plaids are having a moment this season, as seen in the Glen plaid trend (in the first example) and Camel Thompson plaid (the Burberry print-inspired hats appearing everywhere). This outfit pairs ultra-baggy Gingham plaid print pants with a graphic print black T-shirt and silver Air Max TNs to keep the color palette in the grayscale.
Not your average all-black outfit, thanks to a bold graphic on the shirt, a red head wrap, some zany VR-esque shades and a cap with some Mickey Mouse ears. Recently, streetwear has been having a moment with Disney, as seen in the mastermind HOMME x Disney collection, the Converse All Star Mickey Mouse Surfin Hi and Number (N)ine's exclusive Mickey Mouse T-shirt range.
Photographer

EVA AL DESNUDO/HYPEBEAST