Leo Mandella Talks Supreme, Gucci, Logos and Mixing Streetwear With High Fashion
"If people recognize it, you'll get noticed."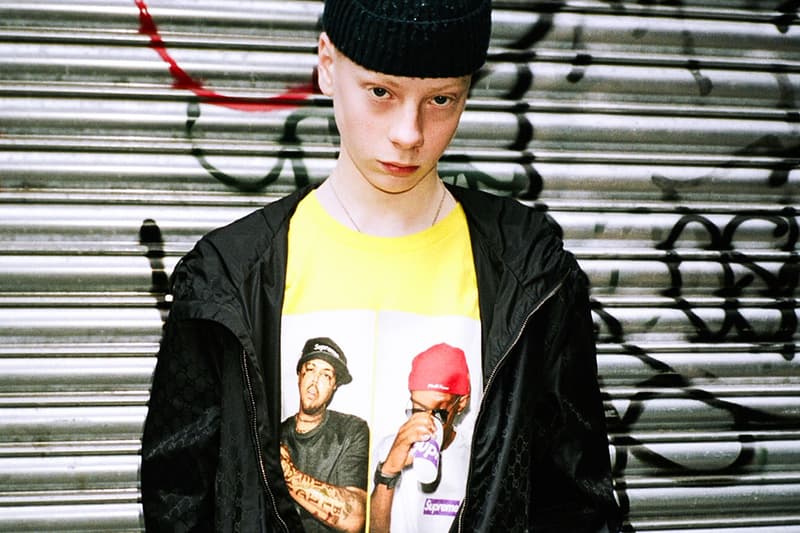 Teenagers have been making more and more of a splash on social media with their consumption of streetwear labels and one of the guys at the helm of this trend is Leo Mandella, aka @gullyguyleo. Constantly decked out in the latest pieces from Supreme, Palace, Gucci, Vetements, Gosha, etc., the young teen says that the logos help him connect with other like-minded individuals in the streetwear scene who all share the same passion. Sitting down with Nancy Won from SSENSE, Leo talks about Supreme, Gucci, mixing and matching streetwear with high fashion brands, the connective power and appeal of logos, and also how those same logos have become oversaturated and originality lost.
Read some select excerpts below and find the full interview here.
On how he got into streetwear:
I started out just watching it from the outside. I was never in it at all or involved in anything to do with it. I wasn't buying anything at that point, more just enjoying what people were wearing on Instagram. It was cool to see how people were talking and relating so much with each other over clothes! I never really got that before — I thought people just wore clothes and enjoyed it for themselves, but it really is a global community. You could literally be at home on your computer and be part of it.

On his favorite brands right now:
Obviously one of my favorite brands is clearly Supreme, although recently I've started to go away from it a bit and into different brands. Gucci is really nice. I'm enjoying the vintage and new released pieces like the jeans with the snake. Number (N)ine is really cool, too.

On mixing streetwear with high fashion:
Gucci has such a name from rich people wearing it as formal wear, but it's recently started to make a big comeback into streetwear culture.

On why the Supreme Box Logo has such a huge following:
It's a cool way to show people you're in this tribe and it might start conversations or make connections.

On people who say you have to skate to rock Supreme:
I hear that a lot, like, "If you're not skating then why are you wearing Supreme?" but I think people realized a long time ago that that's a stupid mentality to have. You can't really judge someone wearing a brand because they do or don't do a certain activity. It's like saying you can't wear adidas if you don't play football. It's outdated.

On whether the Supreme logo is oversaturated:
I know what you mean, but I wouldn't say it's overkill.

On logo appeal:
I guess it's just a way of showing that you're into something or that you've got this rare piece—sort of showing off. If people recognize it, you'll get noticed.

On the Supreme x Louis Vuitton collab:
You were asking me earlier about how I mix high-end brands with streetwear brands and that is literally revolutionary. That fact that a streetwear, skate culture brand can collab with such a high-end rich mom stereotype brand — I think it's a revolutionary moment in fashion. I really want the denim jacket and maybe the bag but it's rumored to only launch at Louis Vuitton so apparently the prices are looking insane. The quality is going to be so much better but that comes with the annoyingness that it's going to be a lot more money.

On logo fatigue:
I'm not getting sick of logos, but I am getting sick of seeing everyone wearing the same logos all the time. But obviously with streetwear culture growing, it's hard to own a piece of clothing that not a lot of other people have. So it's more about showing your originality and wearing the same items in a different way from everyone else.