Here's Why Michael Jordan Was a No-Show at UNC's Title Game Against Gonzaga
Embarrassed from his "The Ceiling Is the Roof" Speech?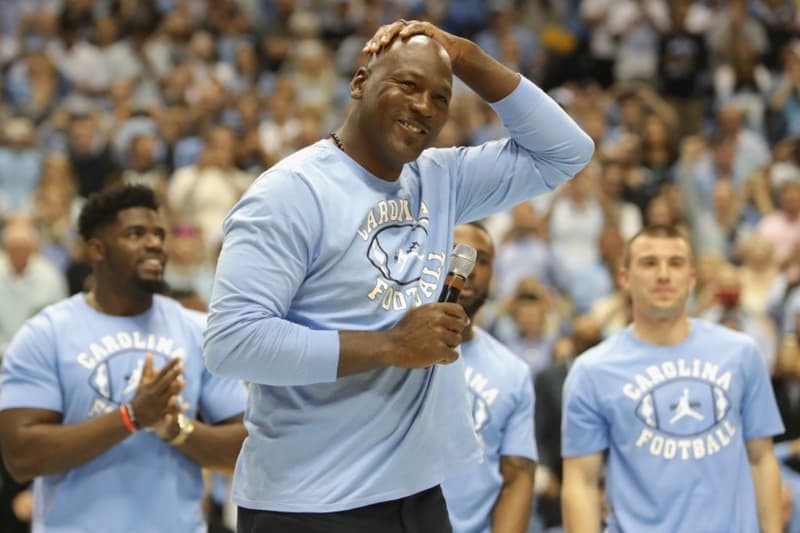 The G.O.A.T. Michael Jordan is hands down one of the most recognizable UNC alumnus on the planet, but why was Jordan not in attendance during North Carolina's NCAA Championship win over Gonzaga on Monday night?
With more than 50 former players in the stands watching the Tar Heels beat Gonzaga 71-65 to claim their sixth title, it seems MJ was superstitious after he showed up last year and UNC lost to Villanova. Last year when Jordan attended the national championship game, UNC lost on a buzzer beater to Villanova and Jordan was caught reacting to the crazy final seconds of the game — insert crying Jordan meme. On Wednesday night, UNC head coach Roy Williams revealed why Jordan wasn't at the game during his appearance on the Dan Patrick Show. Here's what Williams told Patrick:
"People asked me the last day and a half if he was going to come. And I said 'he hasn't called but guys, knowing him, he's going to say I went last year and you lost.' And so that's what I was thinking. Our assistant AD Clint Gwaltney, we were walking to the bus last night and I said 'I want to bet you a dollar, I'll give you about any odds you want, but I'll bet you there's a text message from Michael or a voicemail from Michael and he's going to say something about coming last year.' And sure enough, I got on the bus and got my phone out of my backpack – so I left it on the bus. I had quite a few messages and one of them was from Michael, so I collected some money last night."
Do you think MJ was just being superstitious, or is still embarrassed by his "The Ceiling Is the Roof" speech?