Brands Should Be More Like Patagonia
On Earth Day, we look to the outdoor brand as a case study in how to create clothing with a conscience.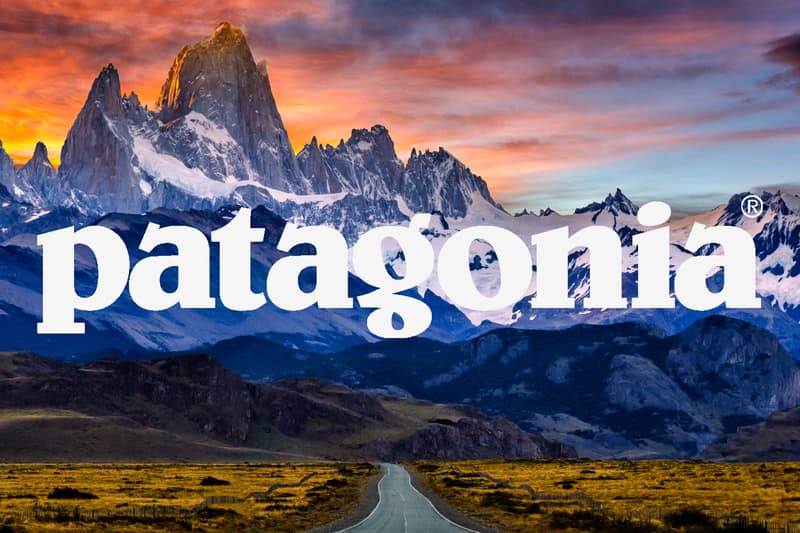 1 of 2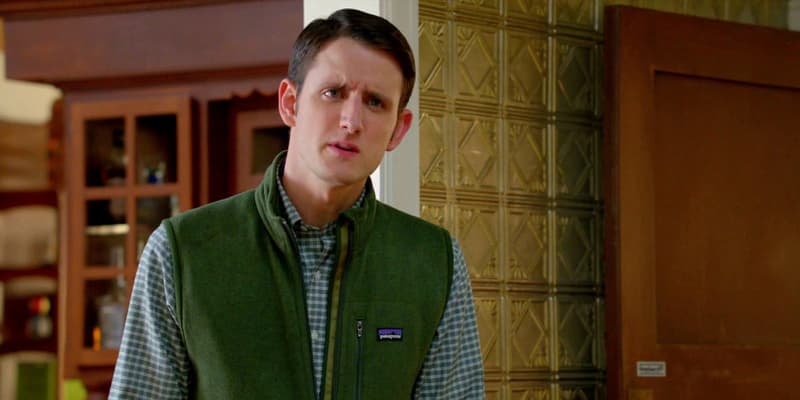 2 of 2
In business circles, talk often swirls around the idea of the end justifying the means. Can a company's bottom line justify shady business practices, sweat-shops and pollution? These are the kinds of questions that constantly loom over fast fashion companies, who are often accused of putting profit above people. In attempts to look more environmentally friendly, companies may resort to initiatives and campaigns that promote a façade of sustainability. Greenwashing campaigns push "dubiously conscious" fashion on unwitting consumers, while doing very little to help the planet.
This Earth Day, we've chosen to put the spotlight on one of the few companies that actually plants seeds of change and hopes to make a positive impact on the environment: Patagonia. While the brand's box logo admittedly carries less street cred than Supreme's, Patagonia's logo stands for activism, sustainability and responsible business practices. In recent years, the Patagonia quarter-zip fleece has become synonymous with Silicon Valley dweebs, but we hope that a quick deep-dive into the brand affectionately known as "Patagucci" will inspire you to look at the outdoorsy brand from a new perspective.
The company was founded in 1973 by climber Yvon Chouinard after he successfully sold a batch of rugby shirts that he bought while on a trip to Scotland. From there, Chouinard used the brand's booming business as a platform for environmentalism and ethical work practices. In the documentary 180º South, Chouinard muses on the company philosophy and origins: "Conquerers of the useless, that's what we were. We learned that what matters is how you got there, not what you accomplished." Chouinard's book, Let My People Go Surfing, is a memoir-turned-manifesto espousing unorthodox ideas like scaling back production when sales are booming in order to maintain ethical practices and providing employees with two months of paid flex-time — be it child-care, volunteering with an NGO or simply taking a surfing trip.
"The accepted model of capitalism, which necessitates endless growth and deserves the blame for the destruction of nature, must be displaced." — Yvon Chouinard
Aside from being a must-read for any aspiring entrepreneur, it also offers a look into the philosophy behind the brand's approach to making product. The self-described reluctant businessman also sees the "Activist Company" model as a continuous experiment in late capitalism, namely that Patagonia "believes the accepted model of capitalism, which necessitates endless growth and deserves the blame for the destruction of nature, must be displaced."
Despite its openly anti-consumerist ideology, the company posted double-digit growth figures for years on end. In fact, this growth seemed to be occurring despite the company's best efforts, and it was not for lack of trying: after all, Patagonia once bought out a full-page spread in The New York Times in 2013 beseeching potential customers to refrain from buying products they did not need on Black Friday, including Patagonia's own R2 jacket. Instead, the company used invaluable page-space to remind the public to reduce, reuse, and recycle accordingly.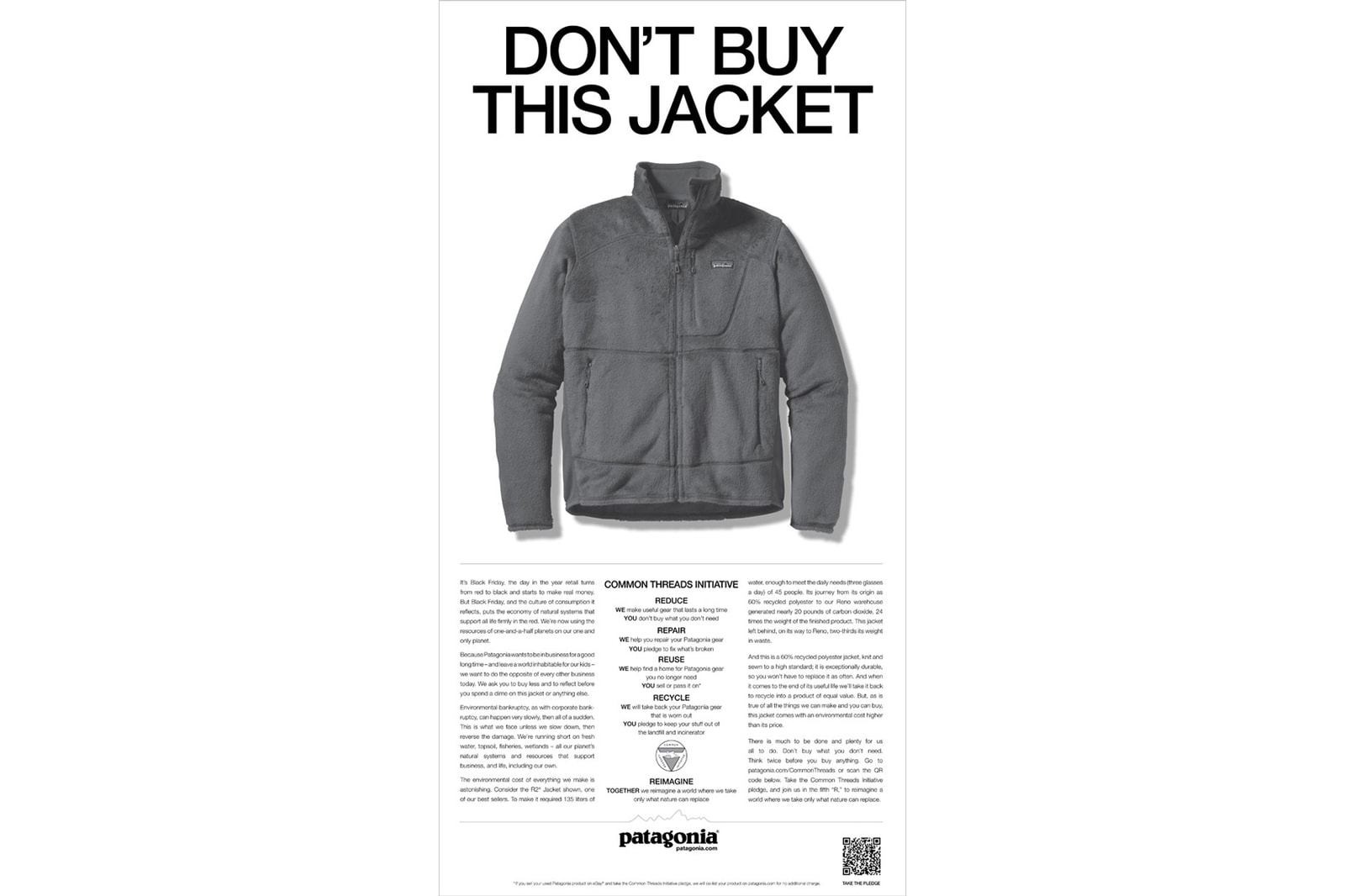 As part of its 2013 Responsible Economy campaign, the company declared growth a "dead end" and executives actively bemoaned the fact that the company's ongoing success had made sticking to its roots damn-near impossible. Rick Ridgeway, VP of environmental affairs, told GreenBiz that "our argument is that compounded annual growth long-term is unsustainable. It's our hunch that all these sustainability innovations put together are not going to be enough to offset the continued increase in our human footprint that comes from this tie to growth."
Outlets were immediately wary of the cognitive dissonance at play: The New Yorker noted that the infamous "Don't Buy This Jacket" ad smacked of reverse psychology; putting up $600M USD in profit growth on the board while complaining about doing gangbusters seemed a clever marketing ploy at best and a cynical cash-grab at worst.
But Patagonia has stuck to its narrative, churning out documentaries that communicated the brand's anti-materialist philosophy at every turn. Beyond mere branded propaganda, the brand's own athletes and ambassadors have also exhibited a profoundly inspiring compassion not only for the environment, but the unsung people and communities that make the environment so compelling. As part of the company's Worn Wear campaign, a camper named Delia made its way across America and around five cities in Europe, mending clothing and teaching people about sustainability; repairs were free so long as those using the service pledged to only buy things that they need going forward. The Patagonia team would even mend wares from other brands free of charge. When citizens were set to deliver a petition calling for hemp to be legalized as a textile, the company released a documentary called Harvesting Liberty. Snowboarder Alex Yoder ventured to Petran, Turkey, to explore and document the 300-year history and heritage of snowboarding.
Transparency and admitting mistakes is also part of the brand. Almost every single decision and product is accompanied by an essay or explainer outlining the rationale behind the decision. When an independent commission found cotton to be the most wasteful material used by the brand, it shifted to more sustainable, organically-grown cotton; the brand's recent Responsibili-Tees campaign uses recycled materials to limit both the customer and the company's use of petroleum by-products. When PETA published photos and videos of animals being mistreated on a ranch owned by one of the company's wool sourcers, Ovis 21, the company severed all ties not just with Ovis 21, but with all merino suppliers, until a company that met Patagonia's standards was found.
As the brand's Director of Environmental Study, Jill Dumain told Bloomberg, "Anybody working in the environmental field knows that if you're not talking about what's wrong, you're not telling the whole story." Patagonia has embraced environmentalism in its advertising and marketing strategies, but it has also done so with an overwhelming sense of transparency: the Footprint Chronicles charted the carbon impact of individual Patagonia pieces, while also mapping out the supply and production chains for all to see.
"Anybody working in the environmental field knows that if you're not talking about what's wrong, you're not telling the whole story." — Jill Dumain, Director of Environmental Study, Patagonia
Admirers of Patagonia's mission are far and wide, but perhaps no one has been more outspoken in their support of the brand than NOAH founder Brendon Babenzien. When NOAH proclaimed itself closed on the popular shopping holiday, it urged customers to shop with Patagonia instead—after all, the brand had just announced that it would be donating 100% of its Black Friday profits to environmental charities. Encouraging clients to buy from a competitor is anathema to conventional business practice — much like urging customers to not buy a jacket — but that's exactly what Patagonia stands for: doing the right thing, even when it looks like it would cripple the bottom line. In the end, Patagonia's Black Friday racked up $10M USD in donations for various charities. NOAH has since published pieces like "The Anatomy of a Two-Tone Parka," which lay out in transparent detail the process and numbers that go into both supply, sourcing and pricing of product, and released capsules benefitting the Shark Trust.
Chouinard and his employees have been pioneering a reactionary form of business in everything they do — from marketing to sourcing materials to the product itself. Disrupting capitalism is an uphill battle, but Patagonia's means justify its ends, and so long as customers respond to the message of responsibility and sustainability, the brand will continue to thrive. The saying goes that there is no such thing as ethical consumption under late capitalism, but in the age of fast fashion the Patagonia box logo — for all of its preppy connotations — has come to stand for transparency and responsibility.
If anything, more brands should be more like Patagonia.