10 Special Custom Sneaker Releases Unveiled via Instagram This Week
adidas YEEZY BOOST 350 V2 "Beluga/Zebra" hybrid or an indigo hand-dipped Nike Air VaporMax?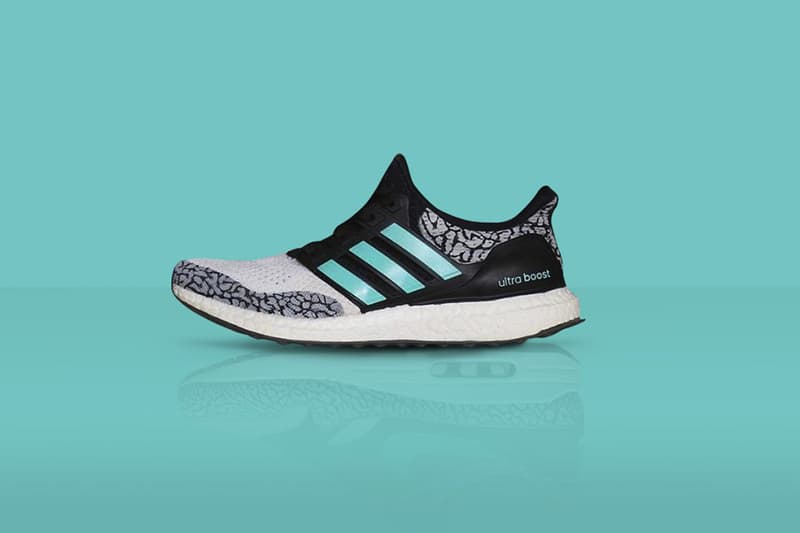 In our previous edition of 10 Special Custom Sneaker Releases, we featured a talented group of artists who brought to the table an elaborate assortment of collaborative reworks. Back with much of the same, the past seven days however, gave way to a collection of subtle renditions. Instead of bombarding the senses with vibrant patterns and colors, this week's crop instead left things open to the imagination. Tinkering with the question "What if?," we feature a varied selection including a hybrid model fusing two styles together, in addition to some established silhouettes displaying subtle tweaks here and there. From the infamous Nike Dunk Low Pro SB "Pigeon" turned into a hi-top to an indigo dipped Nike Air Vapormax, this is one group not to miss out on. However, no custom sneaker post would be complete without a few outlandish creations, which do well to stir the creative juices. Let's take a look now at some of our favorites from the past week.
Donnell McFadden Brooks x Kanye West x Louis Vuitton x adidas Stan Smith
Known for paying homage not only to sneaker silhouettes and famous fashion brands but to respected artists as well, Donnell McFadden Brooks finds a way to salute adidas, Kanye West, Louis Vuitton and Takashi Murakami at the same time in his latest creation. Opting for a pair of adidas Stan Smiths as his canvas, Murakami's superflat-inspired caricatures which he worked on for Kanye's Graduation album make appearances as does LV branding.
Ceezem Customs x Nike Dunk High Pro SB "Pigeon"
In a playful nod to one of the most successful sneaker releases of all time, Ceezem Customs reimagines the Nike Dunk Low Pro SB "Pigeon" in a hi-top version. With the hi-top model never officially seeing the light of day, the bespoke sneaker creators thought to design and produce its very own prototype. Jeff Staple would be proud.
Ceezem Customs x adidas YEEZY BOOST 350 Beluga/Zebra Hybrid
Cracking our list again this week is Ceezem Customs with this YEEZY BOOST 350 V2 hybrid mashup. Having featured several different YEEZY styles on our list previously, never before have we showcased a model blending two different silhouettes into one. Seemingly split right down the middle, we see here a custom rework featuring the YEEZY BOOST 350 V2 "Beluga" on one side and YEEZY BOOST 350 V2 "Zebra" on the other.
Mache Custom Kicks x Nike Air Vapormax "Indigo"
Coinciding with the recent torrent of Nike Air Vapormax models hitting the market over the past few weeks, we take a look here at this understated design from Mache Custom Kicks. According to the post, the custom creators opted for a clean white silhouette and hand-dipped them in indigo — resulting in a clean two-tone finish.
Kickasso Nike WoodMax
Released to help commemorate last weekend's Air Max Day, Kickasso transform the Air Max 90 cult classic silhouette into something completely unique. Sporting a realistic woodgrain finish, the lifestyle crossover takes on a clean, yet rustic appeal. Rounding out its industrial aesthetic are the twine-like strings that swap out for actual laces.
HUYCUSTOMS x adidas UltraBOOST "atmos Elephant"
Like the post states, "Made for those who are committed to adidas but like atmos concept," HUYCUSTOMS puts together a custom work combining two heavyweights in the adidas UltraBOOST and Nike Air Max 1 "atmos Elephant." Featuring the familiar atmos color scheme, splashes of jade hit the Three Stripes branding and the UltraBOOST logo, while elephant-inspired print trims the toe box and upper ankle area.
ARGO CONCEPTS x Supreme x The North Face x adidas UltraBOOST
Although just a concept, the theme behind the design warranted further exploration on our part. Adding on to the storied partnership between Supreme and The North Face, the duo recently launched yet another stellar collection. ARGO CONCEPTS thought to honor the affiliation — on an adidas UltraBOOST silhouette no less. Using the collaborative Paisley jacket set as the inspiration point, the uppers feature the unique print along the front area with dual branding landing on the side and heel regions.
FRE Customs x YEEZY Boost 350 v2 "Dragon Bred"
Renowned for its intricate floral appliqués on some of the games hottest sneakers, FRE Customs took to Instagram this week to showcase a dragon-inspired YEEZY model. Opting for a pair of triple black YEEZY BOOST 350 V2s, a red-hued dragon motif lands on the side area adding a low-key tonal contrast.
DJ Clark Kent x Nike Air Max 1 "What The Bespoke"
In a playful salute to the "What The" Air Max 1 colorway, DJ Clark Kent recently posted a creation more extravagant than the sneakers it honors. Named "What The Bespoke?" Air Max 1, the eclectic iteration features an onslaught of prints, patterns and colors on each shoe. Unique in all aspects of its design, from the heel, toe box, collar, vamp and laces, your attention is forced to hit all sections individually — maybe that's the point.
Sean Flores x BAPE x Nike Air Force 1 Low
Paying homage to BAPE, Sean Flores grabs hold of what looks to be the Air Force 1 Low silhouette and adorns the Nike classic in a couple of the Japanese brand's signature prints. Different tonal variations of the Ape head logo in addition to the shark teeth Swoosh comprise the entire upper construction, which sits atop the crisp white sole unit.