William Francis Green Is the Young Designer Doing the Most
Introducing the Central Saint Martins graduate working with everyone from Stone Island to Mura Masa.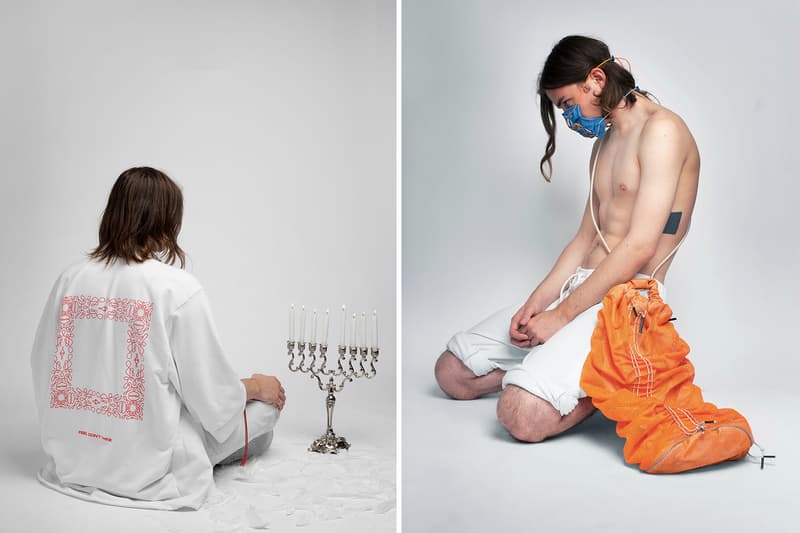 Despite only graduating from London's Central Saint Martins four months ago, Liverpool-born designer William Francis Green has already got some big names behind him. First up was an internship at Stone Island, where he worked on the Check Grid Camouflage as well as new accessories and graphics, and since then Green has designed and produced a merch capsule for Mura Masa, and is now working on a Nike Air Force 1 project.
Design has always been a part of Green's life, although fashion wasn't always the focus. "In primary school I would use cereal boxes to make my own type of Game Boy/brand of Pokemon cards and try to make them take off," he explains, "I think as long as I can remember I've been trying to design stuff and make it accessible." Eventually, Green moved on from cardboard boxes to making T-shirts. "I made my own screen printing equipment when I was about 15 to print shirts for myself and local bands," he says, "it snowballed from there." These home-printed T-shirts would eventually become a "teenage muck-about label" called Cold Heart Collective, which was also the brand behind Mura Masa's recent merchandise release.
Building your own screen printing machinery isn't the route that most designers take, and that DIY ethos is still an important part of Green's work. Being so hands on is something that has made the designer's work hard to label. "A fashion designer doesn't print, sew, manufacture, promote and sell their entire collection," he expands, "whereas every single process within my work is done by me."
As well as working on every aspect of the collection, Green also brings together a wide range of influences for each release. The idea at the core of his designs is solving problems, or as he puts it: "I want to create solutions to people's daily inconveniences." Mixed with that is a huge number of other inspirations, including "ornamentation and processes from 1800s." This influence is new, and comes from a change in Green's design ethos. "I believe decoration has the potential to be more than surface design," he says, "having worked in the field of graphics has made me tired of 2 dimensional displays on clothing."
"I wanted to use clothing to heal."
These influences all play a part in "Feel Don't Think," Green's graduate collection that was picked up by cult London retailer Ejder. "I wanted to use clothing to heal," Green explains, "the shapes were based on hospital uniforms, clothing easy to wear or remove with a focus on functionality." That wasn't the only influence, though, with "the imagery and symbolism of the 19th century Pre-Raphaelite brotherhood and art nouveau artists" also feeding into Green's ideas.
Creating a ready-to-wear line also posed a new opportunity to Green, with the designer aiming to make it "less conceptual but more accessible." The young designer also goes on to add that he "wanted to condense the idea of functionality vs. ornamentation into clothing that could be easier to reproduce and affordable."
Following the release of "Feel Don't Think," Green has more work on the horizon. First off is the project with Nike — which he describes as "a bit of fun" — and then there's work with London-based producer Visionist. The artwork for Visionist's upcoming release, shot by Kanye West and Raf Simons collaborator Peter De Potter, has been a huge influence on Green's role in the collaboration: "This project prompted my response to packaging design, something I hadn't yet considered," says Green. "The result was a fully sealed fabric case with Peter's artwork printed on the inside as patches. The only way to access the patches and record is to cut apart the fabric casing of the sleeve. This kind of interacting is important. It provokes you to destroy and personalise something you paid a lot of money for, changing the value of the product for yourself."
Throughout the early stages of his career, Green has collaborated frequently, something that's helped him develop as a designer. "Collaboration helps as a new stimulus, rather than continuing in tunnel vision with your own ideas," he says when asked how important it is for a young designer. "Realising the needs of someone else causes you to think differently and draw out ideas you wouldn't usually. In my opinion, collaboration in today's industry is vital for brands. I think it's impossible for designers to stay relevant without it."
Pieces from William Francis Green's "Feel Don't Think" collection and merchandise for Mura Masa are available now from his web store.