COS & Snarkitecture's "Loop" Offers a Universal Experience
A meaningful debut in Seoul.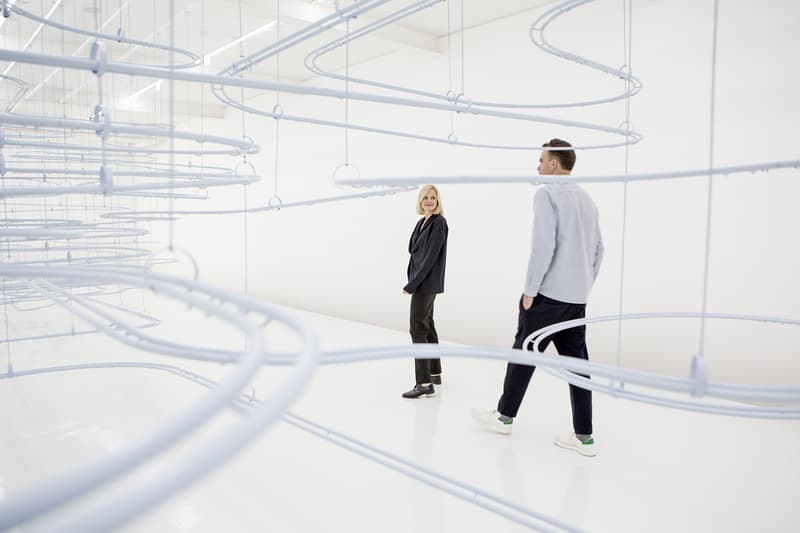 Following installations in Milan and Los Angeles, COS and Snarkitecture have joined forces once again for their first-ever exhibition in Seoul. Inspired by children's toys, their "Loop" installation is a combination of 100,000 glass marbles constantly running along 400 meters of intricate metal track. Designed entirely by Snarkitecture and manufactured in Korea, "Loop" invites visitors to immerse themselves in the experience by freely taking the marbles and placing them on any part of the piece.
The kinetically interactive work, which took nearly one year to execute from the time of ideation, is a brief escape from reality — a hark back to childhood. At least, that's what Karin Gustafsson, creative director at COS, and Alex Mustonen, co-founder of Snarkitecture, think so. Find out more in our interview below.
COS and Snarkitecture have partnered on installations twice before in Milan and LA. What makes this collaboration similar or different?
Karin Gustafsson: They are similar in the sense that they have distinct identities, a design language. What is different is this piece has a more interactive and playful element. Alex Mustonen: This project is completely different. But it's similar in that there was no brief given. COS came to us with the space, timeline, and the rest was very free. They asked that we do something in line with COS' value which was fine to us because we see eye to eye on creating simple spaces.
How does Snarkitecture differ from other studios COS works with? How does COS differ from other brands Snarkitecture works with?
KG: Snarkitecture works with reduction, quite conceptually and minimally. They create a big impact with interesting materials. AM: [As an example], KITH and COS are on the opposite ends of a spectrum, which we really like. The COS approach is very clean, focused and considered. They choose designers to work with who are aligned with the brand and give them an amount of trust to create something amazing. Their branding is also very smart. You wouldn't see many logos around; it is tastefully done, reductive.
These glass marbles were inspired from childhood toys. What is your personal memory of them?
AM: At Snarkitecture, some projects are drawn from personal memories, but others are more about a universal experience. This one is more like the latter. A lot of cultures have marbles or something similar. From that end, I think everyone has some kind of association. We have been interested in marble for a while — this idea about placing an object and being able to watch the effect of that, seeing change within a space, that is almost effortless and magical. You can place a marble on the track, and within a minute it's in the other side of the room, and then it comes back to you. There is also this interesting question about the marble becoming lost.
Nowadays, kids often play with smartphones. What do you think about creating memories, designs out of a tablet?
AM: I don't think we can stop that. The world changes, but we are interested in providing experiences outside of that world. I mean we ought to spend a lot of time on the computer screen, smartphone, it's just how our lives are constructed. To be able to provide something that is physical, playful, engaging, tactile and analogue works pretty well for us because it creates a contrast between the two worlds. The reality is that people coming to this exhibit will use their phones and take photos for Snapchat or Instagram, and that's fine. That is how a work will get documented and shared. If you are telling someone about it, it is still creating and sharing memory.
How was the production process of the installation?
KG: Snarkitecture designed and created it. We have been in touch from the drawing stage conception to discussing colors, the direction. The blue is one of my favorite colors at the moment. It's part of the current collection. It's a bit industrial. AM: When we started working on this around the beginning of the year, we realized we wanted to produce the marbles locally. All of the pieces were made in Korea. We worked with this amazing lab based in Seoul. There were a lot of technical challenges — 400 meters of track, all had to be sloped at the right angles. We also wanted to create the tiles in the second room. There was this intention to create a theatrical feel. When you are on that, you should feel like entering into a different space.
Your backgrounds are respectively London and New York. How do you see your different aesthetics blending in a city like Seoul?
KG: We say at COS that our designs are functional. I think Asian design is also based on analytic functionality. Seoul seems understated, which appeals to us. AM: COS is very international. It doesn't have a specific nation's identity, cultural identity. It almost feeds out of time in its own way. It could exist in different times and different places. That is what they bring to this idea of a universal experience. This project isn't specifically associated with Seoul, but it's not specifically New York or American, either. It can invite people in any environment.
Are there any plans to collaborate with Korean artists?
KG: One of my favorite artists is Lee Ufan. His black and white brushstrokes are very interesting. In the past, we've also worked with Seungji Mun on the Fall/Winter 2016 Musical Chairs project.
What is your favorite COS item?
KG: My cashmere eye mask. It makes me feel really good and helps me sleep.

AM: I have these very cool trackpants-like suit pants from the current collection which I can't travel without.
The COS x Snarkitecture "Loop" will be on exhibit from November 8th through November 19th at Gana Art Center. COS' Cheongdam store will also showcase a mini version of "Loop" at the same time.
Gana Art Center
Jongno-gu Pyungchang30-gil 28
COS Cheongdam
Gangnam-gu Apgujeong-ro 418