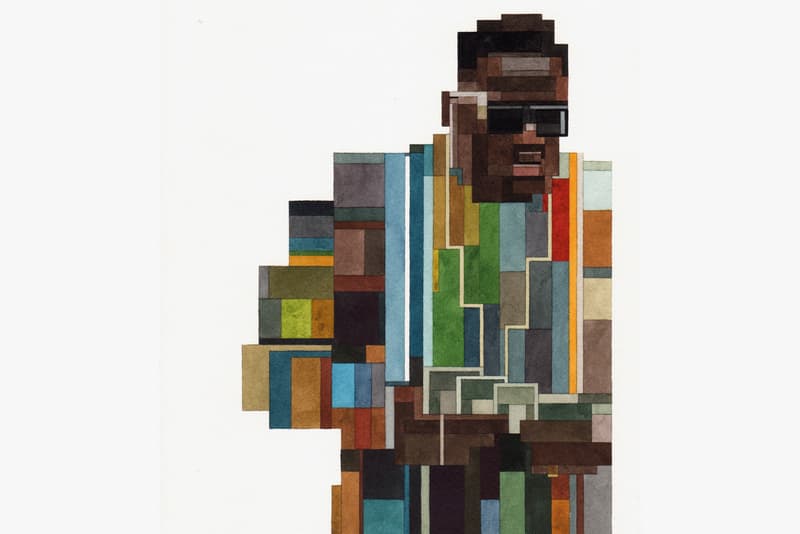 8-Bit Paintings, George Condo & More Must-See Art
Including art from Metallica's former bassist.
---
Conceptualizing an exhibition is not an easy task for an art curator, especially with a huge amount of artists churning out new works across the globe. The simplest way to produce a cohesive body of work at a show is to decide on a theme and showcase projects that look best in a particular space. For example, the fledgling Arsham/Fieg Gallery at KITH in New York City plays host to miniature creations due to its tiny structure. Meanwhile, Juxtapoz magazine is set to curate urban and contemporary works at their upcoming Clubhouse with adidas Skateboarding. The street art meets fine art theme works for the publication, especially since they are known for spotlighting artists in that aforesaid genre.
For our weekly art roundup, we highlight a striking selection of contemporary artworks alongside new exhibits taking place in major cities worldwide. Read on to learn more and let us know your thoughts.
Visual artist Adam Lister is widely-acclaimed for his 8-bit-style paintings. He has an affinity for remixing iconic subjects in pop culture such as Notorious B.I.G., The Godfather, Batman and Robin, Star Wars and more using watercolors. Lister will be launching new works at the Arsham/Fieg Gallery in KITH NYC as part of a solo exhibit entitled "CONFIGURATION." Visit Lister's official website to view more projects and expect the presentation to launch this November 16.
Arsham/Fieg Gallery
337 Lafayette Street
New York, NY 10012
Legendary artist George Condo recently launched a new exhibit at the Lousiana Museum in Denmark. Titled "The Way I Think," the sizable showcase will spotlight a slew of archival drawings, paintings and more artwork from Condo's rich portfolio. Additionally, a fully illustrated catalog of the exhibit is available for purchase at the presentation. "The Way I Think" is currently open to the public until February 4, 2018. Visit the Louisiana Museum's official website to learn more about the exhibit.
Lousiana Museum of Modern Art
Gl Strandvej 13
Humlebæk, Denmark 3050
Former Metallica bassist Jason Newsted is set to feature his large-scale paintings at Art Miami Fair 2017. Newsted is a self-taught painter, drawing inspiration from his own life experiences rather than the works of other artists. "I told myself I wasn't going to look at any books about other artists," Newsted told artnet News. "I was just going to take experience from my own life and what I saw traveling around the world." Newsted's paintings are priced approximately between $20,000 USD and $125,000 USD. The artworks will be on display at the Perry J. Cohen Foundation booth at the event space in Biscayne Bay. Visit artnet's official website to learn more.
The long-anticipated launch of The Louvre Abu Dhabi is finally over. The new institution at the Saadiyat Island near the United Arab Emirates capital has opened its doors this past November 11. Designed by acclaimed French architect Jean Novel, gallery visitors will be immersed in futuristic contemporary spaces packed with artworks created from renowned artists from across the globe. Additionally, neo-conceptualist artist Jenny Holzer has created a massive outdoor installation that is comprised of three stone walls. Visit The Louvre Abu Dhabi's official website to learn more.
Louvre Abu Dhabi
Saadiyat Cultural District, Saadiyat Island
Abu Dhabi, United Arab Emirates
Juxtapoz has teamed up with adidas Skateboarding to launch its annual Clubhouse art space in Miami, Florida. The event made exclusively for Art Basel 2017 will feature artworks from Jonathan LeVine Projects, Thinkspace, Corey Helford Gallery, Think Tank, Athen B Gallery, Superchief Gallery, !st Amendment, Station 16 Gallery and Urban Nation. Artists include Jean Jullien, Conor Harrington, Faith XLVII, Low Bros and more. Conclusively, limited edition prints and collaborative products will be available for purchase at the Clubhouse. Visit Juxtapoz's official website to learn more.
Juxtapoz Clubhouse
Historic Walgreen's Building
200 East Flagler Street
Miami, FL