The Best New Music Releases of The Week: Future & Young Thug, BADBADNOTGOOD and More
Add these to your weekend playlists.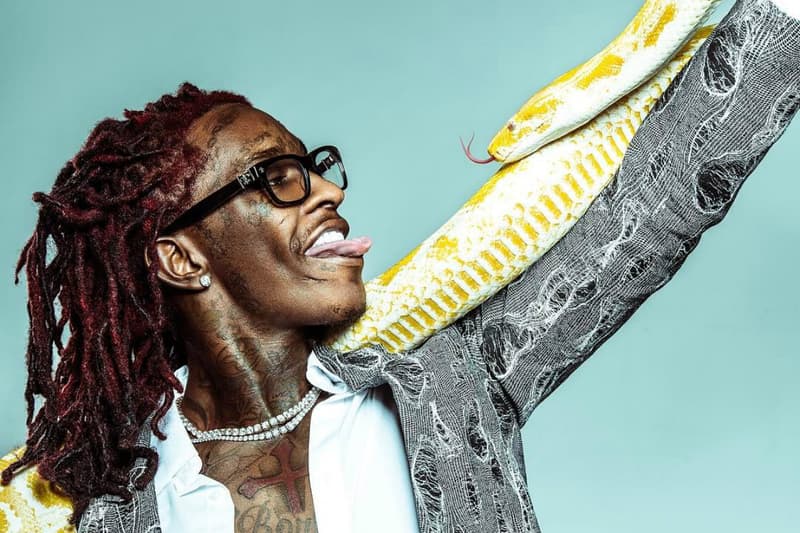 Aside from the usual releases, the music industry brought major headlines to the press this week. For one, news broke that Frank Ocean defeated his father's $14.5 million dollar defamation lawsuit. Back in February, the singer's father Calvin Cooksey, claimed Ocean "damaged his financial opportunities in film and music" after he shared a story that claims Cooksey used hate language towards a transgender waitress when Ocean was 6 years old. The week also saw Lil Uzi Vert cancel his joint-tour with Playboi Carti just a day after it was announced, citing that he needed to use the time to "focus." Coincidentally, a day later NBA YoungBoy announced a collaborative project between himself and Uzi called Too Fast and even teased the tentative artwork for the project.
On the note of collaborations, photos of Travis Scott and Tame Impala's Kevin Parker in the studio surfaced earlier on in the week and set the internet ablaze to say the least. Meanwhile, Metro Boomin began trending himself after he called out the APG division of Atlantic Records for being "vultures." The biggest surprise of the week though was Future & Young Thug's unexpected joint-album release, SUPER SLIMEY. You can stream that below, along with the rest of our picks for best new releases of the week.
Future & Young Thug – Super Slimey (Album)
Future and Young Thug dropped their surprise project this week and as expected, it doesn't disappoint. Super Slimey is a 13-track effort featuring production from Mike WiLL Made-It, Southside, TM-88, London On Da Track, Richie Souf, Will-A-Fool, Wheezy and Fuse, while Offset makes the sole guest appearance on the song "Patek Water." Stream below.
Yellow Days – "Holding On"
Keep your eyes and ears peeled for eighteen-year-old British artist Yellow Days, as he'll be dropping a new project later this month following a heavy SoundCloud buzz over the past year. This week, he shared one of the first singles off the upcoming Is Everything Okay In Your World? project and proved why he's special talent. Stream below.
Smokepurpp – "Make It Quick"
Out of all the SoundCloud and Florida rappers that have gained floods of attention and acclaim in recent years, Smokepurpp has stood as one of the movement's strongest proponents and artists. So it was no surprise when Travis Scott signed him to the Cactus Jack Records imprint last month. Check out his latest banger below.
Famous Dex & A$AP Rocky – "Pick It Up"
After sharing a preview back in August, Famous Dex has officially dropped the track "Pick It Up." Assisted by A$AP Rocky, the duo follow producer FKi's lead, exchanging verses off one another's catchy flows. The cut leads up to Dex's forthcoming album dubbed Dex Meets Dexter which is slated to release later this year. Until then, check out his latest below.
BADBADNOTGOOD & Samuel T. Herring – "I Don't Know"
After spending most of 2017 touring around the world, BADBADNOTGOOD returned with a new single this week called "I Don't Know." The song also finds the esteemed Toronto band reuniting with long-time collaborator, Samuel T. Herring from indie-rock outfit Future Islands. You might've heard their previous collaboration, "Time Moves Slow," which was arguably the hottest track off IV. If you were a fan of that, you'll definitely enjoy this vibe — stream below.
Thouxanbanfauni -The EXFiles (Mixtape)
After making a name for himself on the SoundCloud circuits, young Tennessee-based underground rapper Thouxanbanfauni unexpectedly dropped a brand new project this week called The EXFiles. The 16-track project contains banger after banger and features production work from UnoTheActivist, BigHead, Swaghollywood, 16yrold, Krookz, Brent Rambo, Staccato, Jett Dean, SoMuchSauce, AR, The Architectz, KP Beatz and more. Listen below.
Sloan Evans – mia (EP)
After releasing a plethora of loose singles throughout the year, buzzing LA-based artist Sloan Evans dropped off his debut EP this week called, mia. Over the course of the eight tracks, Evans's entire range of skills is put to the test, from focusing on his vocals in slower tracks to his ability to adapt on some of the dancehall-inspired songs. The new EP also sees a feature from Grime artist AJ Tracey, who has collaborated with Evans on a number of tracks in the past. Listen in below.
Be sure to check out our previous music roundups for the best drops of weeks past.