How to Elevate Your Car Photography Without Going Broke
This accessory can change the way you produce images for under $10 USD.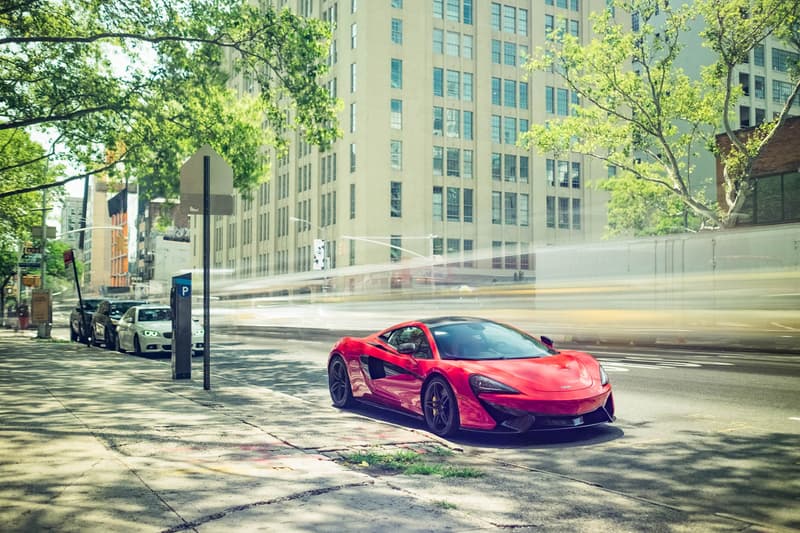 1 of 4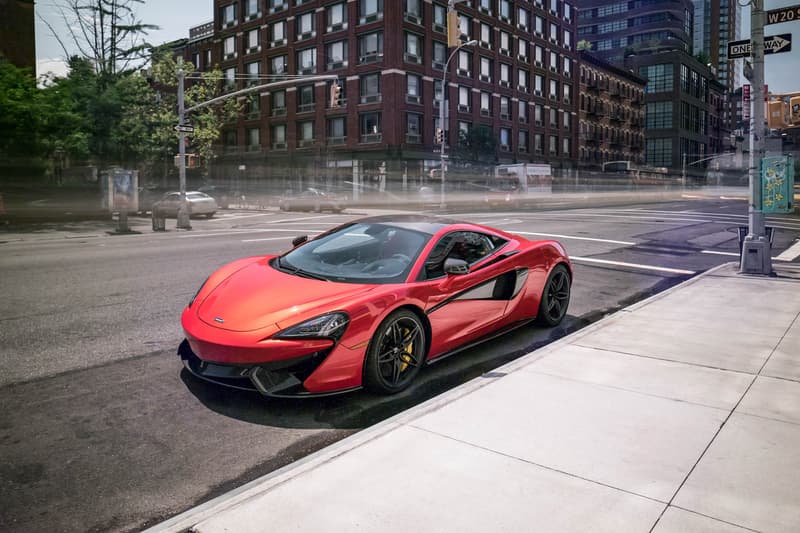 2 of 4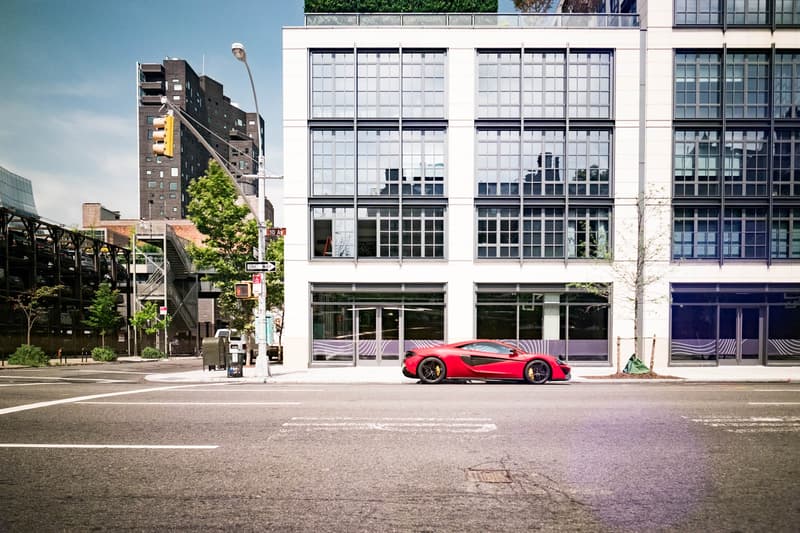 3 of 4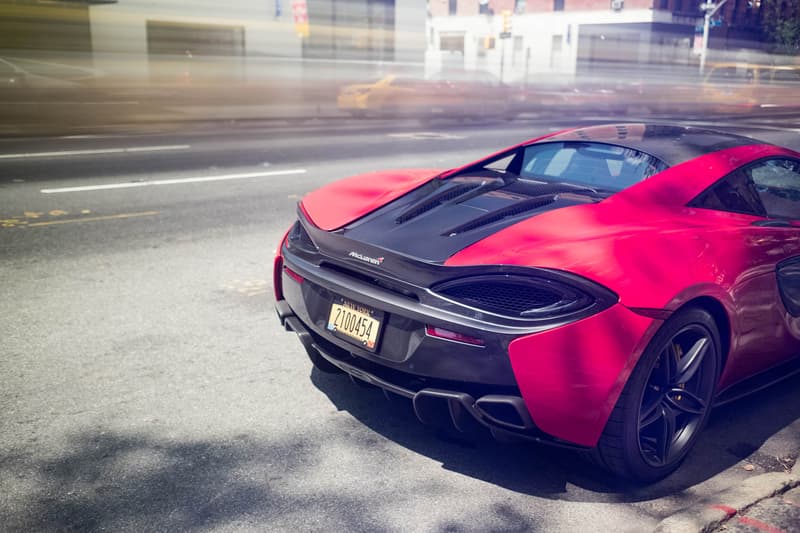 4 of 4
In order to create distinctive, exciting photography, you don't need to buy the latest photo gear and drop nauseating amounts of money to generate impressive results. Sure, having GAS (Gear Acquisition Syndrome) is fun and addicting, but most modern cameras are equipped with sensors that capture tons of light, bodies that are compact, and with a bit of practice, can produce incredible results. Some of the most exciting photography is something you can alter and experiment with using affordable materials. Specifically, we're talking about using a piece of welder's glass to freeze or blur motion around you when shooting automotive photography.
Our test subject was McLaren's new 2016 McLaren 570S for the shoot in the streets of New York City.
With an impressively deep, intoxicating red, code-named Vermillion, the 570S added the needed contrast against NYC's canyons of grey and sea of yellow cabs. While the 570S is impressive in its own right with sublime driving dynamics and a frankly outrageous exterior for The City, adding some photographic style with the welding glass allowed the 570S to stand on its own and void of the surrounding distractions. By slowing down the shutter speed, the 570S was almost able to stand out on its own without pedestrians or moving traffic.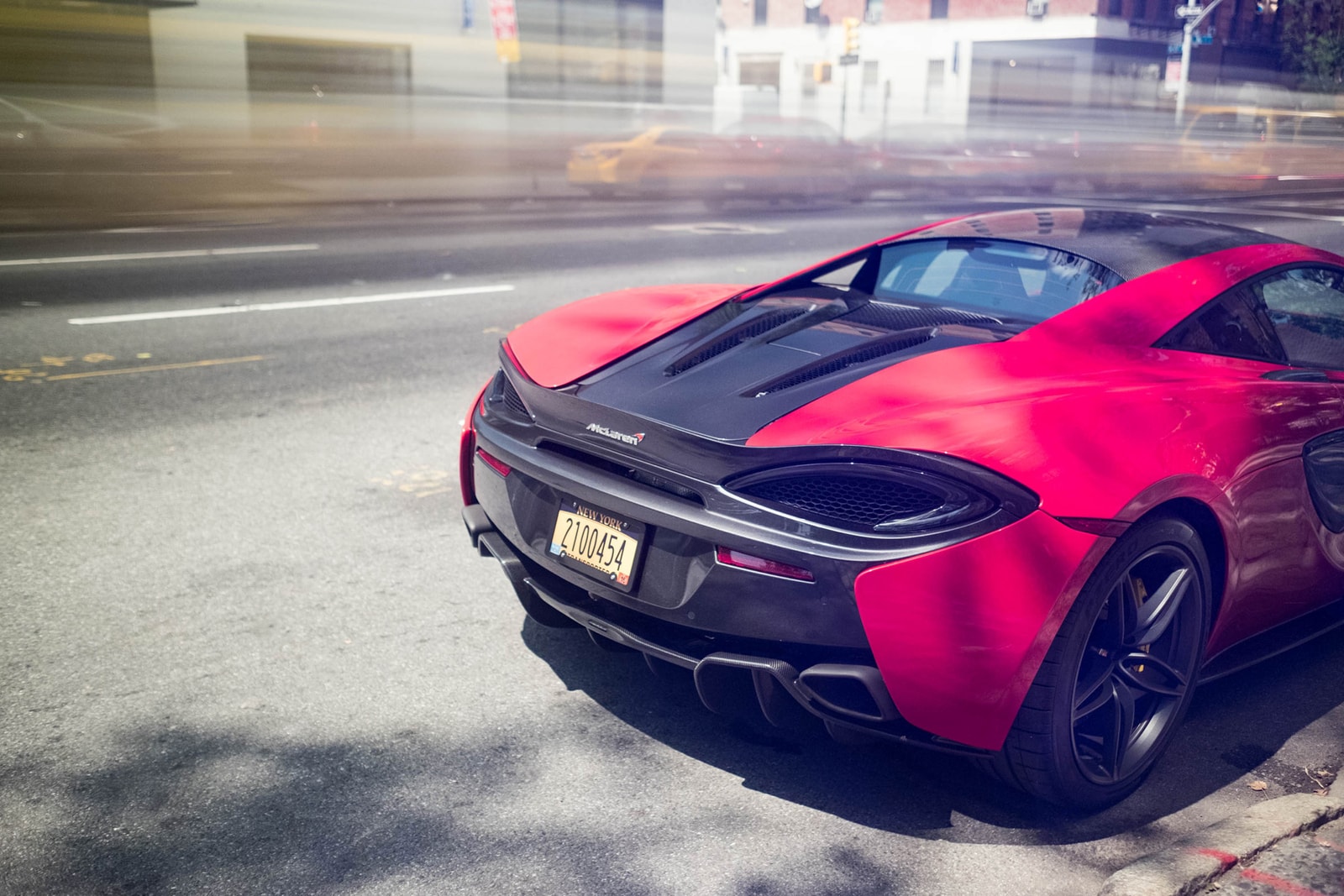 Experimenting with photography should be fun, not clinical.
The 570S also added the benefit of being incredibly easy to drive. Unlike most supercars (ahem, Italian ones), the 570S will start up every time, deliver shifts as if it's a regular commuter car, blast icy cold A/C in your face, and dip and dodge NYC traffic like it's nothing. The fact that it's almost within reach, unlike most $300k USD supercars, makes it that much more attractive to own. You could daily the 570S if you were so inclined, which made it an appropriate car for navigating the streets; bouncing from spot to spot.
You can endlessly search for 10-stop ND (neutral density) filters, but those are going to cost you a pretty penny, with most in the $150 USD range for a quality filter with optical-quality glass (there are cheaper ones, but most research will show they don't produce a high-quality image). A piece of welding glass, however, is super cheap, making it easier to experiment within the same principal of long exposure daytime photography without spending hundreds. It's a gateway drug into buying more expensive—and better quality—gear down the road. Trust us, you will buy better gear.
The shade number of the welding glass can be translated into how much less light is being transmitted through the glass. For example, the one we're using is shade 12 Sellstrom glass, meaning according to this chart, it's around 15 times darker than what the camera would be able to pick up normally. There are charts out there, like this one, which give you the calculations needed for figuring out just how long your exposure needs to be, but we prefer the trial and error method. Experimenting with photography should be fun, not clinical.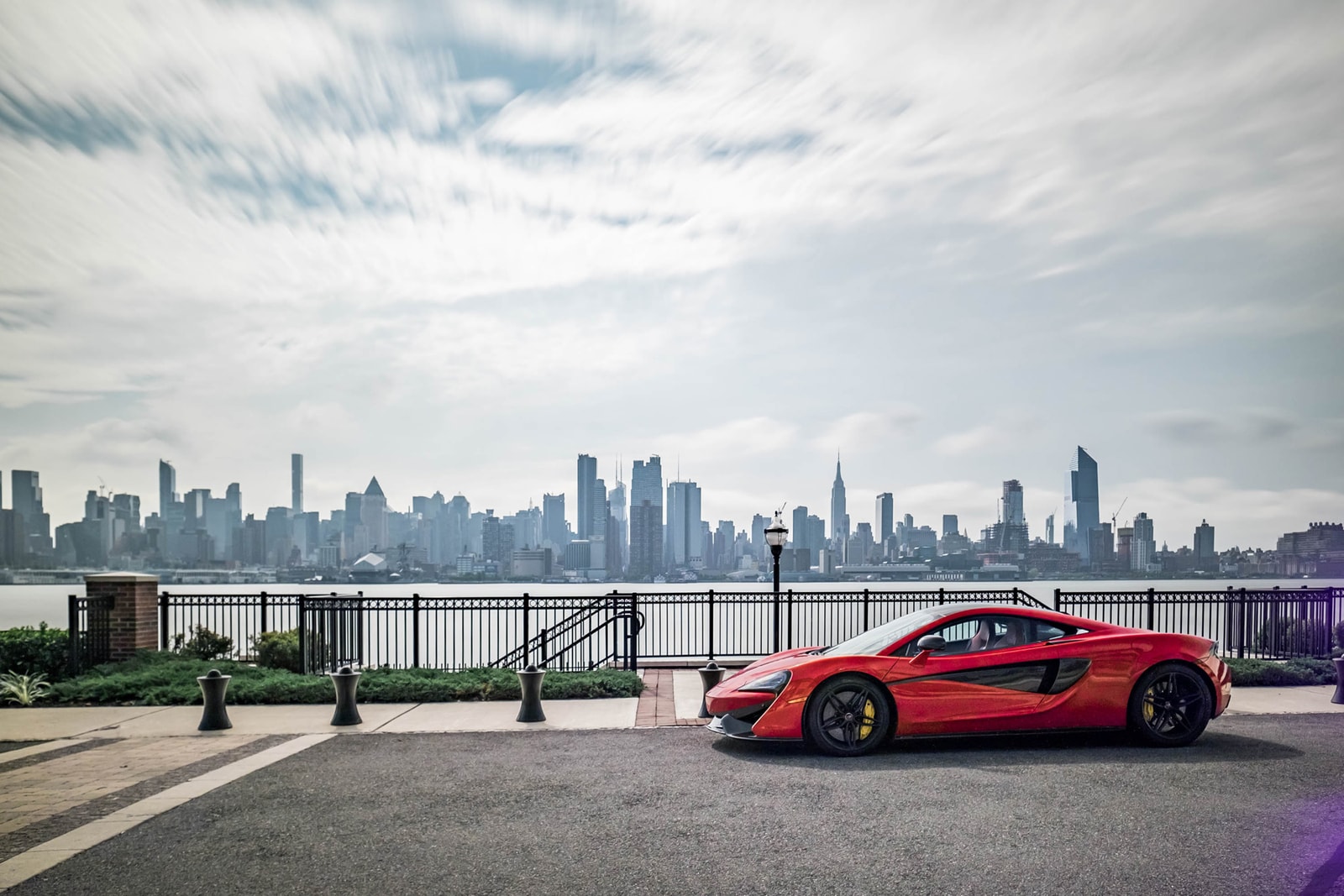 Welding glass does sacrifice quality if you're looking to get detailed prints out of this, but for platforms like Instagram, Facebook and posting on the web, it's hardly noticeable. The glass will also give you a green color cast, which can be easily fixed in most photo-editing programs by adjusting white balance. Or, you could do white balance on location if you so desire. There's also a bit of purple flare, too, which we don't mind, but it can be fixed by making sure the camera isn't being exposed to the sun. Pro tip: a hat or T-shirt fixes this by blocking the sun.
So what are the benefits to using welding glass? First off, it's cheap. Second, it allows for motion blur in the daytime, while almost at the same time freezing the scene because it almost feels as if you're in a desolate environment. And lastly, people don't become a problem in your shot (as long as they're moving) because there's not enough light exposure on them to "freeze" them into the photo.
There are plenty of ways to skin a cat when it comes to experimenting with long exposure photography and you'll find the method that works with your shooting style with hours and hours of practice. As for your settings, try starting out with these as a guideline: the lowest ISO value, f/2.8 aperture and 30 seconds to start out, then modify and adjust as you go.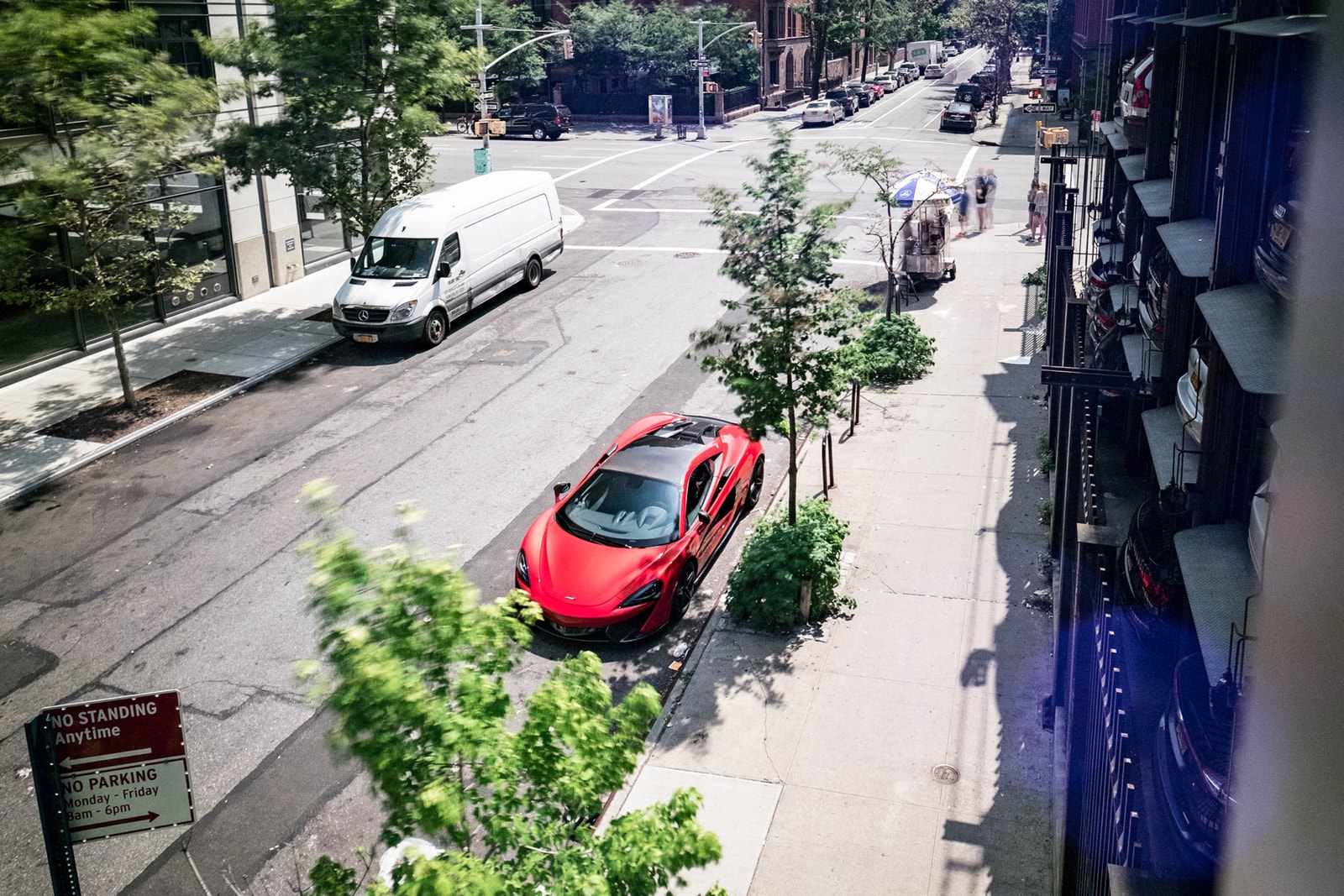 See below for our list of equipment we find ourselves using the most.
Subject
The easy part. Get yourself, or con a friend, to bring their car along for a ride. Our ride of choice is the new 2016 McLaren 570S in a wicked Vermillion Red. The company's first offering in their Sport Series of supercars, the 570S is a 562 horsepower mid-engine carbon fiber rocket, which can decimate tarmac and snap necks with ease.
Camera
We picked up a Fuji XE-2 for $500 USD brand new during one of Fuji's sales. And with firmware version 4.0, it made a two-year old camera up to par. But even if you have a Sony A7 or Canon Rebel, they'll work just the same; you just have to make sure you have a camera that lets you manually operate the shutter speed and aperture. We also like a camera that has a two-second self-timer option so when you press the shutter it allows any motion to stop before it takes the picture, which reduces the vibration and results in a sharper image. For a lens, we prefer something wide and fast; usually with an f/2.8 or larger aperture.
Welding Glass
We chose a piece of 5-1/4 inch x 4-1/2 inch Sellstrom glass for $4-8 USD on Amazon and use two sturdy rubber bands (like we said, cheap tech) to hold it into place. Just remember that once you have the glass on, it's essentially pitch black to the camera, so focusing beforehand helps with seeing your subject.
Circular Polarizer
Not necessary, but helps to cut glare, especially on darker colored cars, which can act as a big mirror.
Camera Bag
There's an abundance of bags out there, but we use an older Thule Perspektiv bag. Any backpack, tote bag or messenger bag will work.
Tripod
A MeFoto Roadtrip tripod is great because it's light, reliable, compact enough to fold into a bag, and relatively affordable.
Sun Surveyor App
Unless you have some weird knowledge of where the sun will be during the day, the Sun Surveyor app is essential to finding out exactly where and what position the sun will be at a certain time of day on a specific date, and it uses Google Maps to show you any location. This is incredibly handy when you need the sun to light up the car, and not be behind a building.
Odds and Ends
A remote timer is usually needed if you want exposures of longer than 30 seconds. A quick release strap, like the Slidelite from Peak Design, makes it easier to remove the strap from the camera so it's not flapping in the wind. Any movement on the camera could make the image blurry during the long exposure. This will help mitigate that.