Be Prepared to Lose Before You Win: Roc-A-Fella Co-Founder Kareem "Biggs" Burke Offers His Advice to Aspiring Record Execs
He also speaks on his current relationship with Jay Z and how 'Reasonable Doubt' came together 20 years ago.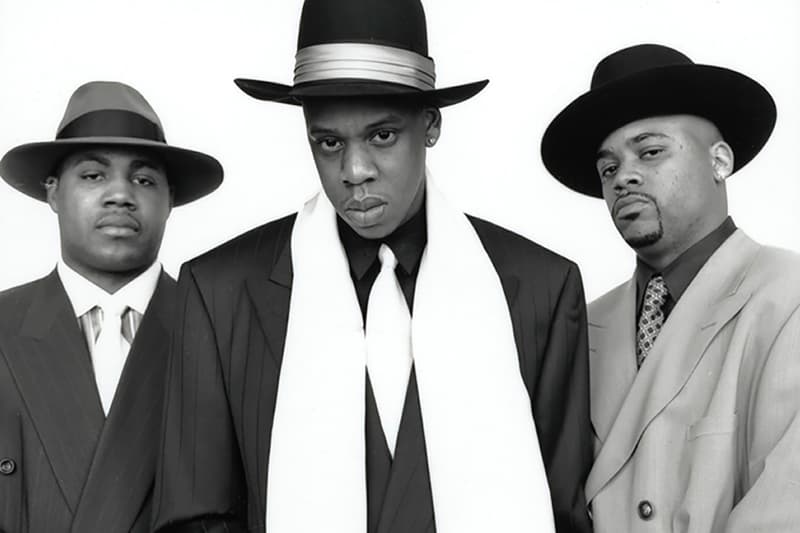 2016 marks the 20th anniversary of Reasonable Doubt, Jay Z's debut album and the Roc-A-Fella Records' freshman release. While it may have started as an independent outlet geared toward the distribution of Reasonable Doubt, Roc-A-Fella quickly became a force to be reckoned with in hip-hop and has served, for lack of a better word, as a blueprint to follow for artists and executives alike. As COO and flagship artist for the imprint, Hov was naturally exposed to a tremendous amount of scrutiny; the same goes for CEO Dame Dash. Kareem "Biggs" Burke rounded out the entrepreneurial trio, serving as chief consultant, key architect and co-founder of the pioneering label and helping out with execution behind the scenes.
While Roc-A-Fella Records may no longer exist in its original form, Biggs is still out there pushing the label's prime product. HYPEBEAST spoke to the record exec to learn more about the anniversary celebrations, his relationship with Hov 20 years down the line, and to glean his thoughts on independent record labels' place in the music business in 2016.
For those that don't know can you detail your involvement in the production and recording process of Reasonable Doubt?
I'm a co-founder of Roc-A-Fella records. Jay, Damon and I started the company together and my role on that project was executive producer. All three of us executive produced the project. My role at the company was more of a chief consultant. Dame was the CEO and Jay was the artist that was the COO as well.
You honored the 20th anniversary of the LP with a collection and pop-up event. What was the idea behind this and how did you conceptually approach it?
We wanted to give them something like the original theme of the album, so stayed true to the black and white, how it was when we released Reasonable Doubt. Even the first videos we did were in black and white, like "Can't Knock the Hustle". We wanted to give something back to show the true independent spirit and have a little play off the graphics because we know that a lot of people wanted that, but they never had it to this level because now we're using high-res images. That's how we wanted to give it back to the people. 

We approached it like dropping an album: we wanted to drop the album first before we drop singles. Right now, most of the t-shirts have huge graphics. There's the album artwork, and then there's the track list on the shirt. And after that, we're going to drop single by single every 45 days; it's going to be a year-long celebration.
How has the response and feedback for the pop-up event series been so far?
The response has been great. What we are hearing from the consumers is "about time" you guys release some merch. They feel like they are buying into history and the lifestyle we created. Jay Z is more like the Rolling Stones rather than just a hip-hop artist and now with Roc96 we can give the consumers something that's been missing from the market, a brand with the lifestyle component.
You've teamed up StockX, the world's first stock market for sneakers, to celebrate the 20th anniversary of Jay Z's first album. What can you tell us about your partnership with StockX? Who reached out to who?
My friend Regina reached out to me and connected me with Dan Gilbert's team to explore doing a pop up in Detroit. While there, I found out StockX was under the same umbrella and I'd been hearing so much about them. I met with Josh Luber and he mentioned that he would be opening it up to other categories. I told him I would like to be the first to launch apparel and I had the perfect item. Everyone wanted to purchase the Reasonable Doubt x Fourth of November collaboration shirt, with the Roc96 Family tree showing the growth and who spawned from what we created 20 yrs ago. All the careers that launched with and started from Reasonable Doubt- some big talent like Kanye West and Rihanna. I wanted something to pay homage to these great artists and their careers. It's great to see how Roc96 was able to change the game and is still going strong 20 years later.
How does a consumer goods IPO with StockX relate to Reasonable Doubt?
We relate. Stock X has a great platform and is paving the way business is done through buying consumer goods. Roc96 has done the same thing, always being the first to push the envelope and introduce new products and building companies so we can set a path for others to follow. We always want to be first, not a company who compromises our integrity by being a follower. We love to do things that are innovative and cool. StockX has given us that platform and has opened up to 200 countries so everyone around the world can be apart of the experience.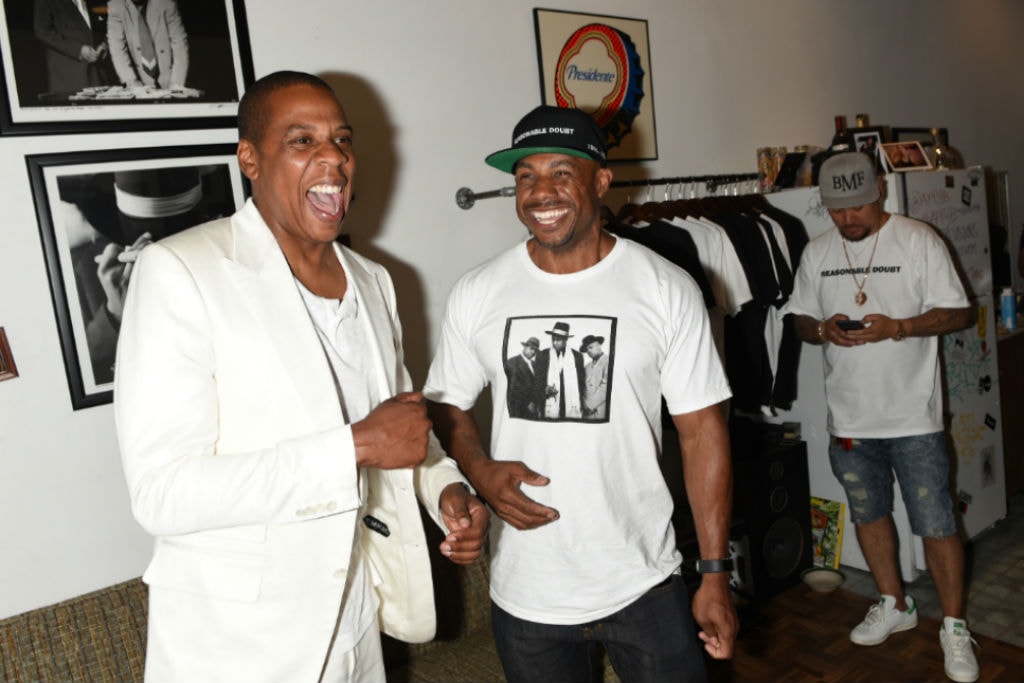 What is Jay saying about it and how is your relationship with him these days?


That's my brother. Jay is really happy about it. He's seeing everything I'm doing; I'm shooting him images and everything and he's loving it. He's just happy right now because you've heard a lot from Dame and Jay over the last twenty years, only now to hear my point of view. He told me the other day, I would have been happy just doing a toast and bringing the twentieth year in the house, but I'm happy that you're taking over the reigns and introducing it back to the public.
You've seen the album unfold step-by-step, and what point did you know that the piece would be a classic, and why?
I knew the potential that Jay had. Hearing every song before it made the album, I knew what the project was gonna be. It wasn't until the album got sequenced that I knew it was going to be an instant classic, but with the potential that Jay had, the only thing that was missing was the producers. Once Preemo (DJ Premier) came onboard, and the relationship with Ski, Peter Panic and Jaz-O and DJ Clark Kent, it was an easy fit.
Can you describe the best and craziest moment during the recording session?
The best and craziest was probably with B.I.G, when we did "Brooklyn's Finest". That time when B.I.G came into the studio his presence was definitely felt. B.I.G came in and you know, he's a big personality, he likes to laugh a lot too, he's also a comedian. The biggest thing was when they sat together at the engineer's table. The engineer threw the pad on the table and then Jay pushed it over to Biggie and Biggie pushed it back over to Jay and they found out neither one of them wrote [lyrics down on paper]. That was something that was monumental at the time.
What is your favorite verse on the album?
Wow…Probably, "Bring It On."


How did you celebrate Reasonable Doubt's platinum success?
We didn't go platinum in the beginning; we went platinum years later. Jay celebrated with a concert and he did a b-sides concert. A lot of people came thru for that and we gave out the platinum plaques to all the producers, so that was something. We're gonna do something a little special for the double platinum.
Would you recommend that young entrepreneurs start a record label in 2016?
I don't know if it's something I would recommend because the music right now, I would say that if you have a long-term goal and you see a way to brand yourself and to branch further than music, then that's something to get into and use as a platform to launch other businesses. It's not as lucrative as it was before, but guys are in the business because of how the internet gave this outlet where you don't have to be signed to a record label and use that infrastructure. You can actually put the music out yourself and use Orchard and TuneCore that give you a platform to go out and perform and own everything you're doing. I like that, it brings it back to the genesis, which is to be independent.
What is your ultimate business advice?
Learn everything about the company that you're trying to get into. A lot of times people don't know that when they're investing in a company or thinking about it that first of all, you're going to be in the red for the first two or three years. A lot of people think that it's going to be an immediate success, so you gotta be prepared to lose before you win. There's business plans, there's forecasts and things which have to be put in place that we didn't look at in the beginning. We made some early mistakes that we learned from later on. Really understand the business that you're getting into.
What are you working on in the second part of 2016?

Right now it's all about Fourth of November. We want to really get this denim line out that's about American heritage and using cotton denim. The good part of it is that our designer's taking on a hands-on approach where he's actually designing these clothes in his garage in Brooklyn. He's throwing tea bags and oil and paint on these jeans and going to home depot and getting saws and scissors and doing everything hand-made before they get replicated. That's something that I didn't really see before, so it was a story that I gravitated towards and wanted to partner up with. This collection is like launching an album. Every forty-five days I'm going to drop another single and all the new shirts and tees that come out are gonna be related to that single starting with "Can't Knock the Hustle".
We're taking this around the United States and then we're going to go out the country. The thing that I like about it the most is blending Fourth of November and Reasonable Doubt and giving somebody two different things that mesh together but still show that independent spirit, that shows this cool denim with the shirts we're doing for Reasonable Doubt
We have an art series event that goes around the country. We have the artists come in, we give them the clothes to use as a medium and then we hang it up as art, but then we do a build-out of the actual line so people can get a taste and feel. The thing about what we're doing with Fourth of November is we didn't want to have an ambassador or face of the company like we did with Rocawear, because if something happens to that person, people look at it like this person is fading, they're not popular anymore– and that goes back to the line. So I wanted to have people get a feel of the clothes through these cool events.