Why are Japanese Designers Choosing Copenhagen for Their European Debut?
We look north for the latest and greatest from the East.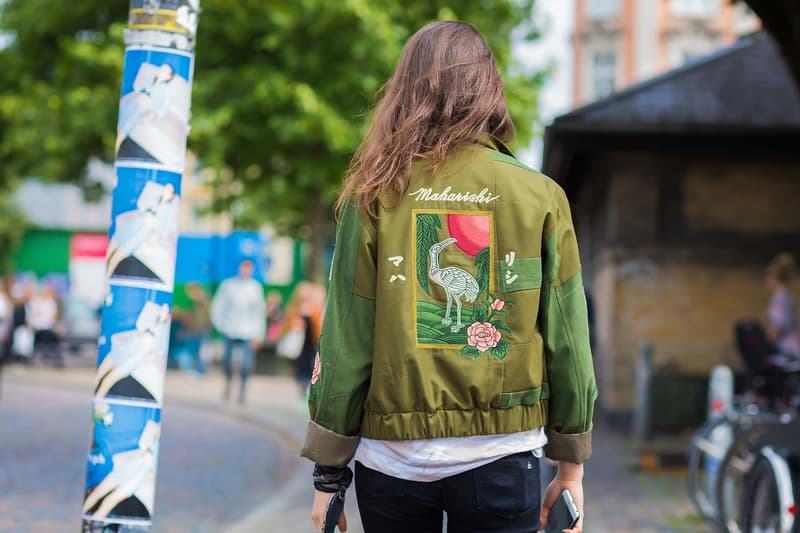 It's no secret that Japan and Scandinavia have long seen each other as kindred spirits in terms of their shared love for minimalist, carefully considered design. This much extends to fashion design, where the average pedestrian on the streets of Tokyo's Shinagawa and Copenhagen's Christianshavn districts can be found dressed impeccably and effortlessly, often in subtle, refined outfits that never scream for attention yet exude personal character all the same. Given this commonality, the showing of Japanese brands at last week's Copenhagen International Fashion Fair (CIFF) was formidable, a presence that was only bolstered by the likes of the BEAMS special project that brought along eight under-the-radar Japanese brands to the trade show.
This mutual artistic partnership extends back to before the turn of the 20th century, when the opening up of Japan under the Meiji Restoration led to an influx, and eventual fascination with, Japanese culture in the West. Japonisme, as the phenomenon was called, made its way to the Scandinavian countries via London and Paris in the 1880s and 1890s, and its effect on the Nordic design consciousness proved to be profound. Inspired by Japanese arts and crafts to break away from centuries-old institutionalized Western standards of realism and regimented composition, Scandinavia's most prominent artists of this era — including the likes of Carl Larsson, Pekka Halonen and Akseli Gallen-Kallela — incorporated Oriental elements such as visual simplicity and a meditative philosophy espoused by their Eastern contemporaries.
Thus, the groundwork was laid for the development and flourishing of the iconic Nordic Modernism movement of the mid-20th century that today remains a fundamental exemplar of good design the world over. It is this period that we have to thank for birthing Danish movers and shakers in architecture and furniture design like Finn Juhl and Arne Jacobsen, and the inimitable Swedish furniture giant, IKEA. Through these collective efforts in etching a new vocabulary for minimally intrusive and maximally functional design, the Nordic aesthetic has inevitably bled into other areas of design. To this day, these design principles form the bedrock upon which through-and-through Danish contemporary brands like Norse Projects, RAINS, Hans Kjøbenhavn and Tonsure base their collections.
Now, with the rise of one Asian-inspired cult fashion item after another these past few seasons (think souvenir jackets and kimonos), there's never been a riper time for up-and-coming Japanese labels to insert themselves into the West, beginning in the fertile environs of Copenhagen. The Danish capital has established itself as the fashion epicenter of Scandinavia, given its robust infrastructure, a central location between the Nordic countries and continental Europe, and an illustrious design history.
Last week's Copenhagen Fashion Week only solidified this reputation, with the CIFF and Revolver trade fairs welcoming between 25,000 to 30,000 industry professionals over the space of three days. "We've shown in New York and Tokyo, but those fairs are geared more towards American and Japanese audiences," said Takuma Sasaki, co-founder of Tokyo-based label NOMA t.d. which exhibited with BEAMS. "I see a wider European presence here."
Also with BEAMS was Michihiro Nakazawa, who founded ALOYE with two childhood friends-turned-graphic designers. Exhibiting his label internationally for the first time at CIFF, Nakazawa said, "Scandinavia has many good shops, so it would be an important market for us." He continued, "[Scandinavian labels] are very unique but not overdone, they don't scream out but are still very characteristic. Those are some traits that are in common with Japanese values."
Similarly, a spokesperson for salvy; — founded by Issey Miyake alumnus Hirokazu Goh in 2013 — praised CIFF for its convenience. "The space is huge and everything is gathered here. It's good for buyers and press to meet people, [whereas] in Paris and Tokyo everything is all over the place and at different times, making it very hectic. Here, everyone is here in these three days, making it very organised. That's unique to CIFF."
All in all, CIFF will continue to act as an important nexus for Japanese brands hoping to gain exposure not just in Scandinavia, but also the rest of Europe. Outside of the BEAMS project, brands like SUICOKE, White Mountaineering and Facetasm also showed at CIFF, with the latter being picked up by Browns of London for the fall/winter season. And as Oriental influences continue to hold streetwear and high fashion in their thrall, Japanese designers hope that interest surrounding high profile collaborations such as the recent Supreme x Sasquatchfabrix. collection will carry over into continued exposure for the "Made in Japan" brand. For now, looking north is your best bet to anticipating the next wave of Japanese labels with international ambitions.