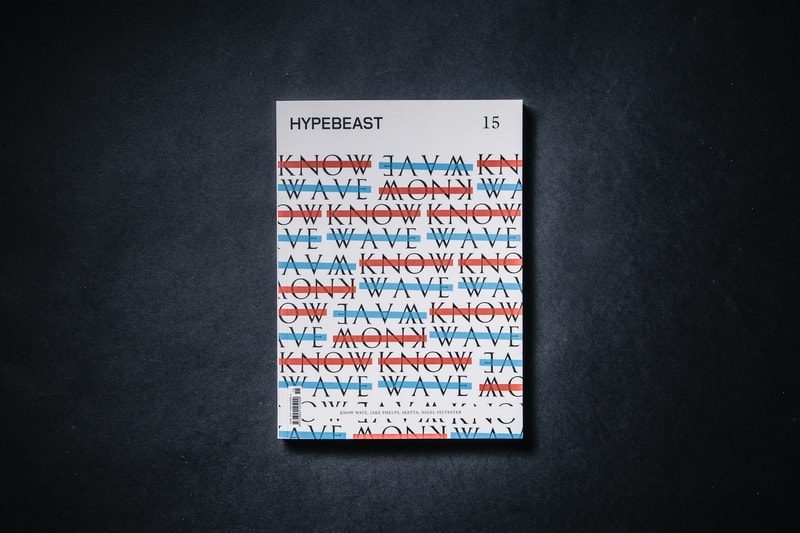 HYPEBEAST Magazine Issue 15: The Foundation Issue
Featuring stories with Know Wave, Jake Phelps, Skepta, Nigel Sylvester and Olivier Rousteing.
---
We at HYPEBEAST Magazine understand that what we are and what we represent is made hugely in part by the ones who have come before us. Our foundation is built on all the brands that we report on from the past, present and future, as well as each of the creative individuals that we implore to provide valuable insight into the realms of fashion, art and technology. Hence, for our 15th issue we decided to take a look at the "foundations" on which some of these key figures and collectives are built. With this issue we look to not only discover origin stories, but also gain new insight into the past influences and future missions of some influential characters within our culture.
For the cover story we sought out one of the most visible names of the past year. Frequently seen stretched across T-shirts and baseball caps, Know Wave the logo has spread throughout the world like wildfire – the story behind the Internet radio station, however, has not. We took the time out to speak with two of its founders, Al Moran and Aaron Bondaroff, in order to uncover the root of the station and get a clear picture of what it has become today. Keeping with the thread of illustrious logos, we also met with the legendary Jake Phelps, longtime editor-in-chief of Thrasher magazine. In an eye-opening and entertaining interview, Phelps tells us a bit about the process behind the skate bible, and just what the publication stands for.
In this issue, we also tapped key figures in music and sports to examine their influence on their respective fields. Skepta, though not known for being a founding father of grime, is undoubtedly seen as the savior of the blossoming UK hip-hop genre. We enlist Skepta for a feature that sheds light on the origin story of this musical movement. In the same way, we speak candidly with Nigel Sylvester about his own personal relationship with BMX, touching on the ways in which he has affected the sport and vice versa.
Fashion-wise, we took a look at several well-established brands who have continued to stay atop their industries through time. We chat with creative director of Balmain, Olivier Rousteing about the added pressure of working with such a storied fashion house, and spoke with the CEO of Italian menswear brand, Stone Island, to find out what the brand has done to stay relevant, withstanding the test of time. The issue also includes the fascinating background story of sacai's founder, Chitose Abe, as well as early stories from one of the first streetwear boutiques, Union, through then lens of its owner Chris Gibbs. Read these stories and many more, the issue hits stands today.
HYPEBEAST Magazine Issue 15: The Foundation Issue retails for $15 USD and is currently available at HBX, as well as at select stockists and newsstands worldwide.