Does Fashion Put Spectacle Over Quality Now?
In the modern day, clothes don't speak for themselves anymore.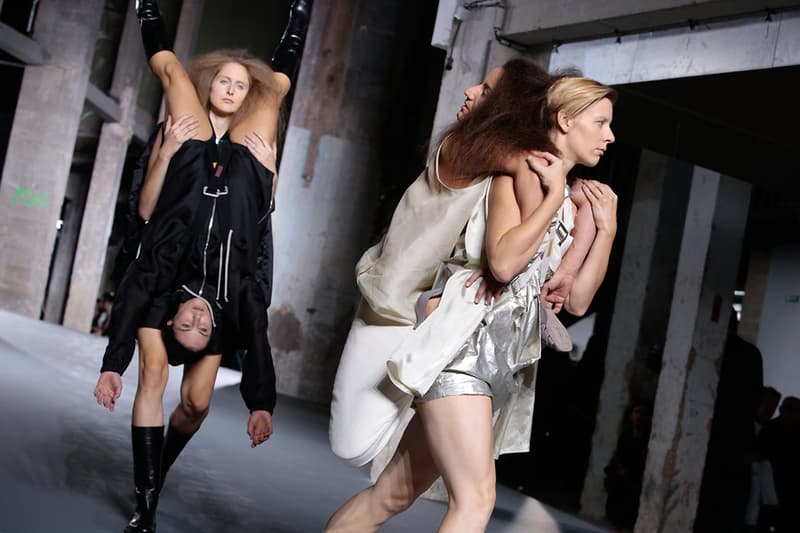 It is undeniable that over the course of the the past half-decade, fashion has undergone a violent shaking of its foundations with the advent of social media. Thanks to the widespread influence of Tumblr and Instagram, a rapid democratization of a traditionally elitist, closed-off world has taken place. Nowadays, a minuscule 5-inch screen is the most common medium through which we consume fashion media, and with so little real estate compared to the broadsheets and magazine spreads of yesteryear, designers have found that sensational styles, paired with celebrity power and overblown marketing campaigns, are the best at stopping a consumer from scrolling any further down their Instagram feed.
Throughout most of the 20th century, fashion was a relatively regimented affair that was dictated by the fashion elite, who edited which brands would end up in flagship department stores or within the pages of a prestigious magazine, thus keeping a tight grip over the direction of mainstream fashion. However, beginning in the early '80s, a ragtag group of Japanese mavericks — which included Rei Kawakubo, Issey Miyake and Yohji Yamamoto – transplanted themselves into the Parisian fashion scene with a mission to challenge the staid state of the establishment, effectively opening up the industry from the inside out with their novel, heavily conceptual aesthetics.
While the state of fashion inevitably became more rich and kaleidoscopic through the '90s and into the new millennium, it very much remained the preserve of a devoted core of industry insiders. Runway design remained simple and non-intrusive while womenswear designers (menswear shows were close to non-existent) put an emphasis on wearable and marketable outfits. With the turn of the millennium, online forums such as SuperFuture and StyleForum provided nascent online gathering places for the earliest menswear enthusiasts, but at their core were intended as closed communities.
It was only in the late '00s and early 2010s that this would all drastically change. Beginning in 2005 with Scott Schuman's blog, The Sartorialist, and Tommy Ton's Jak & Jil, street fashion photography turned the focus from the catwalk to the pavement, where the fashion elite milling outside the show tents suddenly found themselves the subjects of Schuman and Ton's cameras, exposed to their thousands of online followers. These images then found their way to Tumblr, whose image-centric structure and emphasis on reblogging gave exponential rise to the #menswear movement.
As these fashion insiders found their images circulated around the internet as sources of inspiration and admiration, so did the fashion labels that they wore become overnight must-haves, with many coming to the realization that the apparent authenticity that these free agents of fashion bestowed on their brands was something close to priceless. In the same period, Tumblr would go on to dispatching its own correspondents to New York Fashion Week 2011 to create even more viral content fit for thousands of reblogs.
In the years since, social media has effectively restructured the fashion hierarchy from favoring the tastes and opinions of an elite class of editors and buyers, to a grassroots-driven, trickle-up model where the smartphone-wielding masses gradually shift the course of fashion. As youth-driven celebrity and pop culture have become increasingly intertwined with the design decisions of storied fashion houses, so have these fashion houses paid increasing attention and made strategic power moves to cater to the fickle whims of the populace.
It was with an ear to the ground that Balmain returned to relevance by hiring the fresh-faced Olivier Rousteing as creative director in 2011, while Balenciaga similarly 
revived its fortunes
with the 2012 appointment of Alexander Wang. Even more traditional tailoring names like luxury Italian label Brioni followed suit by naming fashion week darling Justin O'Shea as creative lead earlier this year, despite O'Shea's lack of any design credentials. In his tenure at Balmain, Rousteing partnered with fast fashion giant H&M to distribute his designs to the mainstream, as Wang similarly did with his eponymous label while helming Balenciaga. Meanwhile, O'Shea unveiled a radical new campaign last month for Brioni starring, of all people, the members of Metallica.
While the smaller high fashion houses are nimbler and have more freedom to break away from their heritage, household names such as Chanel and Valentino — which have been helmed by Karl Lagerfeld and Valentino Garavani respectively for decades — have also resorted to spectacle to keep up with the times in recent years.
Year upon year, Chanel's show sets become ever more extravagant, transforming Paris' Grand Palais into everything from an airport terminal and a wind farm, to a Parisian city block and a melting Arctic landscape. Meanwhile, Valentino has opted for a less atmospheric, but no less dramatic route of tapping into pop culture, not only collaborating with noted fashion brethren like Terry Richardson and Yeezy collaborator Vanessa Beecroft, but also releasing some rather garish co-branded sneakers with Marvel and DC Comics in order to capitalize on the current superhero craze. At its Fall/Winter 2015 show, the Italian house also sent the infamous Hansel and Derek Zoolander down its catwalk, without doubt to the mutual benefit of itself and the then-upcoming Zoolander 2. Similarly, Jeremy Scott's uber-kitsch designs seem tailor-made for the candy floss nostalgia of millennials, and as creative director of Moschino he has lent the name of the Milanese fashion house to viral partnerships with Nintendo and Katy Perry, whilst designing a longstanding lifestyle collaboration with adidas Originals.
Elsewhere, new social media platforms represent huge untapped potential for brands to reach ever-younger, and therefore highly influential youths who had become the drivers of mainstream culture. Hoping to reposition itself with a new generation of consumers, Burberry revealed its Spring/Summer 2016 campaign on Snapchat, while Northern Irish wunderkind J.W. Anderson took to gay dating app Grindr to live-stream his Fall/Winter 2016 show. Known for its provocative stance, Diesel went several steps further in appropriating the over-filtered and emoji-fluent aesthetic of the 'Snapchat generation' in its Spring/Summer 2016 campaign, which was then advertised on Tinder, Grindr and PornHub. And of course, there are few millennials who haven't been reached by Calvin Klein's wildly successful social media advertising strategy of late, employing the likes of Kendall Jenner, Kendrick Lamar, FKA Twigs, and Justin Bieber's Photoshopped pelvic bulge to great effect.
Residing at the outer fringes of high fashion are brands that don't so much seek social media buzz insofar as they find it a nuisance and an unwanted byproduct that distracts from the true, conceptual meanings of their work. Craig Green shot to the front pages of British tabloids for affixing planks of wood to his models at his Fall/Winter 2013 show, earning sensationalist headlines such as "What a Plank!" and "Vivienne Waste-wood." Hussein Chalayan has also wowed the jaded fashion elite for tech-inspired clothes that morph, blink and disintegrate under water, providing a tantalizing glimpse at a future of adaptable clothing. However, Rick Owens is without doubt the one designer who garners the most column inches for his consistently zany and bewildering shows. Cue everything from models protesting on the runway and robes with strategic penis holes, to human backpacks that were a symbol of "women raising women, women becoming women and women supporting women." Despite the noble or well-intentioned ideas that served as the foundations of these collections, ultimately the likes of Green and Owens succumbed to the spectacle of fashion, with the mainstream media fixated on the most bizarre aspects of the show and unable to dissect the deeper meanings behind the clothing.
In other words, spectacle has become the mode du jour, the rule by which brands live and die today. While it is all too easy to overdo spectacle, there are a precious few that manage to masterfully combine it with quality against all odds to create those rare moments of magic that we all crave from fashion. Among these, Thom Browne is fluent in the art of theater on the runway whilst always keeping in mind the importance of marketability. From a lushly morbid funeral procession and a rueful meditation on nostalgia, to his latest lighthearted, beach-themed and wetsuit-heavy show that had Vogue gushing about his "absolute commitment to … the craft of making clothes, and the craft of spectacle," Thom Browne is both a showman and an artisan in their every sense. It takes a delicate touch to toe that line and Browne does so with aplomb, in the process setting a high bar for his peers.
Within streetwear, Yohji Yamamoto's longstanding adidas Y-3 label is one that successfully balances design and spectacle, having built up a core of devotees for its avant-garde yet accessible designs despite minimal marketing. "Nowadays it is very common to create a 'cult following' using social media and marketing strategies," says Y-3 Senior Director of Design, Lawrence Midwood. "Our loyal fan base has grown organically over the years and continues to today. We tend to think they found Y-3 and felt part of that sportswear fashion movement rather than we cultivated them." In a perfect statement of the role of the fashion show in complimenting the clothes, Y-3's Spring/Summer 2017 show merely featured a spotlessly abstract corridor that set the tone for the clothes, yet the setting never overextended itself. "For us, huge theatrical productions seem a bit out of date," Midwood continues. "Since a few seasons ago now, we have reduced certain elements. Critical to us is the focus of the audience (whether in the show venue or not) on the collection."
So what does this mean for fashion at large? Does design even matter any more? Ultimately this comes down to our willingness as consumers to look past the noise of ephemeral trends and saturated marketing to see good design for what it is. From the efforts of Chanel in preserving the traditional Parisian savoir-faire maisons, to a widespread return to reverence for small-batch artisanal products worldwide, the signs are promising for those who can fend off their baser desires to rush headlong into the next flash-in-the-pan Instagram trend.