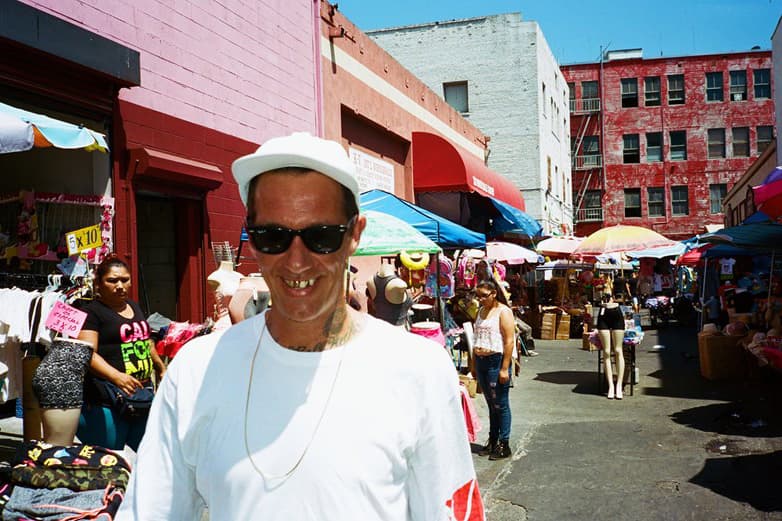 Cali Thornhill Dewitt Is Fascinated & Flattered by Bootlegs
The Los Angeles artist behind Kanye West's 'I Feel Like Pablo' merch is also a huge fan of Kodak Black.
---
Cali Thornhill Dewitt's memorial T-shirts have become ubiquitous; so much so that even Forever 21 has ripped off the look of his popular TLOP merch. Dewitt himself isn't bothered by the bootlegs—rather, he's flattered by them and he considers stumbling upon knockoff "I FEEL LIKE PIZZA" tees in his local flea markets to be a moment where everything comes full circle. After all, he borrowed the design and aesthetic of the T-shirts from Chicano gang culture. In a new interview with SSENSE, the reclusive artist spoke on gold teeth, how he started heat-printing his own tees, and how much he loves Kodak Black.
Read on below for some choice quotes and check out the interview in its entirety here.
SSENSE: It's interesting to think about these smaller scale activities [Dewitt recently started a new record label called Some Ware] alongside your memorial sweatshirts. Those were initially produced on a similarly intimate scale, but then at a certain point something clicked, and it suddenly spoke to a mass of people. It had the right chemistry at a certain moment that –

Cali Thornhill Dewitt: That Forever 21 made their version.

Has it come to that?

Yeah, yeah, yeah.

What's their version?

Some people have been sending it to me – the text is a memorial for the Christian figure Simon de Cyrène. It's not cool, but it's funny. I love bootlegs. I love the idea of making a shirt or something that two years later you could see on an old Chinese woman in the subway. To me, that's the reason to make a shirt. Some people thought I would be mad when they sent it to me. But I think it's fine. I don't really claim ownership of it. You know, you can hold on to something really tight, and scream about it, or you can just let it go. I prefer to just let it go.

What do you think about the shift of the meaning when it reaches the scale where it shows up in Forever 21?

Well it couldn't keep the same meaning, so I just think it's an interesting twist.

But at the same time, you're quite explicit in noting where it came from, in terms of its Los Angeles, Chicano roots. This was a community aesthetic.

I think it's important for people to know that this is something I saw Hispanic gang members wearing, and I would make – people would make – in LA at the swap meet, for very cheap. It was most often a memorial for someone who died. So if you and I had a group of ten friends in El Monte and one of them died, we would all go make one and wear it to the funeral and wear it in the neighborhood. And I started making them because they stopped. Not because Hispanics stopped, but because the places where everyone went to make them at the swap meets stopped making them. So I was going to the swap meet to make a set of 20. I was driving and I was like, 'You know what, I want to make 20 of them.' And I have the list still. I wrote it while I was driving, it was like, Marlene Dietrich, Harpo Marx, DJ Screw – just a list of 20 people I liked. And I wanted to put 20 of them on the wall. Like it was literally a thought I had while driving at noon. And then I went to the swap meet, and the stand was gone! It was there, but it wasn't there. I was like, 'Where's your heat press machine?' And I have one friend in LA who was equally into that, named Alexis Ross, and I called him and he was like, 'Well, we gotta find it…' So we went to other swap meets, and they were all the same story. It then became this thing for Alexis and I to try to locate it. Finally when I located it, it was literally a diecut school uniform place in, Wisconsin. I mean other people I'm sure also made the letters, but this is the place I found that still had them. And I called them like, 'Are they all gone?!' And they were really confused. They're like, 'We have a die cut. We make this stuff to order for high school uniforms.' They didn't understand that I cared, or –

The desperation.

So I just started. I got a heat press and I started ordering from them. And then it became a thing that I enjoyed doing. It became a thing where when Rene Ricard died, I could ride my bike to the studio and make it within the hour and give it to someone who I knew knew him. It became this nice thing that you could do. Because I don't keep them, and they're not really for sale. They're either for trade, or for someone close to the person, or someone who really loves the person. That's what they should be for.

So I'm curious then what your position is about the nostalgic aspect of these pieces.

I mean, I don't think a lot of people know where they come from. But there is currently – like in the last year – a sort of lame nostalgia for Hispanic gang culture. And the drawings that maybe would appear on handkerchiefs by guys in prison. You know that style? No one really cared about that. And it doesn't matter that people are drawn to it now, because they're drawn to it mostly simply as an aesthetic. But the ultimate goal behind the production of these memorial shirts – which was more of a fantasy, so I can't believe that it's kind of happened – would be that it would make it into the bootleg market, saying either Kanye stuff or 'I Feel Like Pizza.' (laughs) In LA, Santee Alley is where you can get these kinds of bullshit $5 t-shirts. And it's back there now. I can't think of a better outcome.

Now that you're focused more on your own work, you've got to face much more public attention. What are your thoughts on privacy?

I love privacy. (laughs) I think it's important to know that you can just say no. Like with the Kanye thing, I don't talk about it publicly. I just think some people really like the limelight, and they like to talk about themselves and post six things a day on Instagram. I don't like to do that. Anonymity is super good, as much as you can get it.

It seems like it's running the opposite direction from you.

You can hold onto it, you know what I mean? You can come into things quiet. You don't have to fist pump your way into every room. Because from when I was younger, I was on tour with Nirvana and stuff, I already know that I don't want to be in that—that fame, that attention level, everybody like, 'AAAHH!!' It's like being inside a tornado.

Clearly things don't have to be run on that level.

Like this new Kodak Black mixtape, I love it, and I don't think hardly anyone's going to listen to that, you know? You gotta watch a video of him. He looks amazing. He's got all gold implants, like a full mouth, and he likes to floss – like literally floss them – to show these are implants. He's not popping them in, he's living with these gold teeth. I can't floss between my front teeth. This is a bridge. I know what he's talking about. And I love that that's a thing! Because he's young. He had to go and have all of his healthy teeth removed. It's fucking awesome. My teeth alone were a big operation.

Your gold ones are replacements?

Yeah, I insisted. (laughs) It took a year, 17 root canals, nine teeth pulled. It was harsh.