FTC Tells Shinola to Stop Using Its "Where American Is Made" Slogan
Shinola Founder Tom Kartsotis also responds with an open letter.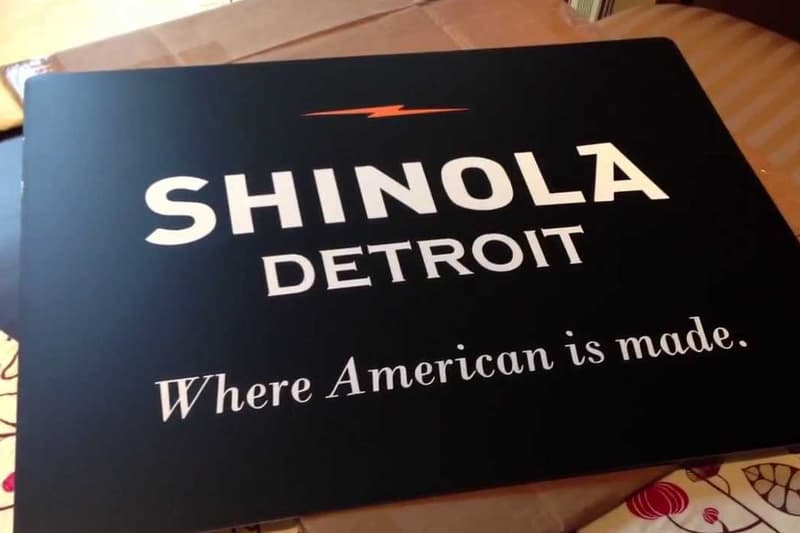 Detroit-based leather and luxury goods company Shinola will be implementing an action plan on a suggestion from the FTC to avoid further enforcement action. This comes as a response from a letter from the commission detailing a review that raised concerns about the company's practices on whether its products are "made" or "built" in the U.S. According to regulations, close to 100% of a product's parts must be manufactured in the U.S. for it to carry a "Made in USA" or "Built in USA." Any company seen making this false statement are subject to fines.
No enforcement will be made at the moment, but the FTC did point out that it will keep tabs on Bedrock to ensure it does not make anymore "deceptive U.S.-origin claims." As for its marketing, Shinola will no longer be allowed to use its "Where American Is Made" slogan. In addition, the company plans to alter its "Built in Detroit" claims, to instead say "Built in Detroit from Swiss and imported parts."
In an open statement responding to the FTC letter, founder of Bedrock Manufacturing and Shinola Tom Kartosis says that, "We have always believed that 'Built in Detroit' most accurately describes the watches (and jobs) that are being created in Detroit and will continue to mark our watches."
Read below for Kartosis's full statement.
While we are happy to have this episode behind us, we are troubled by some of the things that we experienced in the process. Shinola has always tried to be a Company that brings jobs to America by training individuals here to handle as much of the manufacturing process as possible, while at the same time, attempting to remain competitive on a global scale. We believe that our mission is, and our marketing implies, that we are a job creation vehicle and not a "Made in America" play.

We have always believed that "Built in Detroit" most accurately describes the watches (and jobs) that are being created in Detroit and will continue to mark our watches as "Built in Detroit." (Shinola has indicated to HODINKEE that the phrase will be additionally qualified with "with Swiss and imported parts".) While the FTC did show us some flaws in our communication, we believe that we have genuinely tried to be completely transparent as to the origin (and mission) of our products from the outset. We are thankful to the FTC for helping us identify some areas of improvement within some of our communication, which we began adopting over the last year.

What is left unsaid here is that the regulations governing the "Made in the USA" standards create somewhat subjective policies and standards that hinder the ability of any given Company to communicate effectively to the consumer the overall effort and scope of what they are manufacturing in America in order to separate themselves from the majority of Companies that completely import their products. The truth is that Shinola is and has been a leader in bringing as much of the manufacturing process back to the US as it can possibly achieve. But as you can imagine, many of the components and raw materials are simply not available in the US, and because of that we are unable to meet the almost unattainable "Made In USA" standards created by the government.

We found it confusing that a car, for example, isn't held to the same standard as a watch. The inconsistency of the policies and laws, as well as the subjective nature of some of the process, renders it difficult to navigate as a U.S. company and compete against other companies, U.S. or foreign, who benefit from the overall lower costs in off shore production. Until a change in policy clarifies for the consumer what it truly means to be Made in the USA, Shinola will always strive to do as much as it can in America with the benefit of an American workforce. We would like to assure our customers that our high quality products will continue to be as American as possible while remaining a competitive alternative to products that are not supporting the same level of investment back into the U.S. We appreciate the overwhelming support we have received from consumers everywhere and extend an invitation to all to come through our factory and see, first hand, the people behind Shinola in action.

Sincerely,

Tom Kartsotis