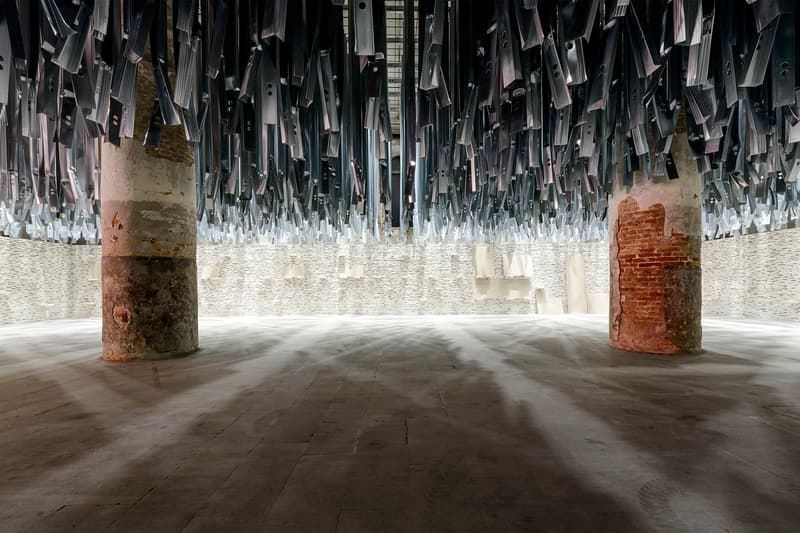 Alejandro Aravena Decorates the Giardini and Arsenale's Foyers With 100 Tons of Trash
The renowned architect takes over the Venice Biennale with leftovers from last year's exhibition.
---
Renowned Chilean architect Alejandro Aravena — who recently bucked tradition by releasing his celebrated housing designs for free — was the perfect choice to serve as the director and curator of the Venice Biennale 2016's architecture section. Having taken home this year's coveted Pritzker Architecture Prize — awarded annually "to honor a living architect or architects whose built work demonstrates a combination of those qualities of talent, vision and commitment, which has produced consistent and significant contributions to humanity and the built environment through the art of architecture" — Aravena opened this year's installment of the Venice exhibition with a show-stopping display: he filled the Giardini and Arsenale's foyers with 100 tons of trash.
Don't let the idea fool you, however: the Venetian space doesn't exactly evoke the look of a landfill. Instead, streamer-like chrome scraps elegantly descend from the ceiling while 107,000 square-feet of drywall — all of which are leftovers from last year's Venice Biennale — give a stucco treatment to the walls. According to Aravena, the point of the artful recycling was to show that "constraints should not prevent architects from inventiveness." Said Aravena, "Value is not based on the quality of material, but on creative and distinctive use instead."
Ultimately, the space is the perfect continuation of the architect's own design ethos: dubbed "incremental design," Aravena's signature method is hallmark to purposely unfinished structures, each of which typically allows its tenants to customize their respective units as they see fit.
This year's Venice Biennale exhibition opened May 28 and will remain on display through November 27.