Essentials: Adam22 of No Jumper and OSS
The podcast host also speaks on his origins, aspirations and his dream interview.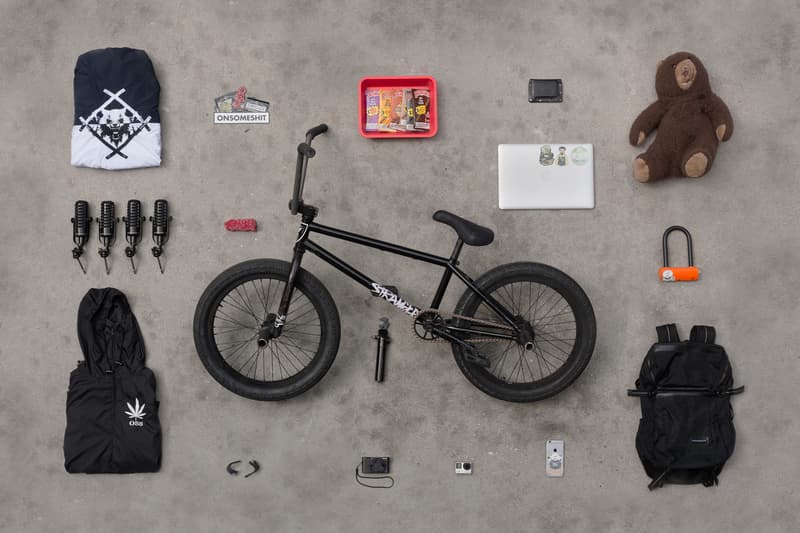 Adam Grandmaison, or Adam22 as he's known on the Internet, is a man of many hats. The New Hampshire-born, LA-based BMX rider leaped from hustle to hustle before finally finding his groove as a self-starting, self-made extreme sports mogul of sorts. His empire consists of his clothing brand ONSOMESHIT (or OSS) and its eponymous flagship location in DTLA; his blog, The Come Up; and, most recently, his ascendant podcast, No Jumper. Adam's earliest adventures include stints spent playing online poker and following straight edge hardcore bands on tour. Recently though, Grandmaison has found his calling pulling in-depth, revealing interviews from some of the most enigmatic rappers and Internet personae, including Ian Connor, Da$H and Lil Yachty, to name but a few.
Interviewing an interviewer presents a weird dynamic shift: the subject is already privy to any tricks one might pull to cull information. But Grandmaison does not hold back much, and if he does note any tricks of the trade, he doesn't call them out; all in all, he proves as captivating an interviewee as he does a host; when HYPEBEAST spoke to him, he kicked off his Vans and spoke with motor-mouthed erudition on his inspirations, aspirations and his dream interview, among other things.
Check out his Essentials above and be sure to read on for more about the host of the self-proclaimed "Coolest Podcast In The World."
Can you tell us how you got to where you're at? How did you start a podcast?
The brief version—or as brief as I can get—is that ten years ago I was living in Astoria, Queens, and I was playing online poker at the time so I was looking at the Internet a lot while I was playing cards. I would be looking at NahRight—the original hip-hop blog—and this one BMX message-board and it just occurred to me around 2006 that I should totally bring those together and do a blog. So that was my first break in terms of making a business out of what I was doing online, because I've been on the Internet writing in my LiveJournal since I was 15—that's where I got the Adam22 nickname—and at a certain point I started posting on message-boards a lot, getting unintentional experience writing online and engaging with people and just knowing where things were going on online.
So I started that website and after a few years I started a clothing line, ONSOMESHIT, and then more recently I kinda just decided to get into podcasting as a supplement to the BMX website and that was about a year and a half ago. After doing that for six or eight months, I had some opportunities; like XavierWulf was one of the first interviews I ever did because I was friends with him, but then some of the rappers that he knows and works with started to reach out to me and then I sorta magically got an Ian Connor interview. I think the point where it really took off, though, was when I did Antwuan Dixon, Suicideboys and Tyler Grosso, formerly of A$AP Mob, and a bunch of those guys in a row and that's when I really started to see the momentum going crazy, in terms of subscribers on YouTube and getting 30 DMs a day telling me that they like the podcast and stuff. And I've basically been trying to capitalize on that momentum ever since and just keep it going and keep bringing new fans while keeping the existing fans interested.
So who is your dream interview?
For me, the dream interview tells you a lot of what your podcast is and is about. For me, the dream interviews would be Gucci Mane and Chief Keef. Because they'd be the hardest ones you get and just the rawest dudes who are the most influential on the current generation of music that we're into. And Chief Keef is the most anti-social dude, but I feel like I could bring a good conversation out of him. I'm supposed to do the Fredo one soon, so hopefully I can finesse my way into that situation. And in terms of Gucci Mane, there's an off-chance that I'll be able to get that interview after he gets out of jail because I'm homies with Coach K now and they're friends again, so who knows, it could happen.
For me, I just wanna represent who I am, and I am a BMX rider, more-so than I am a podcaster or a hip-hop fan.
Things got pretty heated between you and John Ross, could you tell us a bit more about that? What went down to kick off an Internet beef?
To me, it's nothing because he wanted to do the interview. I had met him and Yung Weej when I did the Ian Connor interview 'cause they were there, and then John Ross gets in contact to do the interview. I agree to do it, even knowing that a lot of people would be hating on it because people look at him like he's not qualified to have an interview, blah blah blah, but I was still down to do it because these are interesting people doing shit online. Then if you watch the interview, Weej is smoked out of his mind and doesn't really say anything and John Ross is not exactly smooth on camera. So they ended up hitting me up. First, they ended up talking a bunch of shit on Twitter, which I saw and laughed at. Then they hit me up asking me to remove it and I was just like, "Nah, that's not how this works." They tried to make it out like I was going to my lawyer, but in reality what I said was "If you want me to take it down, then you'd better get a lawyer because you're gonna have to really fight to take some content that I did down." And that was it.
There's a kid named D Savage that they know who wrote a diss track where he said "Fuck No Jumper" and Ian Connor quoted the actual lyric, but I didn't feel like he had a problem anyway. Because I feel like Ian and I are on the same wave, because in reality if you look at all the people I've interviewed, I clearly owe a huge debt to Ian, because him doing it in the first place opened up the doors like crazy. Basically, there's a dude named Trev who rides for OSS and I hit him up like "Yo, is there any chance that I could get Ian and Shane on the podcast within the next week" and he responded "Yeah, they wanna do it in three hours." So I just got ready and did the best job I could, but that legitimized it in the eyes of a lot of people, I think. But to me, I've seen Yung Weej a couple of weeks ago—after I did the Lil Yachty interview—and I'm messing with him; what are they gonna do to me? I'm a grown man, they're little kids. It's just funny. The whole reason John Ross doesn't want it up is because he feels like he looks goofy on camera, which, admittedly, he does. Like, if you wanna salvage your reputation: do another interview, with me or someone else. Anybody would be happy to do that, but I'm not gonna erase history just to appease your 15-year-old ego.
John Ross, Weej and all of them come from the school of Ian Connor, where they get that courting attention from the media and on Twitter and stuff isn't a bad thing, so that's why if John Ross wants to diss No Jumper on Twitter, it's fine by me because I'm not taking anything they're saying that seriously, anyway. I'm super down for controversy. I've had a lot worse in my life, so all this stuff seems funny by comparison.
What do you mean by that?
Well, BMX is super traditional. For me to even start a blog that was attempting to essentially take the place of magazines in 2006 was so controversial. I remember everyone saying "you'll never, ever be able to make a dent in print." And even now we do a lot of vlog-style content, podcasts, we brought a lot of that stuff to the forefront of BMX and I'm so used to beef with people within BMX. I've never had a physical beef within the rap world or the Internet world, but I've been in crazy physical situations with BMXers, like beating the shit out of people in bars and on the street, because it's more ground-level. If you're talking shit to someone in BMX, it's much more likely to turn into a real thing, whereas I can't even take it seriously when there's little kids trying to fuck with me on Twitter.
I read somewhere that you're vying for BMX to get the cultural credence that skateboarding gets, could you explain that a little bit?
For me, I just wanna represent who I am, and I am a BMX rider, more-so than I am a podcaster or a hip-hop fan. That's who I've been since I was 13, and I see so many dudes making big moves in the skate world, whether it's Tony Hawk when he was the star of the X-Games or Bam Margera when he ruled MTV for a little while and Sheckler ruled on MTV. And even still, you'll see someone like Nyjah [Huston] is huge and is an icon of style. There are so many different people from skateboarding that you can say that about, and in BMX it's like: you had Dave Mirra who was the big cultural figure, rest in peace; you still have Nigel Sylvester, who's killing it by representing in hip-hop culture. To me, I look to Nigel for the route that I wanna go on and wanna be able to represent what I do. Because BMX doesn't necessarily get the respect in the sense that people just aren't necessarily as aware of it as they should be, but if they understood more about it, that's all I can hope to do. It's to represent who I am, regardless of whether people know No Jumper is run by a BMX guy, which gives us a little more clout. I'm not tryna ram BMX down anybody's throat, but I am stoked to be able to get it in front of more eyeballs.
I get DMs every single day from people telling me that they got into BMX through No Jumper, which trips me out. Everyday people ask me what bike they should buy. Kids who're just finding out about it who wouldn't know about it otherwise, and that's a huge gift for me.
You shouldn't be worried about putting [your] shit out. I'm in the position I'm at because I didn't have an ego about the interviewing thing.
You film in the back of your store, right?
In the back of the OSS store, yeah. We carry our clothing line, a few other things from other BMX brands. We sell bikes, parts, pretty much anything you'd need, BMX-wise, whether it be lights for your bike or if you need to get your tube changed. It's a traditional bike-shop plus a home for our clothing line, and then we do the podcast in the back, right behind the wall.
To be honest, when we do a podcast it's almost more like a party. People are in there smoking cigarettes, smoking weed, there's alcohol there every time, Da$H is leaned out of his mind, I've seen people snorting lines off the table. We let anything go. I think that's why I'm almost jaded, because at the end of the interview with Maxo Kream and Da$H they were like "Yo, that's the best interview I've ever done!" I'm almost used to that now, and I think it's because of the environment. I could go and get a studio space and maybe the sound would be better, but I feel we might lose some of that vibe. It's also cool too, because these people come into my store and immediately realizing that I've actually got my own fuckin' world goin' on. They automatically give me some respect, whereas a lot of journalists coming into a hip-hop camp have a hard time getting respect. People look at a lot of journalists, especially in rap, as dorky. They're gonna pinpoint you as being a fucking white dude, a culture vulture, and it's not impossible to get past that but it is a hurdle. You need something to bring you to the same level.
Last question: do you have any advice for kids who're trying to start their own podcast?
I'm lucky, I'm in LA because that's where the majority of the scene is, but if I was a kid in Boston, I would be more than happy to start a podcast about what's going on in Boston and interview people and go from there. Then you're a fish in a smaller pond. You'd be able to differentiate yourself more and you could have the hottest podcast in Ohio! You could talk to every local rapper in your town! Then maybe you could branch out and start to get rappers on tour, different people. It's like, once you realize the possibility, it's not that big a deal to just start doing it. And you shouldn't be worried about doing numbers. You shouldn't even be worried about putting the shit out, because if you do an interview and you don't like it, just leave it on your computer if you really don't think that it's ready to be out there. Just start working and start trying things is my advice, because I'm in the position I'm at because I didn't have an ego about the interviewing thing. In the beginning, when I would get negative comments from people on the BMX side of things—which is way more of a hater audience, from my perspective—I would get comments that said I sucked at interviewing or whatever. I didn't respond, but in my head I never said I was good, I just said I'm gonna do it. I'm gonna do this until I'm good at it, but the majority of comments have always been positive. But you can't go into any new venture thinking I'm already good at this. You're never gonna get good at anything if you start off with that mentality. You've gotta try it out and see how it goes.