Pharrell Is Saving adidas, Not Kanye
Are you surprised?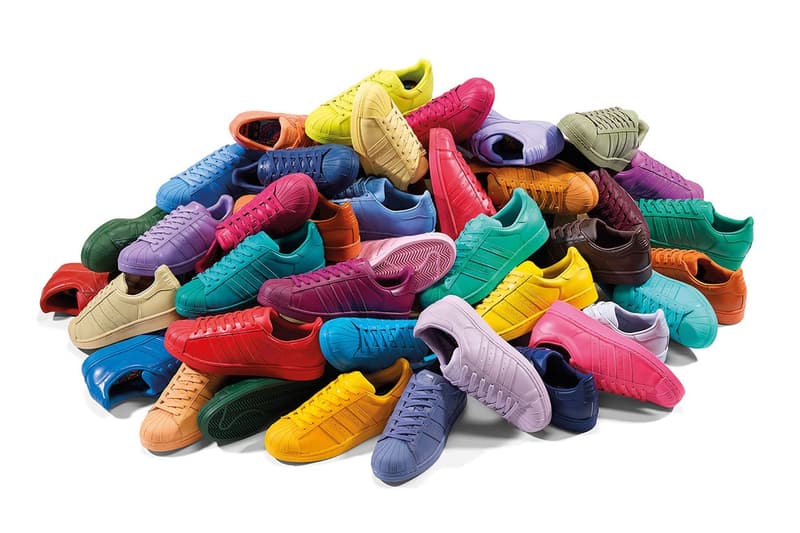 While Kanye West's Yeezy line may be making all the headlines, the imprint isn't actually what's raking in cash for adidas. The once-ailing sportswear retailer has another celebrity name to thank — and that is Pharrell Williams. The longtime adidas collaborator declared 2015 "The Year of the Superstar" and released the classic shoe in 50 colorways. Not only that — there were metallic iterations, glow-in-the-dark, artist collaborations and more. Well, this strategy sure worked out because it has been reported that adidas sold over 15 million pairs of the shoe last year. In other words, the Superstars are now a billion-dollar industry.
On the other hand, Kanye West's designs are all limited edition and have definitely offered adidas a new edge against competitor Nike. While the limited releases may be why he's not helping adidas make bank, the price of the Yeezys and how coveted they are put adidas back on the map (adidas claims to be the most popular sneaker brand on Instagram, mostly due to Yeezys).
adidas's classic sneakers have also made waves in high fashion. Céline's Phoebe Philo had models walk down the runway with Stan Smiths back in 2014. The shoe is now a staple for men and women and are ubiquitous worldwide. With all that said, adidas Originals' revenue surged by 46 percent in the most recent quarter.