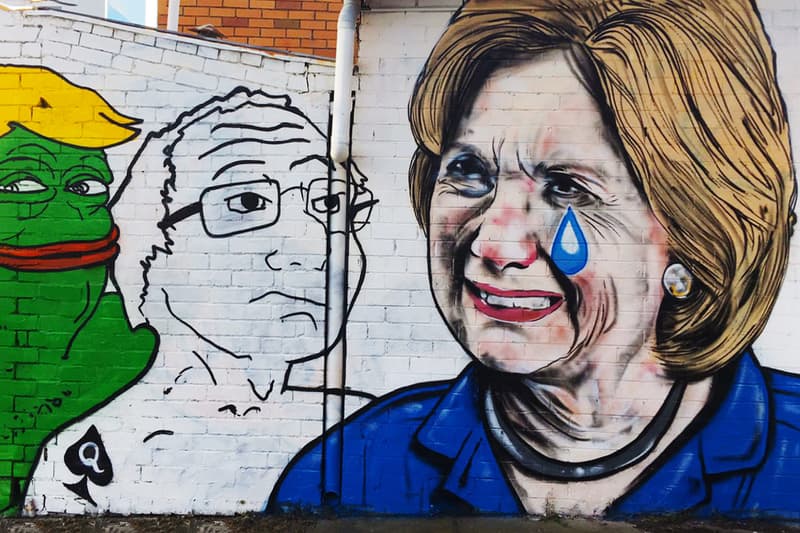 Lushsux Will Host a Secret Art Exhibit Titled "Bring Cash" in Australia
The subversive meme artist returns with new artwork.
---
The street art purveyor of all things Internet gold recently unveiled that he will be presenting a secret art exhibit titled "Bring Cash." Lushsux divided netizens many times this year with his contentious murals in Melbourne, Australia that feature Hillary Clinton in a bikini (and then in a burqa), a naked Donald Trump as well as his spray-painted iteration of Kanye West's "Famous" music video. Now, the notorious Aussie artist returns with a covert showcase that will spotlight a new print showing Clinton and Trump sucking face, dubbed "When you're both pieces of shit and it works." The artwork is made available for purchase at the Backwoods Gallery's official website and humorously comes in either "Pleb Tier" or "Patrician Tier."
The secret exhibition will presumably be a great opportunity for "Patrician" fans to meet the evasive artist face to face. Take a look at the two separate offerings in detail below alongside a photo of the aforesaid print.
Pleb Tier – $150 USD
- Hand signed print.
- Pick up from check point with a small group of fellow plebs.
- 30 minutes at the exhibition with a small group of fellow plebs.
- Saturday 26th of Sunday 27th November.
- Group live-stream for international plebs.

Patrician Tier – $450 USD
- Hand finished, limited, hand signed print.
- Private pickup from checkpoint.
- 30 minutes at the exhibition, alone. (one guest allowed)
- Early access to artwork. Friday 25th or Saturday 26th of November.
- Lushsux?
- An a4 ink jet printed picture of Jerry Seinfeld smoking a cigar.
- Face-time for international patricians.