adidas Originals and White Mountaineering on Shaping the Future of Sportswear
Nic Galway and Yosuke Aizawa tell us why the fluorescent extravaganza at Pitti Uomo 89 was a necessary introduction to the collection.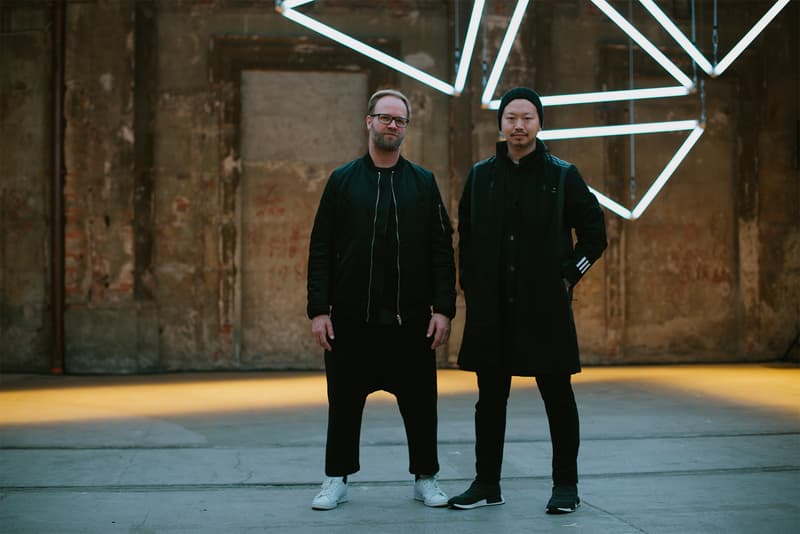 As almost all of you will be aware by now, adidas Originals unveiled its latest collaboration with Yosuke Aizawa's White Mountaineering brand last week. In spectacular fashion, at the 89th instalment of Pitti Uomo, the two brands put on an immersive and memorable production that capped to Florence's latest seasonal menswear gathering. Somewhere, amongst the strobe lighting, throbbing electronic soundtrack and assembled streetwear glitterati, was a smart, utilitarian collection of sportswear that somehow exhibited a delicate balance of nearly 100 years of German athletic heritage and the cutting-edge, contemporary cool of the Japanese breakout brand.
Whilst in Florence, and before the fluorescent extravaganza got underway, HYPEBEAST caught up with adidas Originals' VP of Global Design,Nic Galway, and Mr. Aizawa to get the inside track on a bold and innovative collaboration for both brands.
What prompted this collaboration? What brings adidas Originals and White Mountaineering together?
NG: We, as adidas, have a long tradition of collaboration. We partnered with Yohji in the beginning and we have a strong tradition with Japan, and Japanese brands. We see White Mountaineering as the future.
When we started collaborating, back in 1999, with Yohji, it was very much sport and fashion. What we have today is something very different. What White Mountaineering stands for is fashion, but it's not fashion of the past. It's new fashion. It's very modern. For adidas Originals this is very important, as I don't want Originals to be seen as a retro brand at all. Originals should be seen as a cultural brand, and that means understanding where culture is today. This collaboration is the perfect way to do that.We have the streetwear tradition of Tokyo through Yohji, we have the streetwear partners of the past and now we have White Mountaineering.
YA: For ten years, with White Mountaineering we have been creating collections that developed sportswear and outerwear for fashion, or streetwear. adidas is one of the most important elements when I created those collections. First of all, I was so happy to be able to work with adidas Originals when the chance came. I've always loved their collections from the very beginning. When we began on it, I saw my task as bringing what adidas does more towards fashion. Making this collection part of a lifestyle.
"We, as adidas, have a long tradition of collaboration. We partnered with Yohji in the beginning and we have a strong tradition with Japan, and Japanese brands."
adidas seem to be very careful about their collaborations. A lot more has been done this year to keep things on-brand, how do you manage this?
NG: The key is, for adidas. We don't endorse anyone. We don't go to people and say "can you put your name on this product", we don't try and tell our partners what they should do. We pick partners that share the same mindset. We know that White Mountaineering stands for a very modern approach and that's something we find very interesting. We're very privileged to work with some great partners, but it's always a real collaboration.
How did the creative process work between the two brands?
YA: The first inspirations for the collection came from a lot of research into adidas' archive. Then I proposed the ideas. Nic would tell me what the new technology was, what the new idea behind adidas Originals is and we would blend the two elements. It's not only about making the product though. After you've made it, it's about the presentation. I wanted to create the right atmosphere to show this collection.
NG: We'll sit down, we'll discuss what we find interesting. Whether it's the Boost technology, whether it's something from our archive, we will be very open with that. It's pointless us trying to collaborate and then taking control. It's much better that we remember why we wanted to work with the partner in the first place. Hopefully people view it as being very genuine. We take risks and that's very important. adidas is a pioneer, and pioneers should take risks.
This blend of old and new, innovation and archive, seems indicative of adidas Originals' new direction. Is this something that's happening right across the brand?
NG: What I would say is there is a real confidence in the brand right now. In the past I worked on collaborations on the edge of the brand. The reason I came into adidas Originals, as the leader of that team was to say "on the past we have done it on the edges, but now we're going to bring it right to the centre of what we do." We're bringing that idea to a much wider audience, and you'll see it spreading across the whole brand. Into Performance as well.
Everything we do is rooted in sport, but we don't view this as just product. What we have here tonight is all of the elements coming together. It's sport, it's fashion, it's streetwear and that is something that is very, very modern. We have positioned ourself as a brand that doesn't look towards the competitor, but says that we are going to do things on our own terms. It's taken a while, but now you really see that across everything. I want to connect with the next generation. I want people tonight to feel that it's something familiar, but somehow completely new.
"What I would say is there is a real confidence in the brand right now."
YA: The person who likes fashion but is interested in many other things as well. Someone who likes sports and fashion, but can bring this styling to their general lifestyle. I don't want to say "OK, this is my target market", but I'd like to widen the audience a little more.
NG: As we don't tell our partners how to design, we don't tell our consumers how to dress. What I do want the message of this collection to be is that it's for someone who believes in creativity. Someone who sees adidas and White Mountaineering not just for the products that we make, but also what we stand for.
Take a closer look at the adidas Originals by White Mountaineering Fall/Winter 2016 collection here.