adidas's Jon Wexler Talks About Partnering With Kanye West
An in-depth interview about 'Ye's transformative impact on the Three Stripes brand.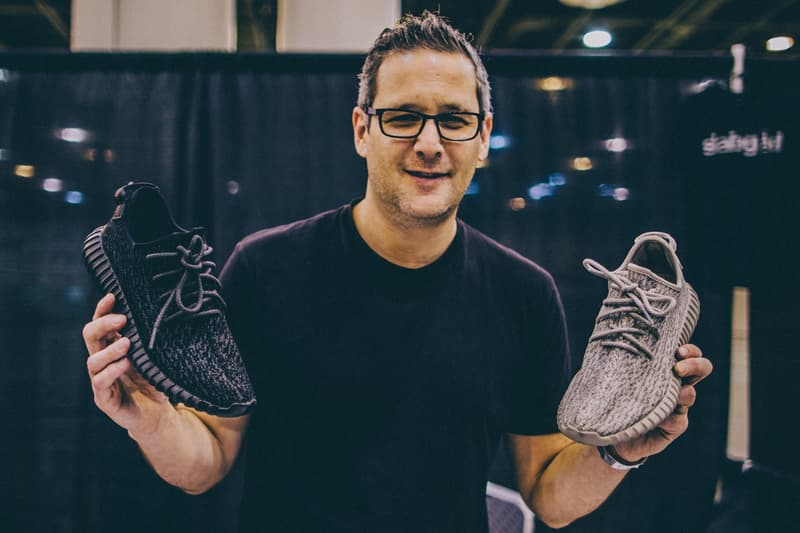 As adidas's Global Director of Entertainment & Influencer Marketing, Jon Wexler has his work cut out for him. He's been in charge of signing numerous high-level artists and creatives since being with the company for nearly 10 years. However, it's apparent that Kanye West's relationship with the Three Stripes brand is unrivaled, as the influence he's had in fashion, music and culture pales in comparison to any other celebrity out there today. In an interview with Nick DePaula of Nice Kicks, Wexler discusses how the partnership came into fruition and undoubtedly, his initial reaction upon hearing "Facts" (which further solidifies 'Ye's allegiance to adidas over Nike). Wexler also delves deeper into Kanye's work ethic and what it meant for the Yeezy Boost to win "Shoe of the Year" at this year's FN Achievement Awards. Read below for excerpts from the sit-down and view the full interview here.
NK: You guys obviously weren't working on product during that time yet during the negotiations, but what were some of the overall big picture things that you guys had outlined him possibly impacting?

Wexler: Everyone's aware of Kanye's creativity and his directness and determination. The thing that really came across in those first conversations, is he's just truly a world builder. He didn't want to build a shoe, he wanted to build Rome. He was thinking on such a big scale, that it was just inspiring to even be in a conversation.
NK: So you guys get down that path, and then eventually agree to terms on everything. How did that all take shape?

Wexler: When [Kanye] starts to go toward a brand and gravitate there, all of the people around him recognize that and they try to go that direction too. It was very evident from the beginning, that he was going to be a gamechanger for us.
NK: And of course, the Yeezy franchise just having Boost in it helps to elevate the Ultra Boost and a model like the NMD too. I like to use the word "consideration" when looking at shoes like those. Maybe three years ago, people wouldn't consider those models, but now, with Kanye wearing Ultra Boost so much and with the equity in the Boost platform, people are giving those other models a blind shot of consideration and there's a trust that you're building up.

Wexler: The reality is, we give Kanye all of our Boost shoes, because he's like a mad scientist creator. He was cutting them open, and investigating how we built them and all of those things.
NK: As you guys were working through the 750 and 350, were there any highlights that really stick out from the time you guys spent working together during that first year?

Wexler: I remember so many phone calls, and those phone calls come at a variety of times [laughs], and weren't just related to the shoe. We'd be talking about all of the different motivations that go behind the way he creates, and in music too. All of those things. It was really funny, because early on, I flew out to Germany, and he had just come there for a meeting with us. We had been speaking for like a year, but we had never met yet, face to face. Of course, like every meeting, he showed up like two hours early, because the dude is always early or on time. He's totally, amazingly professional like that.
NK: So we get to New Years Eve a couple weeks ago, and he drops "FACTS." Where were you, and what was your initial reaction off the first listen?

Wexler: So, I found out on Twitter. [laughs] I saw Kim's tweet within a minute, and I saw what she wrote. The thing is, after that Footwear News award, Rachel [Muscat] and I had gone to the studio with him and he played some of his new songs for us, but I was like, "Hmm, I never heard that lyric or name in any of those songs." Then, you listen to the lyrics in it, and it clearly was made in a very timely period, because of the Steve Harvey reference or whatever.

So I hit play like everyone else. And then I was like, "Oh!" [laughs] I was speechless, and I remember going to my wife, and being like, "Look!" Then, I played it for my 10 year-old and my 13 year-old. It was just a real sign of an amazing partnership. We've been blessed with working with artists and other collaboration partners, and I don't want to say they bleed adidas, but they kind of do. He definitely carries that flag. We didn't ask him to do that. Nobody in our company had any visibility to it. That was just a true and fun thing. I think a lot of people got very – "Well, these are the facts…and this and this." [laughs] It's art. That's what rap is.