Essentials: Mike Liberty
The co-founder of Akomplice shares his must-have daily items.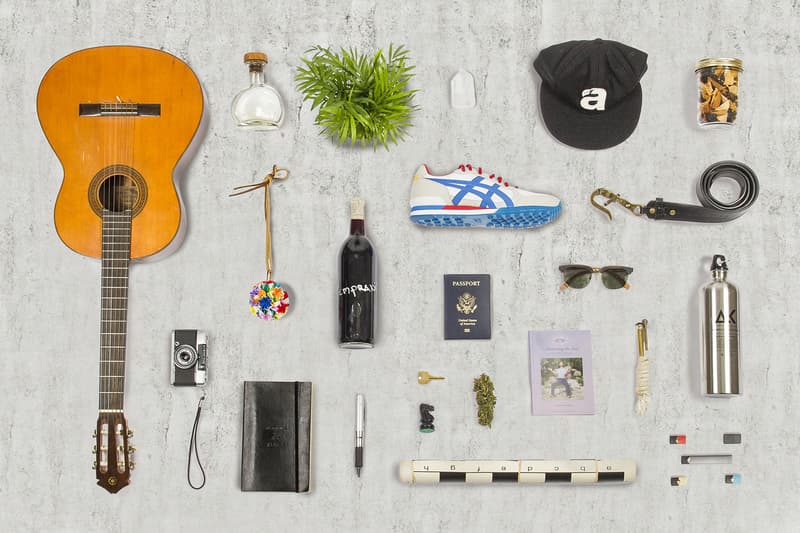 Hailing from Roaring Fork Valley, Colorado, brothers Mike and Patrick Liberty founded Denver-based streetwear label Akomplice in 2004. What began as a small project has since progressed into a full-fledged cut-and-sew clothing and accessories line, and by embracing the philosophy of "Evolution Through Innovation," the brand has certainly made a mark as a distinctly American streetwear imprint.
In the latest installment of our popular Essentials series, we get a glimpse into the personal life of owner and co-founder Mike Liberty, who has an affinity for finding peace of both body and mind. He has a selection of items for personal maintenance and relaxation, which includes the JUUL Vaporizer – a portable vape pen Liberty uses as a smooth alternative to smoking. For a much different smoking experience, the streetwear pioneer prefers high CBD cannabis to relax himself. There's also a Brazilian crystal; a bottle of homemade, organic Tempranillo red wine from his hometown; organic dried fruits that were grown, handpicked and canned by his parents; and a Dream Ball that he got from his girlfriend Ana Beatriz, for a peaceful, good night's sleep.
Sentimental items include a Yamaha classic guitar from Liberty's greatest music mentor, the late Howard Berkman aka Berzerkman, and a chess set that serves as a small reminder of his childhood growing up with Patrick. Lastly is the Sheng Zhen book written by his teacher Master Li Junfeng, who also trained Jet Li. Liberty's Essentials would not be complete without some of his favorite pieces from his streetcar imprint in a selection that also exemplifies the many different items that the label produces.