James Jarvis Talks Nike Free SB Collection and Artistic Inspirations
Champ Studio recently paid a visit to British toy designer, illustrator and artist James Jarvis'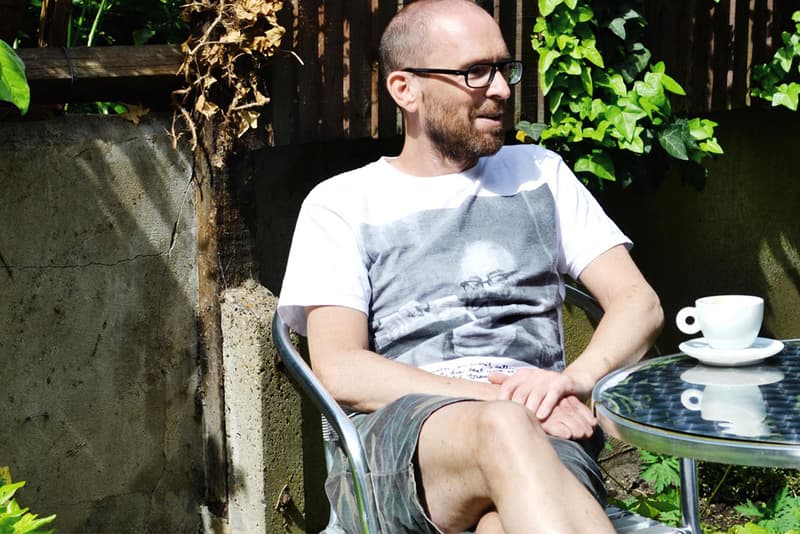 1 of 4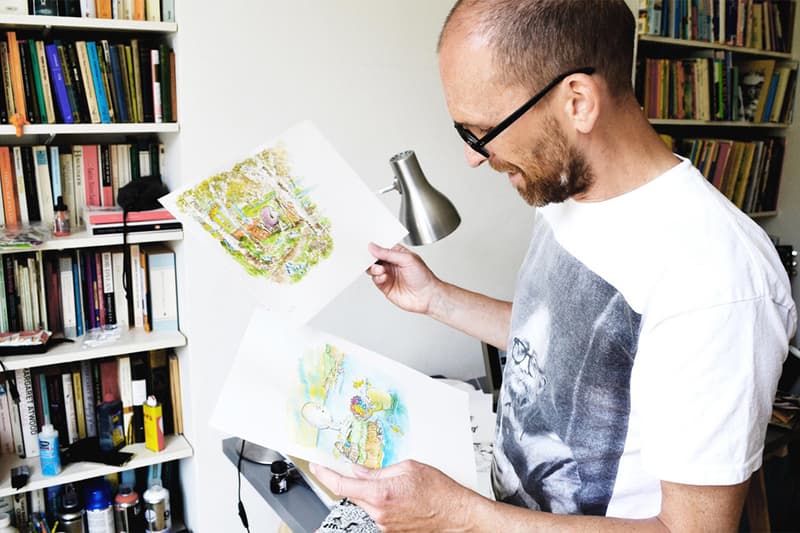 2 of 4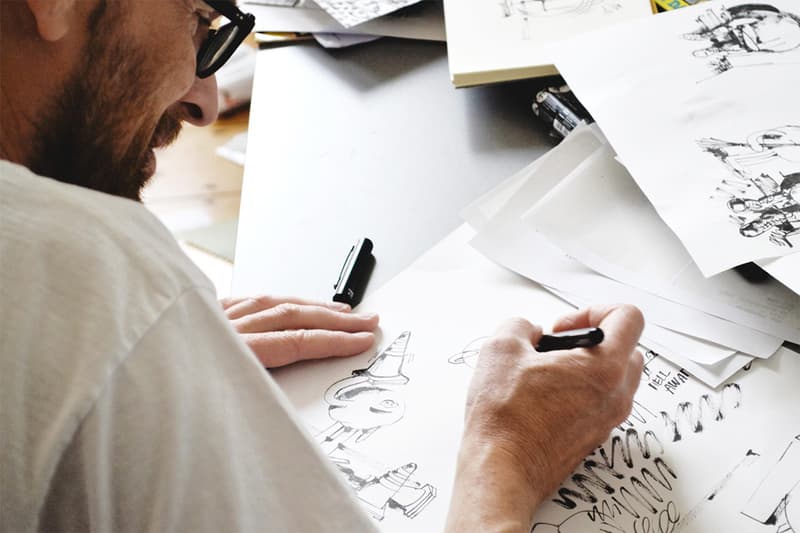 3 of 4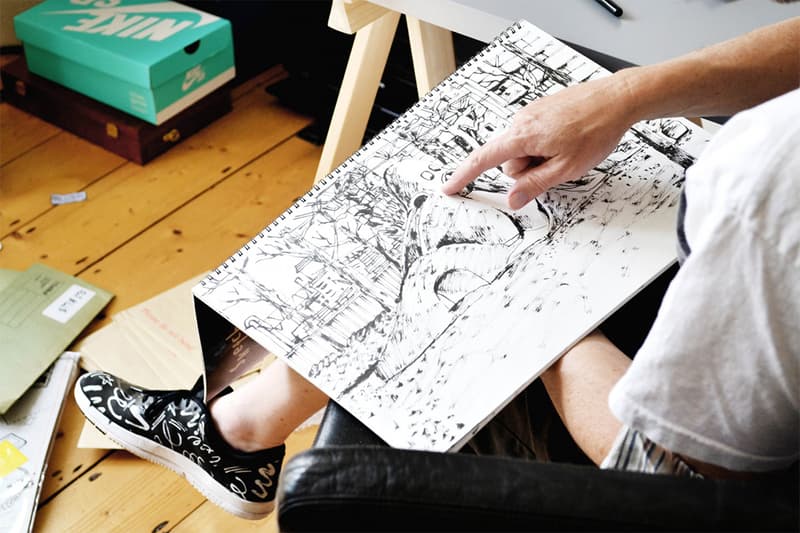 4 of 4
Champ Studio recently paid a visit to British toy designer, illustrator and artist James Jarvis' London studio and had a chat with him about his artistic influences, skateboarding and skate culture roots, as well as his first-ever Nike Free SB collaboration. The limited edition collection is comprised of two skateboarding footwear models which feature original freehand drawings by Jarvis. Both of the shoes are covered in Jarvis' expressive calligraphy and star doodles throughout their uppers, and in monochromatic black on white or white on black coloring. Through his company AMOS, Jarvis has also garnered a reputation as one of the pioneers of the soft toy craze with his whimsical characters and comical figurines that embody his artistic flair. It's evident that by channeling his creative output through multiple facets, the South London native exemplifies the notion that you should do what you love. If you're in Tokyo, head over to Jarvis' "No More Negative Space" exhibition which is currently being held at HHH Gallery until May 31. And you can purchase the James Jarvis x Nike SB collection here for $115 or $125 USD each. In the meantime, check out the interview below.
James, how does your typical Monday begin?

Waking up and having Nike knocking on the door for an interview! Get the kids off for school, and preparing for the week ahead – how am I going to use my time to do something useful. It depends if I've got a project on, then it's easy to sit down and get on with it. But on a blank Monday, I'd sit down on my desk and just draw. It tends to be, that when I'm not doing anything specific I'm just drawing. So when I do a project, I want that to draw on what I'm doing for me personally, because it means that the job is representative of what I do personally. So that the both are very much connected. Sometimes, I will head off and go for a long bike ride, out of London and head south and get out into the Kent and Surrey Hills, but I sort of feel guilty doing that because I know I should be drawing…!

Drawing is a pivotal part of your work now.

Now I'm conscious of where I'm at in my career, and I can see that I've had quite a set trajectory, you know the first stage of it was doing freelance for whoever would pay me, and then I ended up starting my own company and kind of running things through this company called AMOS. Making toys, and t-shirt graphics. After 10 years of doing that in 2012, my business partner and I just felt that we'd done everything we could do in that context of a company, and I wanted to be more free. So in the last few years I've been concentrating on just using my own drawings to make it the centre of what I do. I want drawing to be the fundamental thing, so I've been working towards trying to do that.

How did the collaboration with NIKE SB come about?

When Nike asked if I'd like to do some graphics for them, I showed them what I'm doing now rather than what I was working on back then, which was more computer and vector-based graphics. I'd just done a big project on philosophy, and where my heads now at. NIKE loved my approach and the interrelated connection to skating and drawing. I feel like the drawings I made are really connected to what I do now, and I thought just to guide them for this particular project. I don't create the style, it's just how I work. I don't come up with a style consciously, it just evolves.

Skateboarding is a community, where everyone speaks the same language.

Exactly. And it's an empowering thing, because it encourages a sense of community. It's funny because the fashion side of it, is confusing. Because it's part of it and what brings people in – and when you get involved with it, you realise it's just decoration on top of the fundamental thing. The fundamental thing is that skateboarding is a physical thing. It's a physical interaction with space, and has nothing to do with what trainers you're wearing, or what angle your hat is, or how baggy your trousers are.

It's a community, that anyone can join or not join.

When I discovered skateboarding, I never had a crew. I got involved in it in quite an individual way, I just thought it was amazing so I did it. And eventually I made friends through it, but my initial thinking was just going out by myself and skateboarding. And I've always done that in life, I've always kind of wanted to find my own way through things. I've still love that Groucho Marx quote, "Not wanting to be a member of any club that would want me as a member". It's how I kind of look at things.

We were skating on Saturday morning, and about 5-6 of the local kids wanted to skate with us and the Dad's took a photos of us all – and it's funny, it's probably the first time I've ever had a posse. My son, my daughter and her friends – it's quite funny! And they all think I'm really good which is quite amusing too.

You could say then that skateboarding, it's a way of thinking. Not only the physical, but a pivotal mental aspect too.

I just did a really small conference in Ireland earlier this year, which had a skateboarding panel. It was a kind of academic take on skateboarding, which basically was me and this guy, and a local skater from Northern Ireland. The conversation was about all skateboarders are philosophers without even realising. That anyone who looks at a curb, or anything manmade that they've re-appropriated, they're making it a philosophical leap to do that. It's exactly why I titled my latest exhibition, 'No More Negative Space'. It came from watching this Thrasher King Of The Road segment, and in part Ben Raybourn drops in on a vertical wall and he gets all four wheels on it, and he rides off on the bottom and there's no transition. Traditionally that wouldn't be possible, but he's colonised space that was otherwise wouldn't have been used. I just love that there's no space that can't be used in skateboarding. So to me, there was a philosophical level to what he was doing as well as him just killing it.

What do you think about the state of skateboarding today?

In some ways culturally, it's less interesting, it's more homogenous than it's ever been. The fashion of it is more mainstream, the graphics are kind of less revolutionary with Marc McKee or Sean Cliver from the 80′s as now the benchmark. But, the physical side of it is more uncompromising and amazing than its ever been. So even if the graphic and fashion side of it has been re-appropriated by mainstream culture, the physical side of it i radder than it's ever been! Cliver and McKee are around the same age as me, and I remember being an art student and looking at their graphics and thinking this is what I want to do. The position of those guys in the wider community was what I aspired to do. And it's funny, now I suddenly feel I'm a skate artist. I never was described as a skate artist before, and since I've done this direct collaboration with NIKE SB I've propelled into 'James Jarvis: Skate Artist'. Being referenced alongside legendary skate artists Marc McKee, Sean Cliver, Wes Humpston and Jim Phillips, there's this whole tradition of skate art that I'm proud to be a part of.