Essentials: Chandler Parsons
The Dallas Mavericks player keeps it cool on and off the court.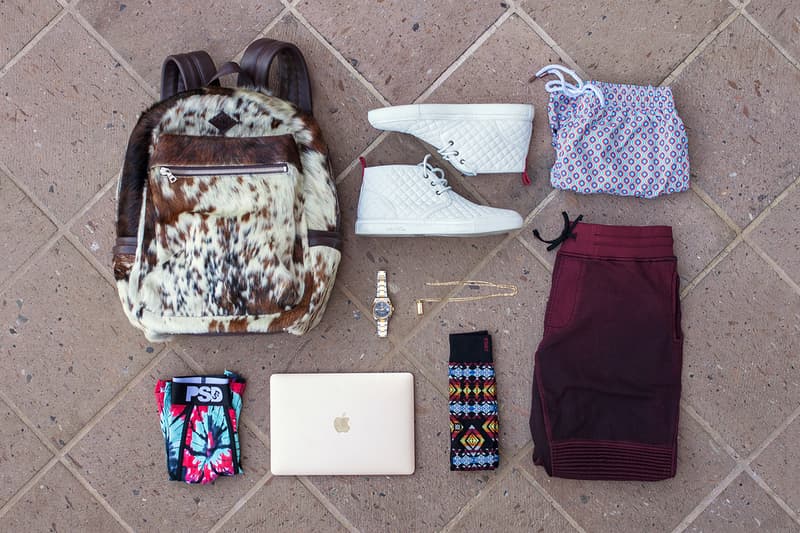 Last season was a big one for Chandler Parsons. After opening the year with a brand new multi-year contract with the Dallas Mavericks, he spent the remainder of the season earning his lucrative paycheck as the third offensive threat behind Dirk and Monta. Off-the-floor however, Parsons garnered some attention for both his dating game and his wardrobe, the latter of which earned him a spot in the NBA's first ever fashion show during All-Star Weekend. Although he came in second to JR Smith, Parsons' appreciation for fashion blossomed, and this past off-season he worked closely with Del Toro on a namesake footwear collection (which we unveiled in our exclusive interview with the Mavericks forward last week). During our chat, we asked him to spill the contents of his bag for our oncoming Essentials series.
A loud SR 1990 backpack in pony hair with a gold MacBook perfectly embodies his willingness to take risks with accessories. As for his apparel, Parsons is partial to Cotton Citizen's sweatpants and Retromarine swimming trunks, while his feet are laced in Del Toro's white quilted chukka worn over Stance socks. Rounding out the selection is a classic Rolex Datejust II, a Bulliony gold chain, and a pair of PSD boxer briefs, a label which he's set to collaborate with in the coming year.