A Definitive History of Black Friday Jordan Releases
Spanning 13 years of Jordanbeast heaven.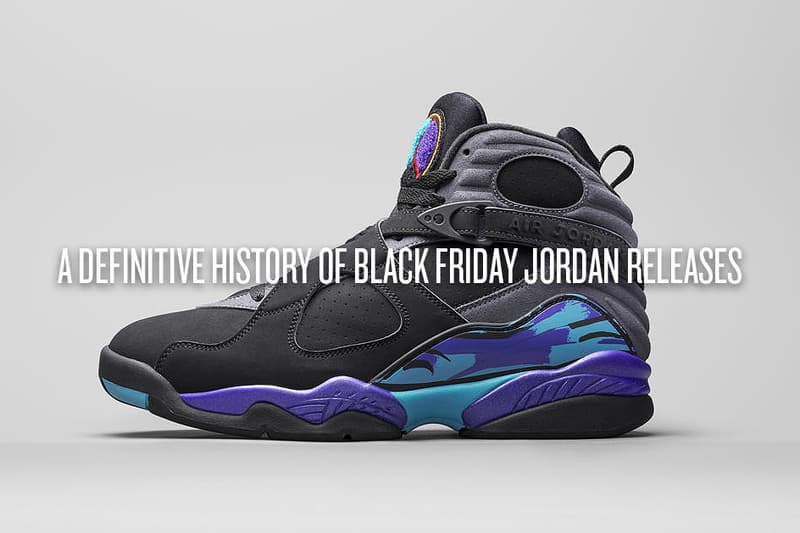 Over the past decade Jordan Brand and Nike have dominated Black Friday as far as sneaker releases are concerned, but the landscape has changed for 2015. This year, Jordan Brand will be going toe-to-toe with Kanye West and Adidas, as the return of the OG Jordan 8 "Aqua" releases the same day as either the Yeezy 350 or 750 Boosts. While both shoes may represent different categories — one a 22-year-old limited edition retro basketball shoe worn by the greatest basketball player of all time and the other, a limited edition casual signature shoe by one of the greatest recording artists — it will ultimately breath new life into Kanye's 2012 line from "New God Flow" ("Hold Up, I ain't trying to stunt, man. But the Yeezys jumped over the Jumpman") if the Yeezy Boost sells out and the Aqua 8s sit. With that said, in anticipation of this "match up," let's take a look at 13 years of Jordan Brand's Black Friday releases below.
Nike Air Jordan 12 Retro Black/White-University Blue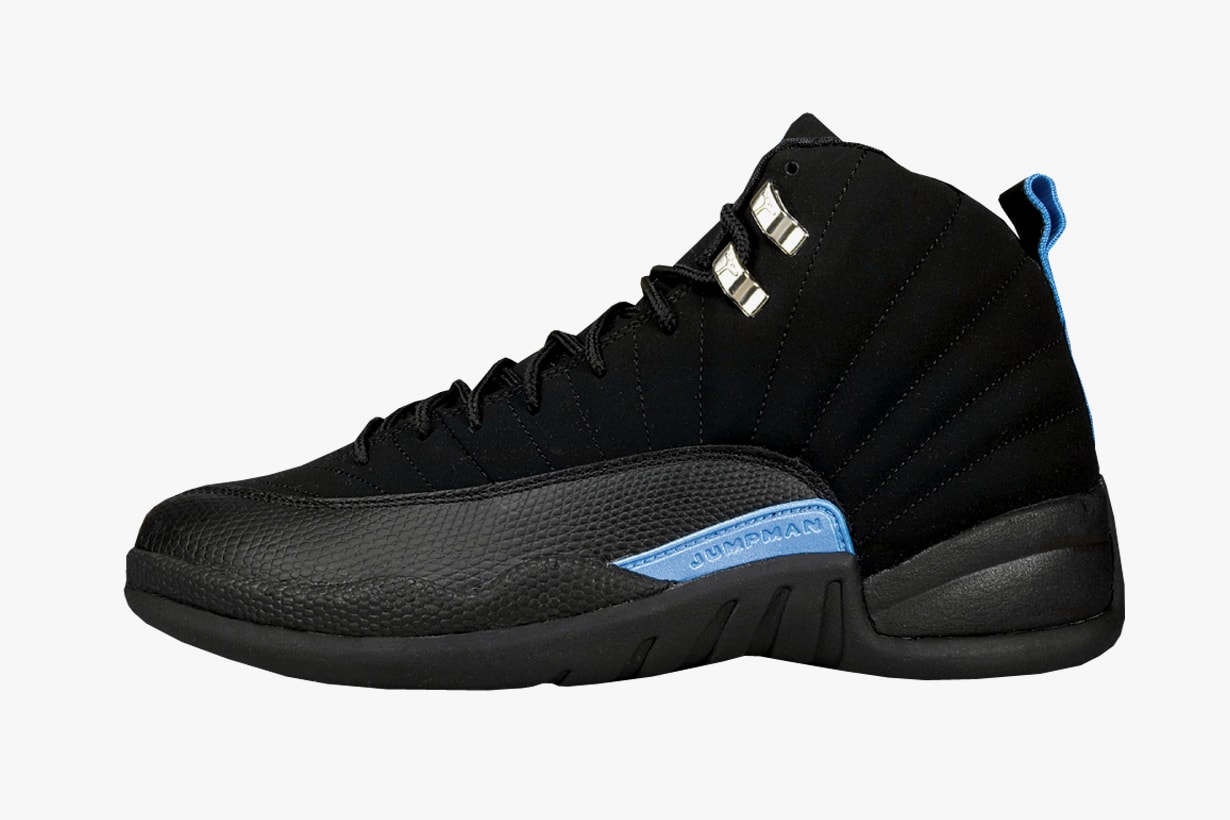 Release Date: 11/28/2003
Retail Price: $200 USD
Considered the "big bang" for Jordan Brand Black Friday releases, this 2003 pack sparked off 12+ years of dominance. First, contrary to popular belief, this release was not the first pack released by Jordan Brand — that title goes to the Jordan Camp 23 Pack released back in 2001 (a pack that included the Jordan Camp basketball shoe, Jordan travel bag and a pair of Jordan slides). It was however, the first retro release that hit $200 USD (which at that price included a hoody and hat) and was somewhat limited in production. Needless to say, it was the first pack that created a chaotic sneaker buying experience online — albeit online only — and a small sampling of just how thirsty the sneaker community was for exclusive product. They would eventually see another retro in 2009 minus the hat, hoodie and a lot of the frustration surrounding the buying experience of the first drop.
Jordan Melo 1.5 White/Metallic Gold-University Blue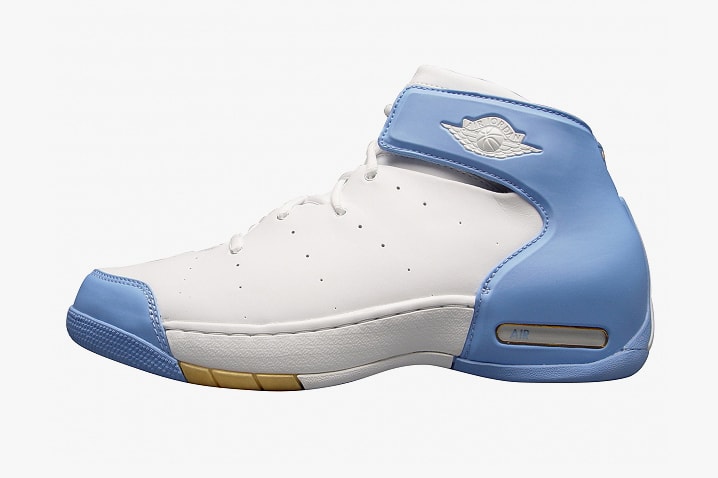 Release Date: 11/26/2004
Retail Price: $120 USD
The Melo 1.5 was the first shoe created by Jordan Brand for Carmelo Anthony and the first of several Black Friday releases for the series. Taking subtle design cues from the Jordan 1 and 2, reviews were mixed. Some found them to be a little too clunky (sporting their super baggy jeans and tall tees nonetheless), while others loved the modern interpretation of their beloved Jordan 1 & 2 packaged in a shoe that could be worn on court without destroying their feet. Jordan Brand brought them back in 2014 for the 10th anniversary and everyone immediately scratched their heads in disbelief that it's been a decade since this shoe originally hit shelves.
Jordan Melo 5.5 Black/Metallic Silver-University Blue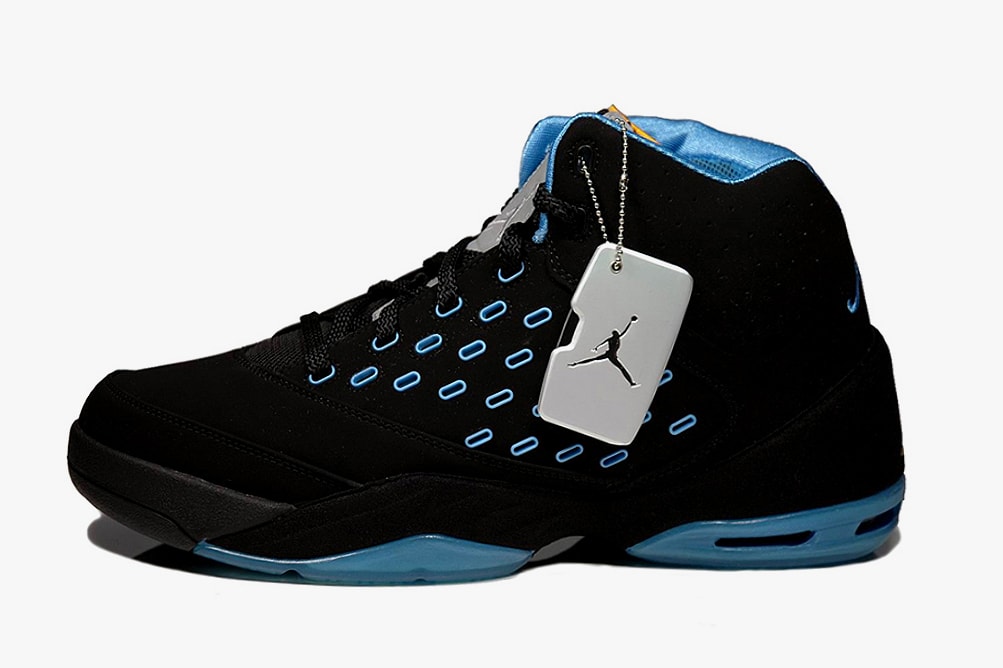 Release Date: 11/25/2005
Retail Price: $125 USD
The hype for the black/metallic silver-University Blue Melo 5.5 was real. Melo's second signature shoe was a mashup of the Jordan 5 (complete with shark teeth on the midsole, perforations and icy blue soles) and the Jordan 6 (which can be seen on the tongue) and fed off the hype that previous Denver Nuggets "PE" colorway's created, most notably the Jordan 12 "Melo" (2004) and Jordan 2 "Melo" (2004). Some argued that like the Melo 1.5, they were too clunky while others have declared this release the best in the series.
Jordan Melo M3 Silver/University Blue-White
Release Date: 11/24/2006
Retail Price: $115 USD
Following the success of the Melo M5.5 it appeared that JB unofficially declared Black Friday "Melo Day" in the sneaker world. For Black Friday 2006 we would see yet another Melo signature shoe, this time at $10 USD cheaper than the previous year and with some inspiration from the Jordan 12. Overall demand was decent but no one was sleeping on a sidewalk for these.
Jordan Melo M4 Black/Black-Metallic & Gold (B-More Exclusive)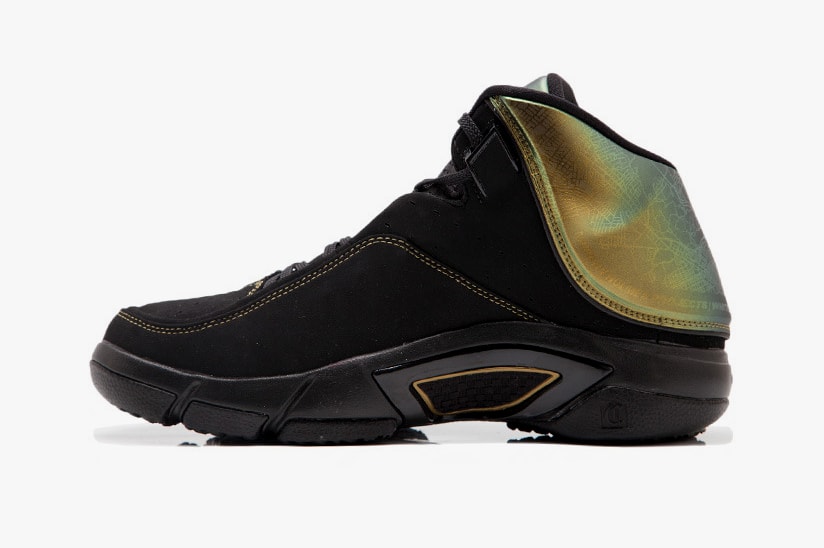 Release Date: 11/23/2007
Retail Price: $120 USD
By this point Melo releases on Black Friday had become a tradition of sorts. Designed by footwear legend and Pensole Design Academy founder D'wayne Edwards (who also designed the Melo 1.5, 5.5, M3 and M5), the M4 was created with Melo's professional goals in mind. They were lighter, more supportive and sleeker looking than any other Melo sig shoe up to that point. The Baltimore release added some flavor to the overall design of the shoe by way of Metallic Gold posite in the upper as well as more demand by way of limited availability. The consensus was that these were fresh and sales reflected that.
Jordan 23 Black/Varsity Red-White, Black/University Blue-White, Black/Varsity Royal-White (Motorsports)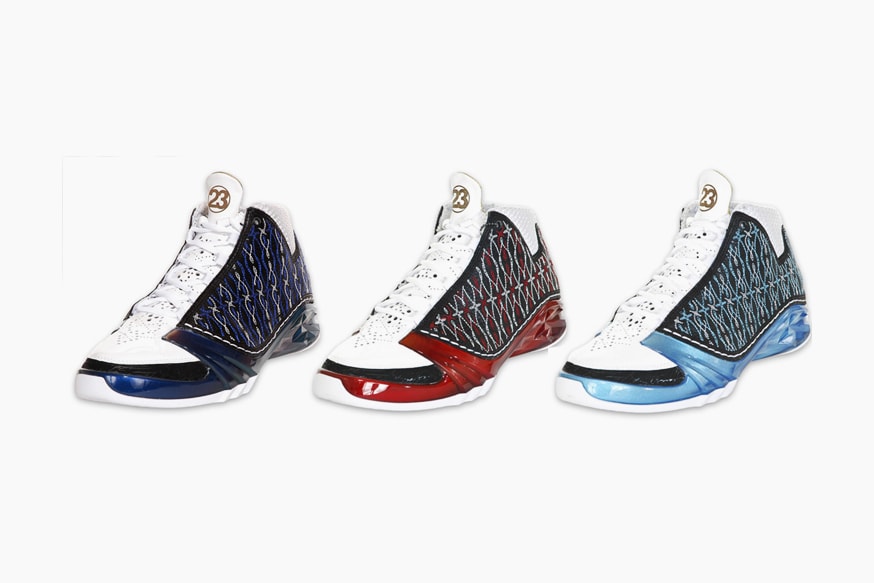 Release Date: 11/28/2008
Retail Price: $185 USD
Jordan Brand broke tradition for Black Friday 2008. Instead of a Melo release leading the way as they had the previous three years, they chose to drop not one but five shoes for all your beasting needs. Three well-executed colorways of what we all thought would be the last of Jordan's numbered signature shoes were released alongside a hybrid between the Air Jordan 20s and Air Force Ones. In the long run the AJF20 became a love/hate shoe in the sneaker community while the 23 achieved legend status.
Air Jordan 12 Retro Black/Red Suede" Flu Game"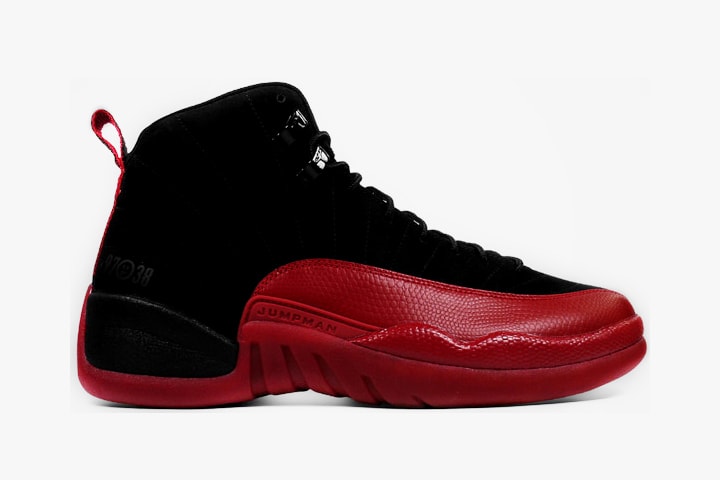 Release Date: 11/27/2009
Retail Price: $150 USD
On June 11, 1997 Michael Jordan scored 38 points in game 5 of the NBA playoffs which led the Bulls to victory all while apparently suffering from the flu or flu like symptoms. MJ was visibly suffering and still persevered to help crush a very talented Utah Jazz team. Fast-forward to 2009 and JB decided to drop these 12s to celebrate that moment in history (although this time trading the original full grain leather used on the OG and 2003 retro for suede and adding small details like a sick face on the tongue). The overall reception was good, but making significant changes to an OG shoe is never received with open arms in the sneaker community. Thankfully, Jordan Brand is scheduled to release these in OG form once again, fully remastered complete with full grain leather uppers for 2016.
Jordan 13 Retro French Blue/Flint Grey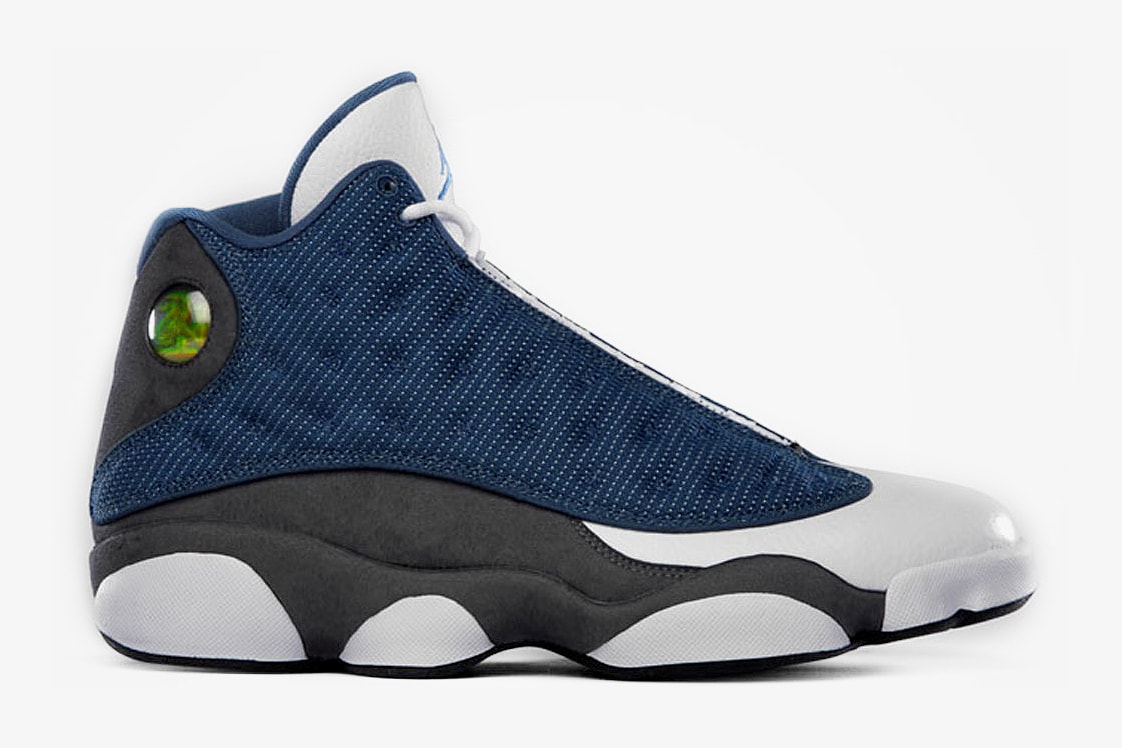 Release Date: 11/26/2010
Retail Price: $160 USD
Initially released in 1997 and again in 2005, the Jordan 13 in Flint Grey was back for 2010. This Black Friday release was an instant sell out, but purists didn't bite. While the overall look was solid, these played third fiddle to the OG and 2005 retros respectively. The shape that had become increasingly elongated and narrow coupled with a darker color and the abandonment of one of the most significant features of the OG and 2005 retro — the reflective underlays in the XIII's ballistic mesh — killed the hype for many in the sneaker community. Nearly five years later and a deadstock pair are commanding $400+ USD; go figure.
Jordan 3 Retro 2011 Black/Cement/Red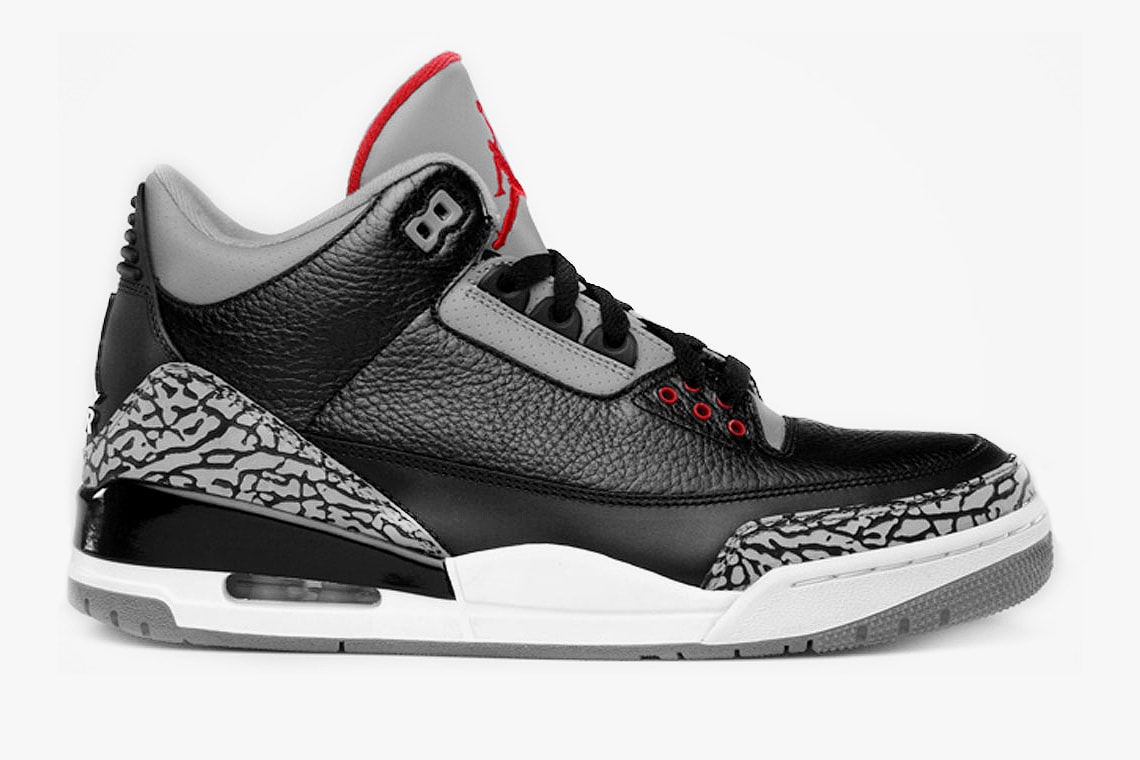 Release Date: 11/25/2011
Retail Price: $160 USD
Chaos sums up the release of the 2011 Black/Cement/Red retro for Black Friday of 2011. Originally released in 1988 with retro's in 1994, 2001 (both with Nike Air branding) and 2008 (as part of a pack that included the Jordan 20 retro) many were amped at the opportunity to buy their favorite Jordan release without being forced to pay extra for a shoe they didn't want and or forking over $500+ USD for a version with Nike Air Branding. Many purists once again opted to pass on these due to the lack of OG branding on the heel and quality that many viewed as on the decline, but the masses and those that wanted a set of Tinkers masterpiece to beat gobbled them up. Fast forward to 2013 and a photo and video of a sample pair of Black Cement 3's complete with Nike Air Branding taken at Nike's SOHO offices surfaced, a long with speculation that they too will be remastered (complete with OG branding). To date Jordan Brand has denied they will go into production.
Air Jordan 4 Retro Black/Cement Grey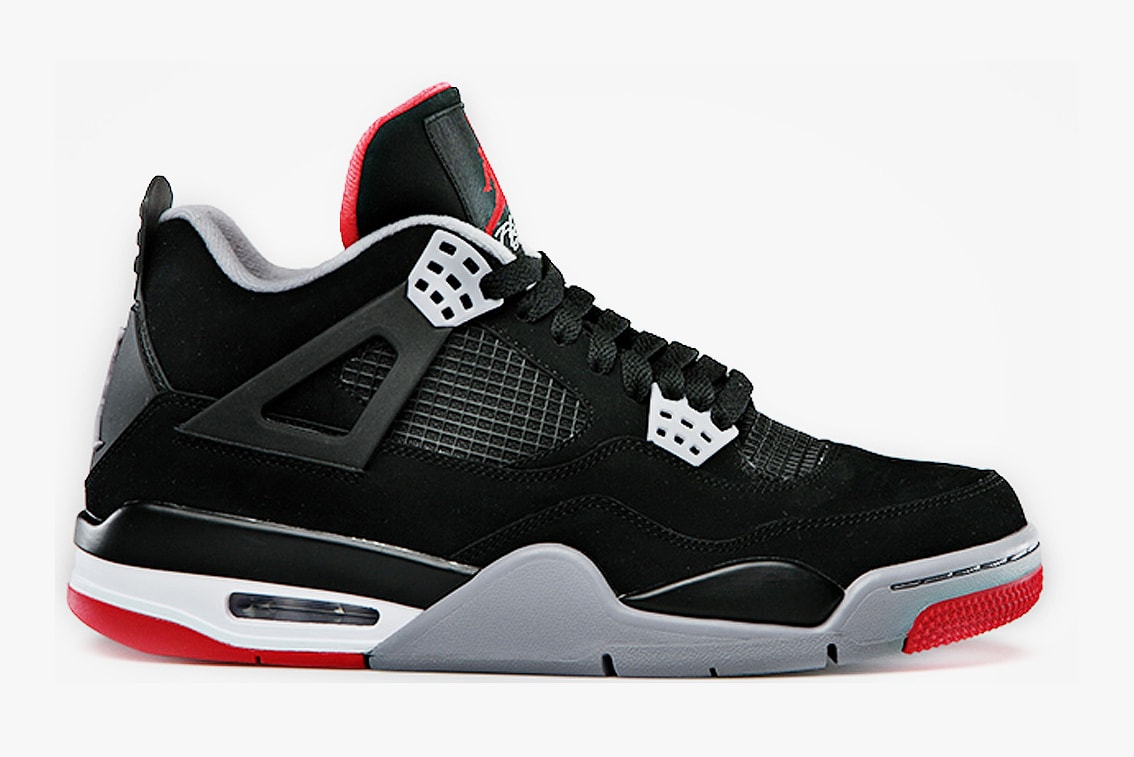 Release Date: 11/23/12
Retail Price: $160 USD
First retro'd in 1999 then again in 2008 as part of the Collezione pack, 2012 was the first time in 13 years you could buy this iconic colorway by itself. While materials weren't as nice as the previous two releases, most preferred the improved shape and darker shade of black that was lacking from the 2008 version. As expected, these sold out before you could hit that refresh button but ultimately left much to be desired. While a newer generation of fans, those that had learned to grin and bare it and those that just preferred the updated look of the 2012 retros, smothered this release; the lack of OG Nike Air Branding coupled with a shape that still paled in comparison to its OG and '99 retro counterparts as well as materials and craftsmanship many viewed as poor keep these as a hold over for a potential re-mastered release. With a White Cement colorway returning for 2016, fully re-mastered and with Nike Air branding, don't be surprised if the Black/Cement Grey colorway follows suit.
Air Jordan 5 Black White "Oreo"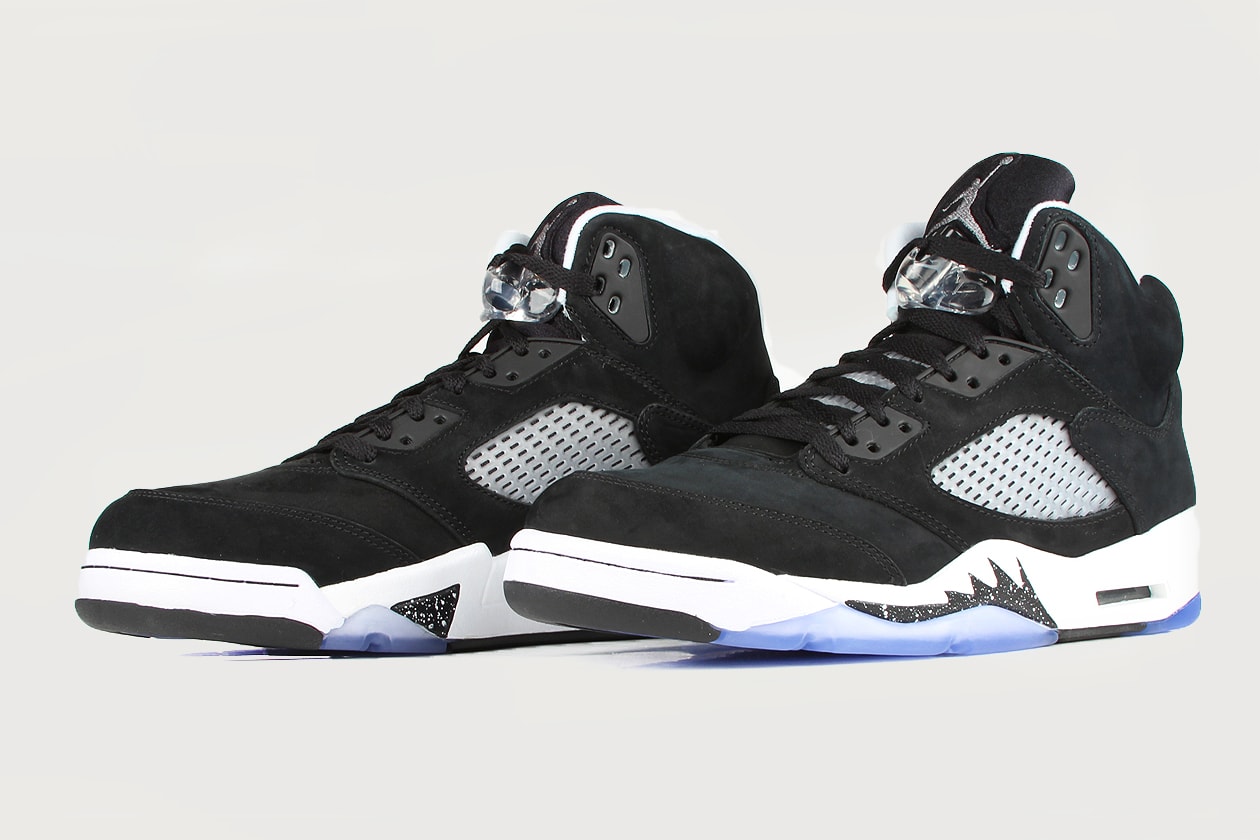 Release Date: 11/29/13
Retail Price: $170 USD
Described as "timeless as Michael Jordan himself" the Jordan 5 "Oreo" marked the third numbered Jordan to receive the "Oreo" treatment (with the other two being the 4 and 6). Features included a plush black suede upper and speckled print on the shark teeth. While they didn't fly off the shelves as fast as previous black Friday releases, a quality white and black Jordan 5 is sure to sell out, and sell out they did.
Jordan 6 Black/Infrared Re-retro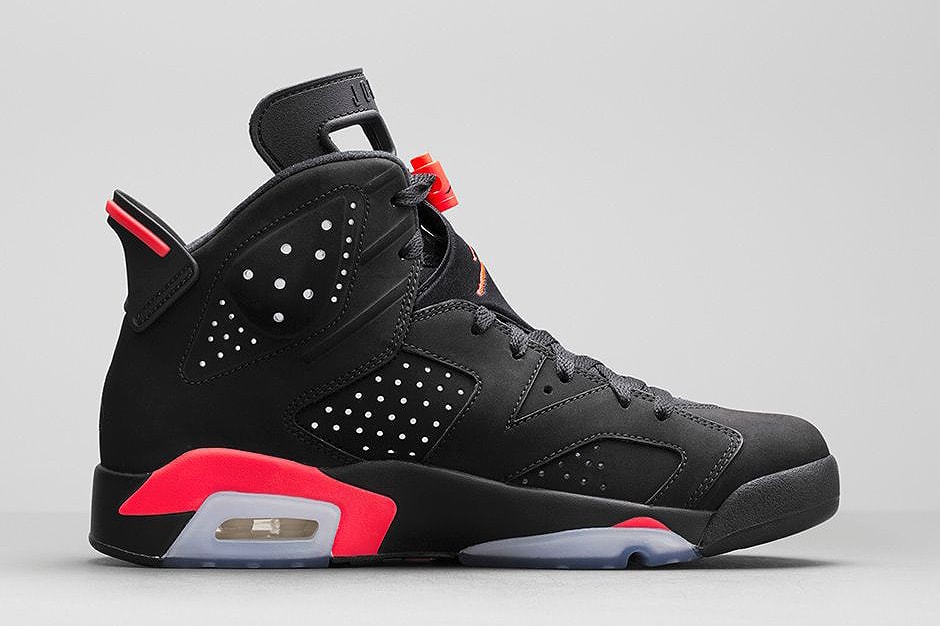 Release Date: 11/28/2014
Retail Price: $185 USD
As far as sneaker history goes, no other retro has sparked more debate regarding its color than these (and perhaps the White Infrared 6). Originally released in 1991, many argued that the 2014 retro was a closer hue of infrared to the OG than the highly coveted 2000 retro with Nike Air branding. The opposition argued it was just straight up pink, or as many mocked "infra-pink." Whatever your thoughts it didn't matter. People camped out, websites crashed, they sold out instantly and "Crying Michael Jordan" memes filled message board pages. Ultimately, the Jordan 6 reigns supreme as the biggest Black Friday shoe release ever for Jordan Brand and for good reason. In the end, it was proven that this shade of infrared is indeed closer to the OG (whether you prefer it or not) than the 2000 retro we all love and the addition of reflective mesh that made the OG pop but was missing from the 2000 retro sealed the deal for a successful release.
Nike Air Jordan 8 Bright Concord/Aqua
Release Date: 11/27/15
Retail Price: $190 USD
Originally debuting in 1993 during the NBA All Star game, 2015 marks only the second retro of quite possibly the most popular OG colorway of the Nike Air Jordan 8. What makes this years release special? The return of the 8 in remastered form complete with the grey accents that were found on the original 1993 release but were omitted from the 2007 retro. Expect these to fly off shelves, although not quite as fast as the previous years Black/Infrared 6 retro.