Essentials: Eric Cheng of BAIT
Eric Cheng may not be a familiar name yet, but if you're a regular reader of HB, you're bound to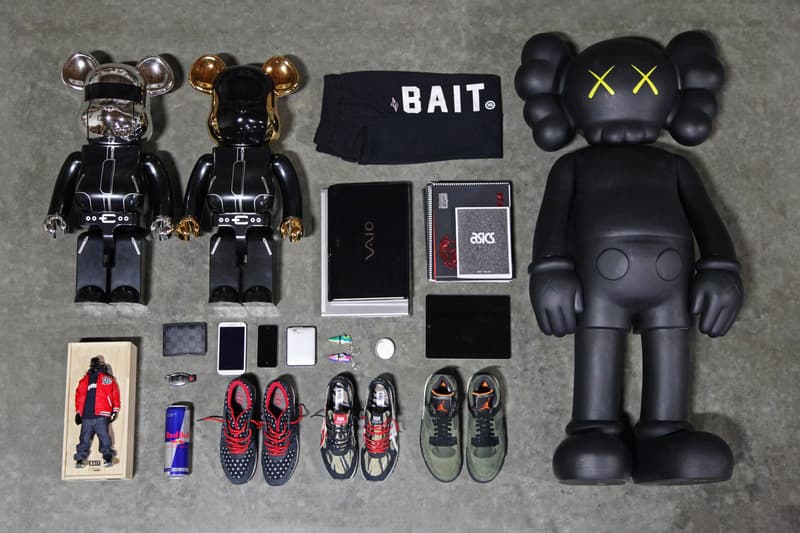 Eric Cheng may not be a familiar name yet, but if you're a regular reader of HB, you're bound to recognize some of his work. The founder and CEO of BAIT, Cheng has been responsible for a host of eye-catching footwear collaborations with the likes of Reebok, ASICS, Saucony and Onitsuka Tiger. If not working on new projects with his creative team, he's probably hard at work building up the BAIT brand or dreaming up the next way to help his community and the world at large — his latest fundraiser brought in almost $19,000 USD for the American Cancer Society.
Clearly, Cheng is a busy man and many of his essentials reflect this. He's got a couple of laptops and phones, a portable hard drive, an iPad, and several footwear catalogs. A consumate shoe collector, Cheng keeps himself laced in heat including some upcoming BAIT collaborations and a pair of the Air Jordan 4 "Undefeated." Rounding out his essentials are some sought-after Be@rbricks and some cozy looking sweats.
Stay with us for a closer look at the upcoming BAIT collaborations and the next installment of Essentials coming soon.