The MINI GP3 Is the Best Way to Have Fun for £35K
Little else compares to the manic, childish, nostalgic feeling of this thoroughbred track toy for the road.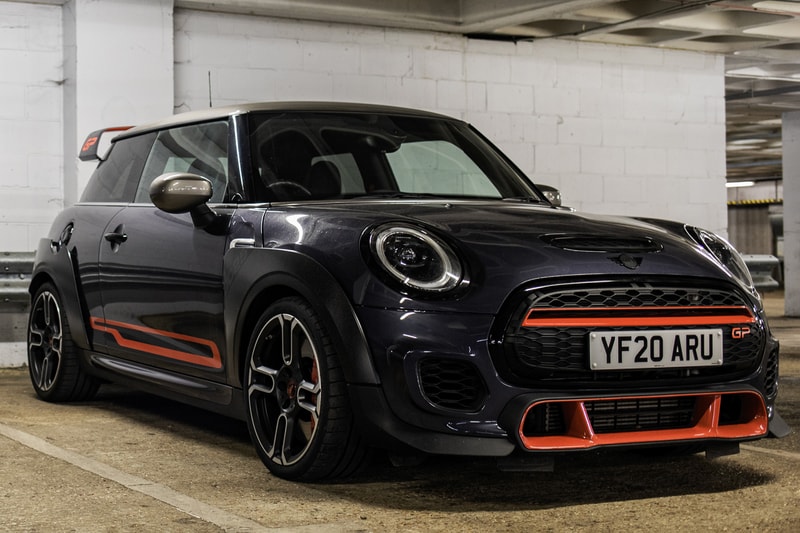 The MINI Cooper is a Great British success story. From dominating the race track in the 1960s with a pioneering female driver, (Pat Moss, the sister of Stirling Moss) to defying all conventions with its comical size and sixty-plus years of triumph, MINI's cultural impact is, ironically, massive.
Despite the Leyland-produced Austin Mini and Morris Mini cars finding critical acclaim on the circuit and earning the hearts of a flower power generation, the world had moved on by the 1990s, desiring anything flashier, larger, and more powerful.
Subsequently, MINI the brand, as we know and love it today, has been produced under the Bavarian BMW group since '96. Obvious controversies aside, BMW transformed the MINI Cooper into a liveable (albeit still relatively small) hot hatchback, destined for backroad blasts and nipping through cities like its true home, London.
In the 26 years under BMW's ownership, MINI has grown into a fully-fledged line-up of cars for all people. There was the snapback-wearing MINI John Cooper Works Coupé, while families have the choice of multiple four-door offerings. But underpinning it all is the mighty MINI Cooper range.
Three-door, five-door, convertible, S-trim, John Cooper Works, and now even in electric form, there's a MINI Cooper for every lifestyle. But what if your lifestyle lacks the need for rear seats? Perhaps you put pedal-to-the-metal mania over practicality, or maybe, you're the kind of person that finds joy in the simplicity of driving. MINI also has the answer, with its John Cooper Works GP3.
Limited to just 3,000 units worldwide, the MINI GP3 succeeds the original GP1 and following GP2 – both of which are incredible driving machines – with even more oomph, drama, and childish behavioral tendencies. Rarity is one thing, but that's not why you're going to want a GP3. This is.
Exterior
As you might be able to tell, this is not your regular MINI Cooper.
Carbon fiber reclaimed from the BMW i3 and BMW i8 is turned into bolt-on wheel arches (here marked with its model number #0025). On the front is a grin decked in red lipstick and "GP" badges. The sides have red decals and unique four-spoke rims harnessing red JCW brake calipers. Built into the rear is an oversized roof spoiler, of course branded with more "GP" logos, and below, you'll find a split two-piece diffuser with central twin-exit exhaust pipes that are larger than any of those found on other performance-focused MINIs, measuring 90mm per piece.
All 3,000 examples come in a "Racing Grey" and "Chilli Red" color scheme, with the only signifying difference between each being its model designation markers. All-in-all, this is one special little MINI, accentuated, enlarged, lowered, widened, and all-round angrier than before.
But those exterior details aren't just for show. The wing, coupled with the diffuser, lowers drag but increases downforce – something we'll get onto later – while the wheels are MINI's lightest ever, providing better feedback from the road to the wheel to the driver. The recycled carbon fiber wheel arches cater for a wider track that allows for better handling and grip, but also funnels air around the vehicle for improved aerodynamics, and the extensive amount of vents at the front let that two-liter turbocharged four-cylinder engine breathe.
Interior
Sparse. Focused. Distraction-free. This is the ethos of the MINI GP3 and it is carried inside for the driver and only one passenger, as behind the deep-set leather and Dinamica upholstered seats is a striking "Chilli Red" load bar. This strut brace doesn't just replace the rear seats, but also adds structural rigidity to the car, making it more balanced and poised on a tight race circuit where, as MINI hopes, the car will live most of its life.
But it's not all track and no talk. The marque's brand-new digital screen reads off all the important information in brilliant clarity, while the infotainment system updates the quintessential round face with touchscreen capabilities, allowing you to tap into the radio or receive detailed information about the car's performance.
Heightening the special touches, MINI adds 3D-printed paddle shifters, a short and stubby automatic gearbox knob that can be used in manual mode (preferable on track or b-roads), and another plaque denoting the car's series number to remind you and your passengers of its rarity.
Performance
By stripping out the interior and working lightweight performance elements onto the exterior, the GP3 is the fastest MINI ever. With a top speed of 164 MPH, a 0-62 MPH time of 5.2 seconds, 306 HP, finely-tuned custom dampers, stabilizers and springs, a wider track, stiffer and lower suspension, and an eight-speed automatic transmission with a limited-slip differential, everything and the kitchen sink has been thrown at this car to make it formidable on the track.
But how does it work in the real world?
It is stiff. So harsh, in fact, that bumps throw the steering into directions you never intended to go. Likewise, with 450 Nms under the hood, the front-wheel-drive GP3 struggles to put its power down on the road with terrifying amounts of torque steer. These figures – and its ability to manage them – are not for the faint of heart.
Instead, the GP3 is a serious driving machine that should come with a warning. You best grip the sporty steering wheel with firm hands because it will try to deceive you; this is a little car with not-so-little capabilities.
It's about as extreme as it gets in this sector, before you step into the world of Audi Quattro and more HP with something like an RS3. However, once we got used to the car's behavior, it became intoxicating to play with.
Taming the GP3 is the ultimate goal, because once you do it is a riot to drive. Each corner comes up at the end of a straight much faster than you'd expect, but its brakes are more than able to stop you before you turn into a corner. The steering is heavy and lacks the artificial feeling we've come to expect from modern performance cars, favoring a real amount of feedback that allows you to chuck the car into corners with some confidence. Feathering the power out of the corner and you'll catapult yourself ahead without torque steer, all while the petite but angry rumble of that custom exhaust fills your ears with joy that spurs you on to push the car to its limits. Just… be careful.
Price
When the MINI John Cooper Works GP3 was released in 2020 it cost from £35,345 GBP, or $45,750 USD in the States. In any world, that is a lot of money for a MINI, with the level beneath it – a JCW Cooper – starting at £29,000 GBP/$36,000 USD.
However, the JCW and the GP are worlds apart. Aside from the performance and styling outlined above, most GP3 owners bought this car for its rarity. As such, it has increased in value since selling out – the cheapest we could find on the market was £31,000 GBP with almost 30,000 miles on the clock, with most lightly-driven examples fetching the same as what they retailed for, and others that had been modified or barely driven stepping over the £40,000 GBP mark.
Comparatively, you'll be hard-pressed to find another spicy hot hatch for a better price when new. A Volkswagen GTI would not keep up in pace, a Golf R, Audi RS3, Mercedes-AMG A35S or A45S, or Honda Civic Type R are either in another automotive class or price bracket.
When you buy a MINI GP3, there's one thing this car promises above all the rest: uniquity. You have said "no" to other two-seat sports cars, and you've eschewed the practicality of a hot hatch to indulge in racing pedigree. The result is a rare breed of a car, not just marked by the numbers on its carbon fiber wheel arches, but by the fact it is unmatched by anything of the same price.