The Audi RS3 Is the Carolina Reaper of Hot Hatchbacks
You'll be hard-pushed to find better for $59,000 USD.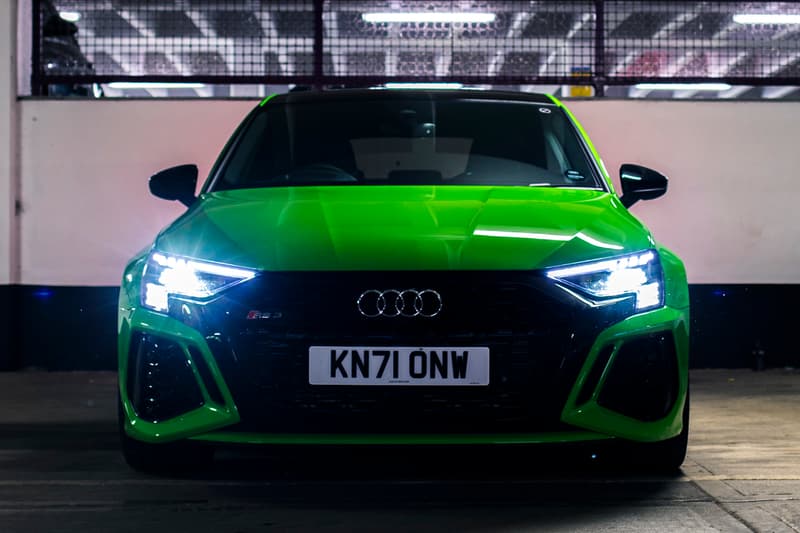 We'll let you into a little secret. When Hypebeast gets a car for Open Road, the manufacturer determines how long we get to live with it. With the Mercedes-Benz 300 SL Gullwing, for example, we had few supervised hours, while the Ford Mustang Mach 1 was ours for a week. We want to keep some longer than others, and when it came to the Audi RS3, we were begging to keep it. 
Why? Because the Audi RS3 might be the best car money can buy. We've been fortunate to drive the Audi R8 V10 Performance before and heralded it as one of the best mid-priced supercars on the market. Much of what we said for that two-seater masterpiece is applicable to the front-engined, four-wheel-drive, five-seat, four-door RS3, because this little hot hatch is more than capable of giving you – and your family – that supercar experience. 
Distinguished in the car scene by its RS badging and aggressive styling, this little green car – which we affectionately nicknamed Kermit – is a no-brainer for those looking to inject some punch into their everyday life. However, there's much more to the RS3 than a potent engine and aerodynamic trickery. 
The years between 1978 and 1987 are collectively known in the car scene as "The Quattro Era". It was a period in time that saw Audi dominate Group B rally – a particular genre of rallying that is infamously adored for the darkest of reasons. The cars were often too powerful for the tracks they were racing on, and sometimes resulted in deadly crashes. Simultaneously, it was one of the most spectacular moments in racing history. 
At the time, Audi was at the helm of this scene, thanks to its experimentation with four-wheel-drive (hence the name Quattro), and it paid off. At the time, many competitors were unfamiliar with such traction, assuming that 4WD was too heavy and complicated. But, the Audi Quattro 80 "A1" won its first race, and immediately proved critics wrong. 
With this, the German marque saw success in rallying for many years, something that in turn inspired it to develop and homologate cars for the road. It launched the Ur-Quattro, a short-wheel-base road-going take on its race cars that are just as formidable on the streets as they are on loose gravel and dirt, and later came Quattro-equipped cars like the Audi S2 Coupé and C4-generation S4, also with 4WD. 
In 1994, Audi and its Quattro team launched a halo sub-division titled RS. It kicked off with the RS2 Avant, a family wagon that was developed in association with fellow Germans, Porsche. It set the tone for today's high-performance automotive scene, and while many brands now offer powerful ways to transport five people in luxury and comfort, back in the day, the RS2 was one of few that could keep up with a Porsche 911 or Honda NSX all while carrying the groceries. 
This mantra has stuck by Audi for the past 28 years, as it continued to produce cars such as the RS4 and RS6 wagons, newer, sleeker models like the RS5 Coupé, and the aforementioned flagship R8, alongside a host of SUVs. 
Then came the RS3 in 2010. It was looked at as the baby of the group; an entry-level RS model, if you will. And while it still sits at the bottom of the pack, that is by no means anything to be knocked. 
The exterior of the car means business. Carbon ceramic brakes, carbon fiber components everywhere, lips, ducts, spoilers, vents, beefy tires, a squat stance, diffuser and twin pipes promise a demanding driving experience. Inside, the dialing up from a regular Audi A3 continues, with leather, Alcantara, carbon fiber, sports buttons (fine-tuned to your liking of aggression) and seats that hug you in place all coming together to further build the anticipation of driving the RS3.
Indeed, it lives up to the hype. Grip isn't in abundance – it's endless. The RS3 is the perfect backroad blaster; a car capable of changing the shape of your face as you thread it like a needle from sweeping corners to tight hairpin bends. On the straights, its turbocharger hooks up and catapults you with 4WD keeping you locked to the tarmac.
For the money – a snip under $59,000 USD – you'd be hard-pushed to find a better driver's car. The RS3 is capable of making even the most anti-car people fall in love with driving, for its intoxicating power delivery, braking ability, corner sharpness and premium package (all wrapped up in an angular bright green box on wheels) are enough to make you giddy. If anything, it reminded us of our childhood, playing with a toy car that blasts forward after pulling its string back and letting go. 
To put it simply: this is a car that sits alongside competitors like the Mercedes-AMG A45S and the Volkswagen Golf R. If those cars are hot hatches, then the RS3 is the Carolina Reaper of them all.