Nafe Smallz is Adding New Layers to His 'Ozone' Melodies
Hypebeast caught up with the British musician to discuss his new music, and how "drip comes from within."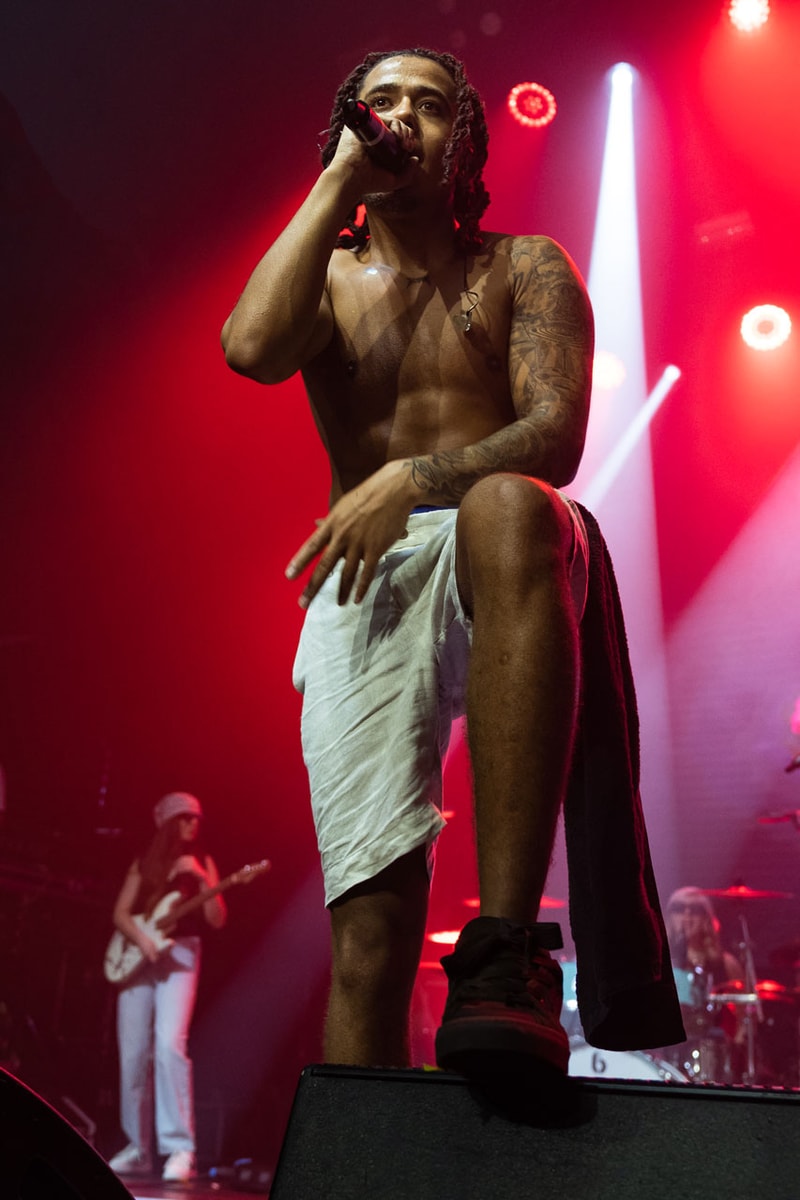 Nafe Smallz is Adding New Layers to His 'Ozone' Melodies
Hypebeast caught up with the British musician to discuss his new music, and how "drip comes from within."
"It's just him. Even if he just made one song, I would've called – it's just him." These are the words Skepta used during a 2019-released interview with DJ Semtex on why he chose Luton-born rap star, Nafe Smallz, to appear on his Ignorance Is Bliss-leading record "Greaze Mode."
27-year-old Nafe Smallz is currently leading a new-school wave of trap-inclined British rap, a sound that's turning heads from all corners of the globe. While the masses have finally caught up with his sonics – which have become increasingly popularized in recent times – Nafe Smallz has always been on "Impeccable Timing."
Over his career that will soon approach a decade long, the Luton-born artist has developed a pulling power through his tracks that deliver wavey sonics with an unapologetically British undertone to them. His rolling 808s and Auto-Tuned melodies are well balanced against soundsystem-ready bass, while his UK-centric rhymes come with enough clarity to appeal to those across the pond and around the globe.
But it's his versatility across his full-length solo projects – take his 2020-released mixtape Goat World, for example – and his collaborative tapes with the likes of M Huncho on DNA, that have provided records suitable for anyone; whether that's for late-night cruises around the city or parties under the Ibiza sun, it's his lyrical content – that taps into love, anxiety, and street politics – along with his heavy-rolling and sometimes Afro-tinged instrumentals that make any motive Nafe Smallz-ready.
Now, following five project releases (all dropping independently, albeit), Nafe Smallz has begun a new era. His latest tape, High Profile, is a stellar representation of where Nafe Smallz is at right now – and he wants the world to know it.
"Music is like a diary, I might be talking about some stuff that happened three days or years ago. I just keep it real with my music and I think people relate to that," Nafe Smallz tells Hypebeast. It's this honesty that allows Nafe Smallz to be understood – by using his music as a diary, one that's opened doors around the world to become one of the UK's most transatlantic stars of recent times.
With this in mind, Hypebeast caught up with Nafe Smallz to discuss his renewed energy, why "drip comes from within," and why he's about to enter a whole new era.
Hypebeast: Hey Nafe! How are you?
Nafe Smallz: I'm very good, thank you. I'm in a good place, I've just dropped my latest project, High Profile, and now I'm off the back of a show – energy is up and I'm feeling confident and excited for what's to come.
How have you managed to grow your sound over the years?
A lot of patience. I started dropping music eight or nine years ago properly. Back then, the sound wasn't a sound that the UK was producing at the time. It was different for everyone to see – people compared it to the American sound at the time and there wasn't a name for it.
That's kind of why I came up with Ozone, that sound was different from what everyone was hearing at the time. So, it took a lot of patience, a lot of people didn't believe that this would become a thing from the UK but now it's become a thing that people look to the country for. Me, D-Block Europe, M Huncho, there's a few of us doing our thing now. But, it took a lot of patience.
Who were you looking to for inspiration at the start of your career?
To be honest, at the start of my career, I was rapping with no melodies. I lived in the studio and the more I recorded, the more the sound developed. I'm influenced by all different kinds of music – my dad's a DJ, so from when I was a kid, he was playing all kinds of music around the house. The influence comes from a broad spectrum of things, but I think it's more of having a belief and consistency to keep going.
Your stage presence is one of the best in the UK scene – is this something that has come naturally to you?
It definitely did come naturally, but it's also something I've had to practice. It's about finding balance on the stage and figuring out what works. Now, when people receive the music well, I can't wait to perform it because I know people are going to show it love.
It's the best thing about working in music, performing live. It took a minute to figure out, but it's like anything – if you love football it doesn't matter if you're playing Sunday league or if you're playing at Wembley, you're doing it for the love of football.
"We have the biggest artists in the world wanting to work with guys from the UK."
Collaborations are a big thing for your brand. How does working with other musicians on a consistent basis help your overall creativity?
It's a big thing working with the guys I've worked with. We all share the same love for the music and I love getting in the studio with other like-minded creatives, I think it broadens the potential of the music. I make a lot of music on my own, but then I'll go to the studio with M Huncho and we'll make five different sounding records back-t0-back. We bounce off each other's energies.
How do you think you have managed to stay so relevant for such a long time?
I just have fun with it – there's no secret or formula for it. Music is like a diary, so I might be talking about some stuff that happened three days ago, or three years ago. I just keep it real with my music and I think people relate to that. When I jump in my car, I think about what I want to ride to, and that's just what comes out in the studio. But, it's a blessing to be able to keep releasing music and having people respond to it in the way they do.
Talk to us about the new record, "Impeccable Timing."
So the bonus track that I dropped with it, "Dance For Free," is about three or four years old. I previewed it on my story in the studio and then the supporters were on to me about it for time, so I thought when I drop "Impeccable Timing," I'll attach it to that release.
But, "Impeccable Timing" was written fairly recently. My bredrin sent me the beat and we went to the studio and obviously, you can probably tell by the lyrics, that I was going through a few bits, so I just got it down. Songs like that are really for me to reflect on things that are going on – it's just sick that people like it.
"I think drip is from within. If you feel that way about yourself and you're confident then it comes out naturally in what you wear."
How do you see the current landscape of UK rap?
It's going crazy. From where it was 10 years ago to where it is now, it's an amazing thing to see. If anything, it's exciting because I feel like before, people would look to America for talent and music, but now, with the talent continuing to improve in the UK, the country is being globally looked at. We have the biggest artists in the world wanting to work with guys from the UK, so it's a sick thing to see and I fully believe that we're still climbing.
As a musician that's worked independently throughout our entire career, do you think others should follow in suit, as opposed to signing for a major label?
Everybody's situation is different. For example, I've remained independent for the whole time, not because I don't mess with majors, but because that's how I prefer releasing my music and the creative control that comes with being independent. But, I wouldn't tell a new artist not to sign to a major label because everyone's situation is different. You might not know how to release independently or you might need the money to get to a better place, so I wouldn't advise either – there are pros and cons to both, so just do whatever feels right.
How much does your wardrobe inspire your creativity?
It's not so much the clothes, I think drip is from within. If you feel that way about yourself and you're confident then it comes out naturally in what you wear. I like clothes and shopping, so looking good and feeling good is definitely a part of creating in the studio. But, I do think drip comes from within and it's about how you feel inside.
What's next for Nafe Smallz?
Last night I was going over the new playlist of songs I've got coming. After my show last night, the energy was so high so I went straight to the studio and we were cooking up. But, there's definitely another project coming before the end of the year – it's all done, just final touches now.