Best New Tracks: Nas, Noname, REASON and More
Enjoy the weekend with these music projects.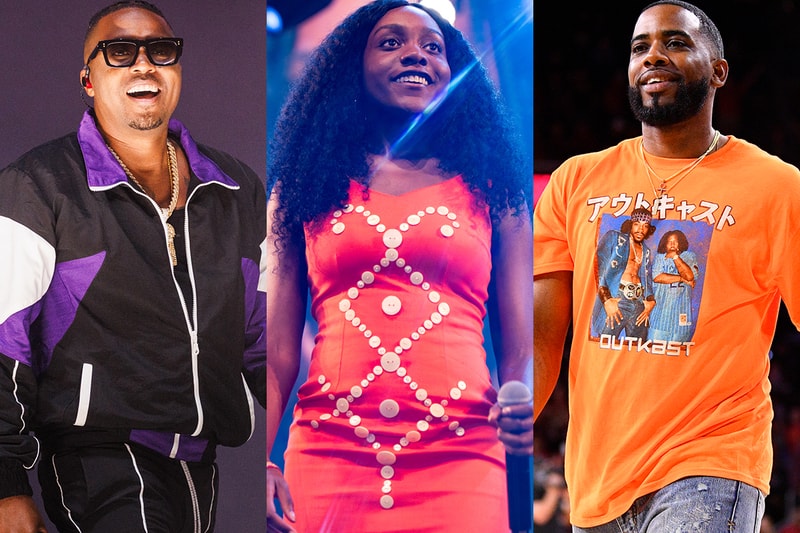 As the week in music comes to a close, Hypebeast has rounded up the best projects for the latest installment of Best New Tracks.
This week's lineup is led by Nas, Noname and REASON, who each released the music video for "Motion" and the albums Sundial and Porches, respectively. Also joining this selection are offerings from Olamide, Slowdive, Piers James and Sexxy Red and plus a collaboration from Brady Watt with Conway the Machine and Talib Kweli.
Nas – "Motion"
Nas revisits his latest studio effort Magic 2 for an accompanying music video for "Motion," which is helmed by Kid Art.
Watch: YouTube
Noname - Sundial
Noname delivers her first studio effort in five years, Sundial. The sophomore album features guest appearances from Jimetta Rose and Voices of Creation on "hold me down," Jay Electronica and Eryn Allen Kane on "balloons," Ayoni on "boomboom," $ilkMoney, billy woods and STOUT on "gospel?" and Common and Ayoni on the closer "oblivion."
Listen: Spotify | Apple Music
REASON - Porches
REASON follows up 2020's New Beginnings with Porches, his 17-track record featuring fellow TDE artists Doechii, SiR, Zacari and Ray Vaughn, KalanFRFR, London Monét, Kiilynn, Junii, Baby Tate and Dirty Dell and production from Boi-1da, Vinylz, fierce, Hollywood Cole, Coleman, Mike Hector and DJ Swish. Porches hears the Carson rapper discuss human connection and similarities, with the only thing separating is which "porch" we come from.
Listen: Spotify | Apple Music
Olamide - Unruly
YBNL founder Olamide continues his reign with his 10th studio album Unruly, where he enlists the likes of CKay, BNXN, Rema, Fireboy DML and Asake for the 15-track effort.
Listen: Spotify | Apple Music
Slowdive – "the slab"
Slowdive preps for the release of their upcoming album everything is alive, which drops September 1, with the new single "the slab." Vocalist/guitarist Neil Halstead says of the track, "This is the heaviest track on the record and as the name suggests we wanted it to feel like a big slab of music. We wanted it to feel very dense."
Listen: Spotify | Apple Music
Piers James – "If This Ain't Real"
Piers James drops his summer jam offering with "If This Ain't Real," a cut that he describes is "about the beginning of a relationship, in that honeymoon phase, asking the question: 'Is this real?' – quite like the start of summer." He continues, "Going through the euphoric feeling, but is this relationship going to be the Disney fairytale that we dreamed of or an all-out war at the end? To be your most authentic self, you must let go of the material façade and ego and focus on how you feel in the moment. Too many people try to shy away from their own reality and end up avoiding accountability. In any relationship – whether that be a friendship or partner – it's important to be honest and learn to be vulnerable and open to all possibilities, which I tried to depict in the video."
Listen: Spotify | Apple Music
Brady Watt x Conway The Machine x Talib Kweli – "Without You"
Brady Watt joins forces with Conway The Machine and Talib Kweli for "Without You," his latest self-produced single. "The hook for "Without You" relates to the concept that all the success in the world isn't worth it if you don't have your people with you; and if you finally get it, and are alone, it's really all just wasted effort," Watt shares. "I had the hook and track really rockin, then enlisted my friends and colleagues Conway The Machine (of Griselda, one of my favorite rappers alive) and the legend Talib Kweli. I've actually been in Kweli's band since I was a kid, he's like an older brother, so to get him on the track is a very big deal. I'm a huge Hip-Hop fan for life and I feel my strength in this game is making SONGS that really last in collaboration with some of the best rappers ever."
Listen: Spotify | Apple Music
Sexxy Red – "I'm The S*it"
Sexxy Red revisits Hood Hottest Princess with a visual for "I'm The Sh*t," which is a recap of her summer takeover that has since included her impromptu BET Awards performance, co-signs from Drake and Travis Scott and her newly purchased Mercedes Benz.
Watch: YouTube