Best New Tracks: Travis Scott, Post Malone, Denzel Curry and More
Enjoy the weekend with these 10 music projects.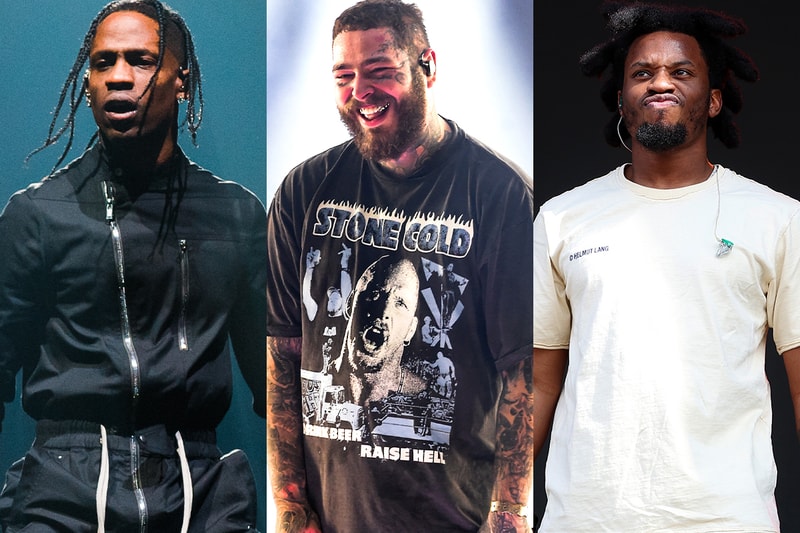 As the week in music comes to a close, Hypebeast has rounded up the best projects for the latest installment of Best New Tracks.
This week's lineup is led by Travis Scott, Post Malone and Denzel Curry, who each dropped the albums UTOPIA and AUSTIN and the single "BLOOD ON MY NIKEZ" with Juicy J, respectively. Also joining this selection are offerings from Terrace Martin, Burna Boy, Louis The Child, Shamir, Fly Anakin, KennyHoopla and Erick the Architect.
Travis Scott - UTOPIA
After a five-year gap, Travis Scott's latest studio album UTOPIA is finally here. The ASTROWORLD followup features collaborative work with Playboi Carti, Beyoncé, 21 Savage, Justin Vernon of Bon Iver, James Blake and more, and arrives as an elevated and cohesive effort from the artist.
Listen: Spotify | Apple Music
Post Malone - AUSTIN
Post Malone fuses his musical roots in the aptly-titled AUSTIN, following his legal name. The 17-track effort hears the artist explore sounds he's familiar with and the sounds he wants to dive deeper into, creating an interesting yet complementing soundscape of acoustic guitars over layers of synth pop, pop and even folk production.
Listen: Spotify | Apple Music
Denzel Curry x Juicy J – "BLOOD ON MY NIKEZ"
Denzel Curry releases the official version of his latest cut "BLOOD ON MY NIKEZ," this time reuniting with the legendary Juicy J. The cut is the artist's first original single of the year following his Live At Electric Lady EP.
Listen: Spotify | Apple Music
Burna Boy – "Big 7"
Burna Boy officially announces his seventh studio album I Told Them…, which drops August 24 in the US, with the single "Big 7." He describes it as "a melodic tribute to embracing new heights in my musical journey," adding, "The title represents a symbolic aspiration to reach greater horizons, with the number seven embodying an attainable and harmonious growth." Its accompanying music video helmed by Benny Boom sees the GRAMMY winner in New York City and features cameos from the likes of RZA, Busta Rhymes, Junior Mafia, actor Shameik Moore and more.
Listen: Spotify | Apple Music
Terrace Martin - Curly
Terrace Martin debuts Curly, the second in a series of six jazz albums he'll be releasing throughout the year. "This is a body of work that represents the spirit of my father," he explains in a statement. "Curly represents courage, heart, and adventure."
Listen: Spotify | Apple Music
Shamir – "The Beginning"
Shamir preps for the release their upcoming album Homo Anxietatem, which drops August 18, with the final single, "The Beginning." The cut arrives with a music video helmed by Shamir, who says of the song, "'The Beginning' is a song I wrote when I was 14 years old and had never experienced love, yet I was already inundated by all the typical tropes. Even back then I realized a happy ending was contingent on a healthy beginning. The video represents the healing power of being around friends after a break up."
Listen: Spotify | Apple Music
Fly Anakin – Skinemaxxx (Side B)
Fly Anakin drops off part two of his Skinemaxxx project with Skinemaxxx (Side B). The nine-track record features ANKLEJOHN and Demae and serves as an equally fun and technical followup to Side A.
Listen: Spotify | Apple Music
Erick the Architect – "Parkour"
Flatbush Zombies' Erick the Architect follows up "No Ice" with "Parkour." The track features co-production from James Blake and arrives with an accompanying music video helmed by Darryl Richardson and Ellington Hammond.
Listen: Spotify | Apple Music
KennyHoopla – "MARRY KILL F*CK//"
KennyHoopla shares a music video for "MARRY KILL F*CK//." Co-starring Travis Barker, the artist says of the visual, "We just made this one day on tour – was just f*cking around being dumb in the studio and this is what came out of it. A lot of this song was initially freestyled so it made sense for the video to have the same vibrancy and spirit as well, I think, haha. We shot the video in about 30 mins, I'd say, and then went to soundcheck hahaha – turned out rad as f*ck."
Watch: YouTube
Louis The Child – "How High"
Louis The Child samples Aretha Franklin in their brand new single "How High," which is set to join the duo's upcoming album Alter-Ego. "We made this song last year in Palm Springs between Coachella weekends. It's a return to future bass with a hint of euphoria and my beautiful dark twisted fantasy," they share in a statement. "When we started playing it in our sets, our fans started calling it "Jump To It" (cause those are the only words in the song). It samples an Aretha Franklin song called "Jump To It", and when we got the sample cleared they told us we were not allowed to name it "Jump To It", or any of those words from the original song. So we let our fans decide on the new name through an Instagram poll, and they chose 'How High'. We're so excited for the world to have it now! We know our fans have been waiting a while on this one."
Listen: Spotify | Apple Music