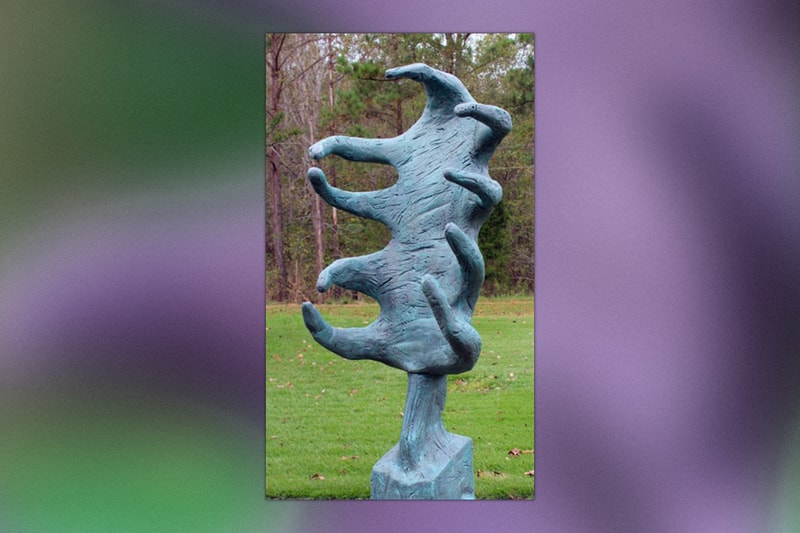 'Beetlejuice 2' Sculpture Stolen on Set in Vermont
The artwork was allegedly taken in an old GMC pickup truck.
---
A sculpture from the set of the upcoming Beetlejuice 2 film has been stolen in Vermont, according to local authorities. The artwork is one of the most recognizable pieces from the original film, depicting a large pronged leaf-like statue that attacks the fictional artist Delia Deetz (played by Catherine O'Hara) in the movie.
A report published by the Vermont State Police states that the 150-pound sculpture was stolen sometime between July 13 and the morning of July 17 at a cemetery in the East Corinth municipality, where scenes from the original were also shot. Allegedly, someone in a pickup truck had driven to a large lamppost "topped with a distinctive pumpkin decoration on Village Road, removed the lamppost from its base, bundled it into the back of the truck, covered it with a tarp, and fled at a high rate of speed." Additional props were also stolen in the act, which the report traces to an "older model GMC pickup truck with an unknown license plate."
It's been roughly 25 years since the first Beetlejuice came out in theaters and several members of the original cast, including O'Hara and Michael Keaton (who played the enigmatic villain), will reprise their roles for the upcoming sequel. Directed by Tim Burton, Beetlejuice 2 is produced by David Geffen and Brad Pitt's Plan B Entertainment and will include new roles by Jenna Ortega and Willem Dafoe. The film is currently scheduled to release on September 6, 2024.
Authorities have asked anyone with information about these thefts to contact the Vermont State Police in St. Johnsbury at 802-748-3111 or leave an anonymous tip online at https://vsp.vermont.gov/tipsubmit.