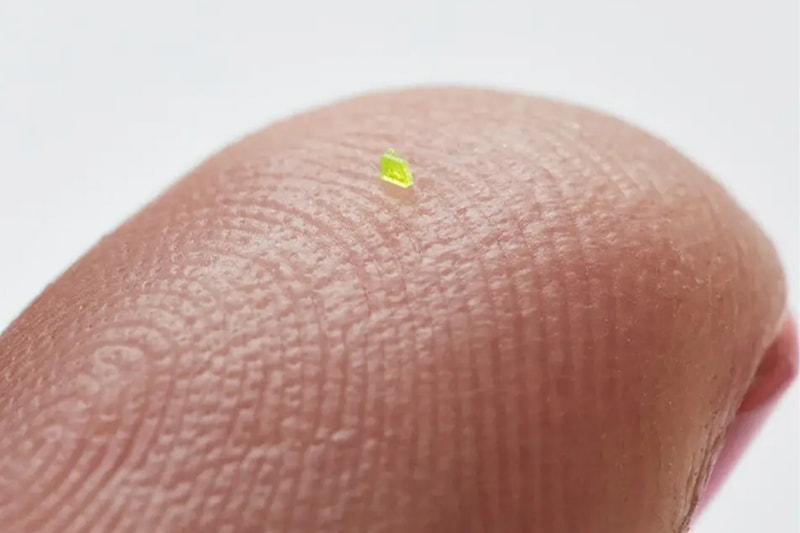 1 of 2
2 of 2
MSCHF Auctions Its Microscopic Handbag
Smaller than a grain of sea salt.
---
After breaking the internet with its various parody footwear options, including the ridiculous Big Red Boots, MSCHF now has its sights set on the bags industry with a Microscopic Handbag modeled after Louis Vuitton's OnTheGo tote.
Measuring 657 by 222 by 700 micrometers, the semi-translucent handbag is smaller than a grain of sea salt. According to MSCHF's chief creative officer Kevin Wiesner, the micro bag was conceptualized as a commentary on shrinking luxury handbags. What was once something that should be as functional as possible has become a flashy accessory in which usefulness is seen as secondary.
The OnTheGo silhouette was chosen for its simple rectangle shape and prominent logo, meanwhile, its slight translucence is so the bag is more visible when put under the backlight of a microscope. As usual, MSCHF did not think to ask for permission from Louis Vuitton to proceed. "Pharrell loves big hats, so we made him an incredibly small bag," Wiesner told The New York Times.
For the project, the MSCHF team approached several industrial manufacturers that specialize in biotechnology. In the end, the bag was made out of resin through a microscopic 3D printing process known as two-photon polymerization.
The final offering is said to arrive in a sealed gel case mounted under a microscope featuring a digital display, offering a clear view of the miniscule creation. MSCHF's Microscopic Handbag is set to release exclusively at Sarah Andelman's Just Phriends auction on June 19.
In other news, The Shed presents "Sonic Sphere," a floating Concert Hall.