Macklemore Wants You to Show Out on the Golf Course, Haters Be Damned
With an adidas collab now under its belt, Bogey Boys has come of age.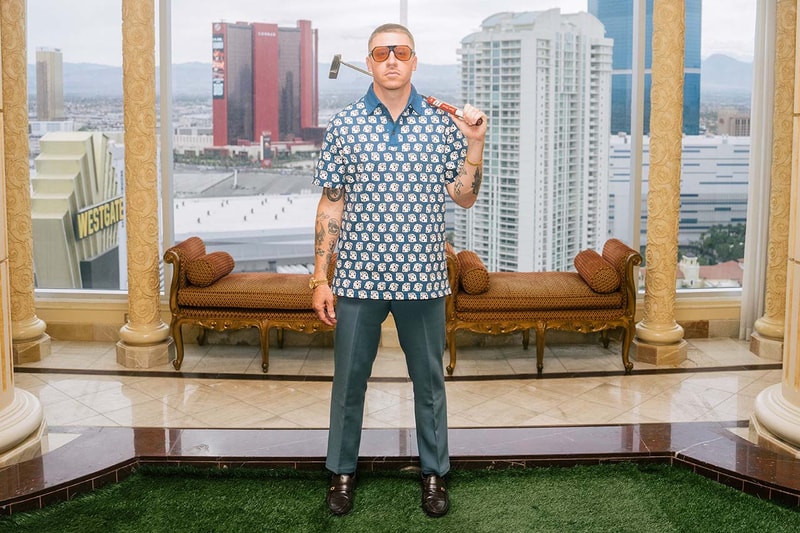 Macklemore doesn't pretend to be the world's best golfer. There are no dubiously edited clips on his Instagram of him making a hole-in-one. No deepfake of his face plastered on to the body of Brooks Koepka. He's just a guy who, like many people over the past few years, happened to fall in love with golf. It just so happens that he also makes music that is adored by swaths of fans worldwide. When he's not playing golf, he could be doing any one of producing records, performing on tour, fulfilling media obligations or being a father to his three children. But there's one thing that keeps him connected with the sport constantly: his golf apparel brand Bogey Boys.
Bogey Boys is unabashedly nostalgic and it's kitschy in all the right ways. The Seattle rapper-turned-entrepreneur has no time for golfers dressing like 'used car salesmen.' Some will argue that the brand had a leg up from the beginning, which may be true. But Bogey Boys focuses on quality, which it demonstrates by the clothing it produces. The brand released its first collection in 2021, and since then has been marching to a steady beat releasing vintage-inspired sportswear and Caddyshack era essentials. Think striped cardigans, soft pique polos, flowing rayon shirts and single pleat trousers. Now in its third year, the brand is showing a different side by dipping into performance wear, and its first collaboration with adidas Golf, dropping on June 14, is a coming of age moment.
Just announced today, the collaboration is an ode to the styles of the 70s and 80s, accordingly using the adidas Trefoil logo in place of the new streamlined one. It includes everything from performance-led four button polos, to sweater vests with a green and white checkered pattern and premium terry cloth tracksuits. Notably, the collection represents Bogey Boys' first foray into women's apparel which comes to fruition as a terry cloth romper and high waisted skirt. Rounding out the offerings is a luxurious leather travel bag with croc skin detailing and the MC80, a brand new spikeless golf shoe silhouette that comes complete with a removable kiltie.
Before leaving for Europe on his BEN Tour, Hypegolf caught up with Macklemore to hear about how his journey into entrepreneurship has gone, what to expect from the brand's first collaboration and how he finds time for golf amidst his busy schedule.
HB: The last time we spoke to you was about two years ago just after you launched the brand, how do you assess your journey with Bogey Boys so far?
The journey with Bogey Boys has been amazing. There was a long period between the idea of Bogey Boys and actually the Bogey Boys launch, and I have learned a ton in the last three years in terms of what it means to run a brand, lead times and design. I think that there's always the assessment of what's resonating with people and why. And it's been a beautiful era of trusting intuition, trusting my gut, and then also being able to pivot when we need to.
It's been a juggling act. It's been my outlet when I couldn't perform. It's been a passion project that has turned into a full fledged company. And there's been incredible opportunities that we've been able to do within the first couple years of being a clothing brand that I would've never dreamed of. So It's been a crazy couple years.
What have you learned from being in the golf business? Is there anything that has surprised you?
I think overall the golf community, for the most part, has embraced Bogey Boys and embraced me as a public figure in a golf space with open arms. And that goes all the way from the different tournaments and pro-ams that we've been able to participate in, to our relationship with the PGA TOUR and our relationship with other companies that are in the golf space. What I was hoping when we first launched was that the story that we were telling was going to resonate with people.
"People used to go out to the golf course and show out, now people go out to the golf course and try to dress up like they're going to sell you car insurance."
At the end of the day, I'm trying to wear clothes that are timeless, that have a personality, that push the envelope of what it means to be a golfer in 2023. People used to go out to the golf course and show out, now people go out to the golf course and try to dress up like they're going to sell you car insurance. It's like, we can do better. And I think that that was always the goal of Bogey Boys was the originality, the creativity. The je ne sais quoi of the past has been lost on cookie cutter prints, cuts and fabrics of this modern era. And what if we change that up? That's always been the goal.
When we last spoke you called yourself a Nike head, but now that Bogey Boys has collaborated with adidas, what changed?
I mean look I'm a fan of shoes, I'm a fan of brands. If you were to go into my shoe closet, you would find adidas, Nikes, New Balance, loafers. You would find damn near every shoe company, probably.
So yeah, we started talking to adidas Golf in 2020. We met down at the Masters, and the conversation just started there. And it was just a really dope collaboration to be able to dream up and go back to the archives and see what people were wearing back in the 70s and the 80s in the golf space and in the adidas Golf space.
It's a brand that has a tenured history of delivering styles and staples that become the trend of a generation. adidas has always been at the forefront of that. So it was a collaboration that I feel super excited about. I think it turned out great. And the fact that we're already at this point after being in the game a couple years is pretty phenomenal.
It's an interesting collaboration because adidas's message is so performance driven, while Bogey Boys is more about the culture and lifestyle around golf. How can this collaboration add to each brand's story?
Yeah I think that golf has become so focused in sweat wicking, performance driven clothing. And I do think that there is a nice merger here where the designs and the performance tick both of those boxes. And I think that for Bogey Boys, where we're headed is both places.
"Seeing someone in public wearing the sh*t that you design, that's going to be a beautiful feeling every time that happens."
I want to be able to wear this heavy pique polo out to dinner. And you can go play golf in the same polo, or you have the option of wearing something that is more performance based.
And adidas has been a great collaborator in the sense of, yeah, they are at the forefront of performance. And I would like to think that we're at the forefront of style. And combining those two things is a perfect marriage, I would say.
This will be Bogey Boys first big collaboration. Was it important for you to establish the brand identity and direction first before bringing in partners?
Yeah, when we first launched we got hit up by a bunch of people about collaborations.  But what I didn't want to do is just slap a Bogey Boys logo on an adidas shirt. That's not a collaboration to me. Throwing two logos next to one another, I would say as a whole I'm tired of it. I feel like we're tired of it as a culture.
We want to be brought in. Like where are the storytellers? Where are the people who are actively thinking about how are we breaking the mold? That's what I'm excited about.
Obviously the design tells a story, but the whole campaign around a collaboration should tell and reinforce that story as well. And I think that often times we get lost with 'let's just slap this logo next to this one.' And the public can feel that. The public feels when it's special. The public feels when it's forced. I don't ever want to do anything forced.
You're in the midst of promoting a new album and getting ready to head out on tour. How does golf fit into that?
Tour has been a sanctuary for me to get out and play golf. When I'm back at home in the studio or with the kids it's tougher to get out. So the last year and a half, there hasn't been as much golf with me needing to finish this album. But the fact that I'm going to Europe in a couple weeks, I'll be playing golf as much as humanly possible.
I mean when I first got into it, I was playing 36 holes, like I was on some like Michael Jordan sh*t. Minus the drinking 12 beers and then going and playing a playoff game. I was on some like I'm playing 36 holes. I'm getting to the venue 15 minutes before the set because I have to finish hole number 35 and 36.
Do you have some destinations planned out?
You know, we should probably start talking about that, I haven't mapped it out. I'm more of like, 'where are we staying? What are the five closest golf courses? Let me decide when I'm there' type of guy. I should probably be planning it out a little bit more. But I'm an impulsive, you know sometimes I want to drive an hour to a golf course to play a specific one. Sometimes I'm like 'put me on the muni that's five minutes away. I don't need to go play this $300 golf course today.'
"Often times we get lost with 'let's just slap this logo next to this one.' And the public can feel that. The public feels when it's special. The public feels when it's forced. I don't ever want to do anything forced."
How is your golf game progressing?
Golf is a crazy game because I've gotten worse. I've been playing for four years and I probably peaked at like a year and a half in. And it's when I was playing the most. I got down to like a 10, 6 handicap. I was trending in the right direction and then you stop playing or you get a weird swing tip and you can't get that out of your head.
It's so mental. And I have completely lost parts of my game that I felt really confident in. But I've played golf long enough to know that this is just part of the process with everybody.
But we'll see. You know I feel good going into Europe. I think that there's going to be some things to work on because there always is. And that's the beautiful part of the game is that perfection is not a possibility.
You've participated in the AT&T Pebble Beach Pro-Am a few times now, and we've seen a growing presence from lifestyle brands like yours and Malbon. Does that event provide an important platform for you?
The Pebble Beach Pro-Am is a huge platform for us. They have been so accommodating with open arms. It's been so dope to rep Bogey Boys out there, and to see people wearing it that are walking outside the ropes. Like that's what it's all about to me, seeing someone in public wearing the sh*t that you design, that's going to be a beautiful feeling every time that happens.
And just to be around the pros and to talk to them about the brand and to get to kick it with them and to have [ScHoolboy] Q out there and to have Steve [Malbon] out there it just feels like family. As long as we get the invite, I think Q and I will be hopefully 70 years old playing that tournament.
We'd love to know about what kind of kicks you have in your collection. What are some of your favorite silhouettes right now, and tell us about the one you have coming up with adidas.
I love the silhouette that we have coming up with adidas. I think that it's a classic, timeless silhouette. It's got the removable kiltie on there, it's got gator on it. It's tastefully done, it's elegant, the lines are perfect. They look great on foot, and that's going to be a crazy feeling to watch people on the golf course wearing your shoe.
I think that in terms of footwear in the golf space, I'm someone that gravitates towards all the brands and what they're doing depending on the shoe. I tend to go a little bit more classic than performance. I love my vintage FootJoys, and I think that eBay has been a sanctuary for me in terms of going back to the archives of what FootJoy was doing 10 years ago, 15 years ago, 20 years ago.
What's next for Bogey Boys?
Having been in full album mode for the last nine months and juggling Bogey Boys, which is always a challenge, I'm excited about the designs that we have coming up for the rest of the year. For the first couple of years, particularly with Covid, with supply chain issues, that was hard. But I think that now in 2023, we are the most caught up and prepared than we ever have been. And the infrastructure is built out.
We've hired some really amazing people to become part of the team. And overall the clothes are just fire. I really f*ck with what we're making. I believe in it, I want to wear the clothes. I think people look great in the clothing. It's been fun to watch people outside of the golf space or other sports support the brand, and other celebrities support the brand.
But more so than anything, I care about the people out at the local munis that are in a Bogey Boys hat or hoodie or whatever it is. That is the spirit of what the brand is all about. Getting outside, looking different, being authentically yourself. And even if you're trash at the sport, at least you look great.