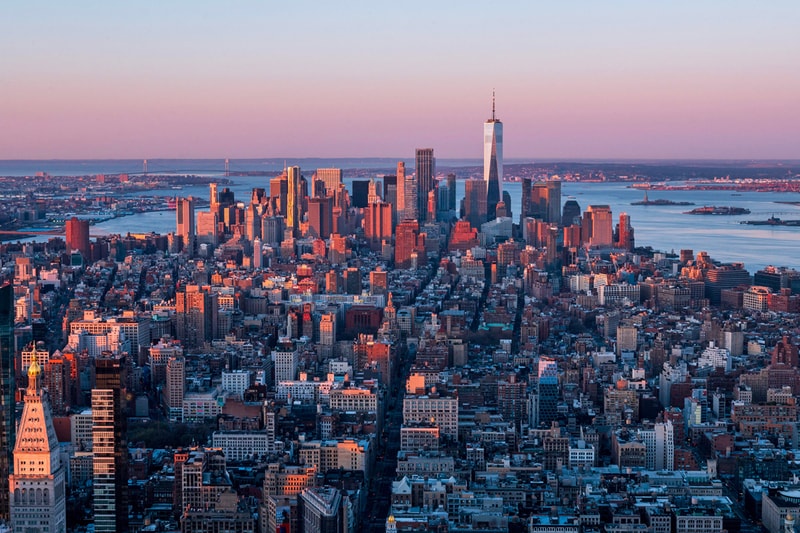 The Hypeart Guide to New York Art Week 2023
From Frieze and NADA to TEFAF and Future Fair.
---
New York Art Week is back and there are a number of fairs and exhibitions to see across the city — from Nigel Cooke's atmospheric paintings at Pace Gallery's 540 West 25th Street location to lesser-seen artworks by Georgia O'Keeffe at the Museum of Modern Art (MoMA). Fair wise, there of course is the return of Frieze New York next week, along with the more trendy New Art Dealers Alliance (NADA New York), as well as the return of TEFAF New York and Future Fair.
Starting with the latter two, which kicked off today and May 10, respectively, TEFAF is presented by the European Fine Art Foundation and showcases modern and contemporary art at the Park Avenue Armory in Manhattan. This year's edition comprises 91 exhibitors, including works by Joan Miró by Galeria Mayoral and immersive color-field paintings by Katharina Grosse at Galerie Max Hetzler's booth.
Whereas, Future Fair, which is now going on its third edition, focuses primarily on smaller galleries by providing a platform for diverse voices to thrive in the often clustered business of art. Housed at the Chelsea Industrial building in Manhattan, the fair was started with transparency and equitability in mind. This year, the fair showcases 57 galleries from 20 countries, including a special curated project between Future and the Black Women in Visual Art, along with Atlanta-based nonprofit, Dashboard.
Also in Chelsea, NADA returns for its ninth edition and will feature 88 galleries, art spaces, and non-profit organizations spanning 17 countries, including 31 first-time exhibitors. Highlights include a collaborative panel hosted by NADA and the Asian American Arts Alliance, as well as a solo exhibition of work by Anya Paintsil at Hannah Traore Gallery's booth.
As for Frieze, the fair enters its 11th year and will host over 60 galleries from 27 countries. In particular, the fair will celebrate the creative spirit of New York City, including an installation by Nan Goldin, an offsite performance by Shala Miller and a collaborative project with Artist Plate Project which supports Coalition for the Homeless.
For those looking to attend, TEFAF New York will be on view until May 16 and Future Fair will run through tomorrow, May 13. Meanwhile, NADA New York and Frieze will commence from May 18 to 21, and May 17 to 21, respectively. Check out some of our must-see booths at each fair below.
KARMA Gallery, TEFAF New York
Art and architecture have always been linked to various degrees. This intersection serves as the inspiration for KARMA Gallery's booth, entitled TO LOOK UPON EVERYTHING IN THE WORLD AS AN ENIGMA. The entire presentation of work focuses on painting, including cavernous works by Nicolas Party and Quandary (1997) by Hughie Lee Smith. The booth will also shine light on paintings by Gertrude Abercrombie, Giorgio de Chirico, Lois Dodd, Lynne Drexler, Reggie Burrows Hodges, Zenzaburo Kojima, Matthew Wong and Manoucher Yektai. Please visit KARMA Gallery to learn more.
TEFAF New York
643 Park Ave
New York, NY 10065
Laura Berger at MAMA Projects, Future Fair
The closest desert to New York is roughly 3,000 miles away, but a solo presentation by Laura Berger brings the phantasmic mirage of the desert to the Big Apple. Presented by MAMA Projects, Berger's female figures blend in with one another and the surrounding landscape in a sinewy dance that asks the melancholic question, "What does it mean to return to the abandoned place after time, what species of phantasm occupies it?"
Berger's subjects conflate past, present and future to implore the viewer to meditate on what is real and what is imagined. Laura Berger's solo exhibition will be on view at Mama Project's booth at Future Fair until May 13.
Future Fair
535 W 28th St
New York, NY 10001
Lauren Halsey at David Kordanksy Gallery, Frieze New York
Following her monumental installation on the garden rooftop of The Metropolitan Museum of Art, Lauren Halsey is showcasing a solo presentation of new works via David Kordanksy Gallery at Frieze New York. The proud Los Angeles-native will continue to spotlight her South Central community in a suite of new digital collages and gypsum-based engravings. Highlights include a large-scale inkjet printed piece that comments on freedom and excess, wrapped in a vibrant Afrofuturist aesthetic.
Frieze New York
545 W 30th St
New York, NY 10001
Matt Belk at The Hole, NADA New York
For those missing the great outdoors, Matt Belk's humorous artwork will transport you to the somewhat bygone era of game hunting. Made using a combination of airbrushing, digital techniques and the precision of an X-Acto blade, Belk often features vicious hounds, pheasants, fish and other animals with uncanny gazes, reflecting a certain nostalgia reminiscent of an L.L. Bean that is both nostalgic and bewildering.
NADA New York
548 West St
New York, NY 10014
kurimanzutto, Frieze New York
kurimanzutto is set to unveil a presentation of work at Frieze New York exploring various themes pertinent to recent times. Located at Booth B12, the gallery will showcase gestural paintings by Oscar Murillo and a totemic Donkey Tower (2019) by Damián Ortega, along with a charcoal on canvas piece by Bárbara Sánchez-Kane, a bronze sculpture by Danh Vo and much more.
Frieze New York
545 W 30th St
New York, NY 10001