Casablanca Launches AI-Generated "Futuro Optimisto" SS23 Campaign
Produced by Luke Nugent.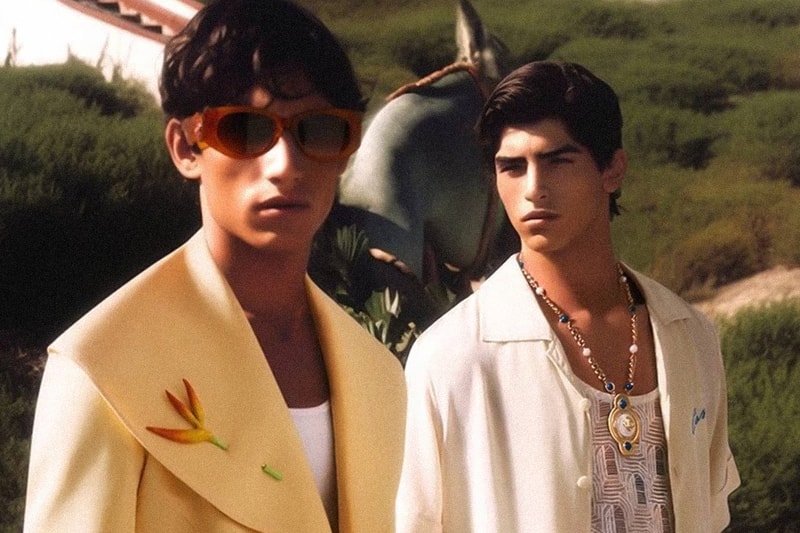 With a brand like Casablanca, that is so rooted in traditional and maintaining classic methods, the Paris-based brand is giving AI the stamp of approval. The brand, which still shoots its campaigns using film, has worked alongside Luke Nugent to create a set of AI-generated campaign images for its Spring/Summer 2023 collection.
Founder and creative director Charaf Tajer and art director Steve Grimes recently spoke to Business of Fashion in regards to how they came up with the idea. It appears that hopping on the AI-trend initially began as a joke, ""But then we were like, 'Yeah, we can actually find beauty in this.'" Nugent, who is a longtime industry photographer, aided in creating the campaign images using image generator Midjourney, to produce the "Futuro Optimisto" SS23 campaign for Casablanca.
The scenery was set in a Mexican landscape and was stylized to look more like hyperrealistic painting as opposed to actual photographs to give it a sense of surrealism. When designing the creative direction of the campaign, the team was inspired by a trip to Mexico, the idea of UFOs, space, cowboys, the desert and nature all coming together. Grimes noted, "The result that we got from it I think feels very in-keeping with the brand and the aesthetic and the type of imagery we do." Casablanca currently joins a growing list of fashion brands looking towards AI to help with design and even campaign imagery. At the most recent AI Fashion Week, Moncler even teamed up with an AI-focused creative agency, Maison Meta, on a campaign for its Genius project. Despite becoming a new creative medium, the use of AI has received much backlash in terms of concerns over the technology replacing human creativity.
Grimes stressed that the AI campaign still required a lot of planning and creativity to produce the images. He noted that the same amount of research and storyboarding was necessary to build the artistic vision behind this campaign. The brand still needed to shoot their clothing on models in similar poses before feeding them to the AI-generated program. Although, one thing that was different is the fact that they no longer needed to cast models off a sheet and scout locations. Tajer said on the use of AI, "I think this is what makes it a real artistic tool, knowing that, like with any type of artistic media, you have all the possibilities, but the work of the artist is to define what he wants."
In other fashion news, Johnny Depp recently signed the biggest men's fragrance deal ever with Dior for $20 million USD.