Mofongo Kicks on Bad Bunny's adidas Forum Buckle Low and the Nike Lunar Force 1 Fuse "Area 72" for Hypebeast's Sole Mates
Carli and Josué Pacheco riff on the evolution of sneaker culture in Puerto Rico and the growing impact of Latin artists in the footwear space.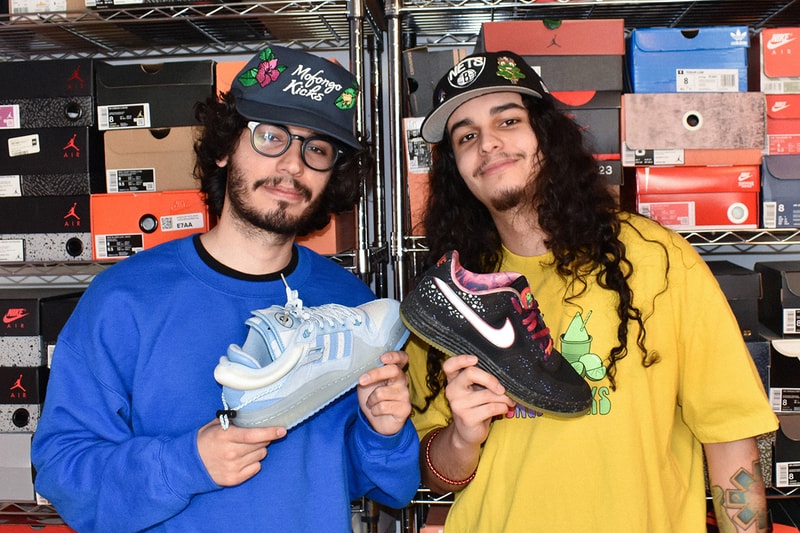 In Drake's 2016 Apple Music interview, he states, "The details about your upbringing and your culture are extremely appealing to the world as long as you present them with confidence." Drizzy's words of wisdom resonate with Carli and Josué Pacheco thanks to their Mofongo Kicks platform — a fashion label and streetwear and sneaker-focused media company that's devoted to highlighting Latin culture and empowering its communities.
Born and raised in Puerto Rico, the Pacheco brothers claim that those of Latin descent have always been deeply invested in sneaker culture, but have also been waiting for the moment that mainstream media would recognize and amplify this affinity. And with the waves that Bad Bunny and J Balvin are making with adidas, Nike and Jordan Brand, that time has finally arrived. "The Latino sneaker community was starving for an artist to have a signature collaboration," Carli tells Hypebeast. "The last time we had recognition was Daddy Yankee's Reebok partnership in 2005. Now, more people are excited to celebrate Latino culture as our presence has grown."
We caught up with Carli and Josué for an installment of Sole Mates. The former brother touches on the impact of Bad Bunny's adidas Forum Buckle Low line while the latter explains his appreciation for footwear design with Nike's Lunar Force 1 Fuse "Area 72."
Who or what got you into sneakers?
Carli Pacheco: I've always loved how sneakers looked and how they made me feel. Growing up in Yauco, Puerto Rico, I wasn't really exposed to sneaker culture, but I remember being fascinated with sneakers whenever my parents took us to Foot Locker. Basketball is how I started to get into sneaker culture and collecting, and I haven't looked back since.
Josué Pacheco: I started getting into it because Carli was getting into it. We grew up playing basketball and I remember starting to love sneakers around 2010 when Kevin Durant, Kobe Bryant and LeBron James were the "big three" of Nike Basketball. We shared the same iPod — which had images of the shoes that we both admired — and it just kept going from there.
Do you remember the first silhouettes that you fell in love with?
C: There are a couple of sneakers from my childhood that I remember liking. I had FILA F13s that I loved rocking with the strap hanging. My mom often shopped at Payless so I had a bunch of Airwalks. The first shoe that I remember that hooked me was the Nike LeBron 9 "Summit Lake" colorway. I loved the build, the palette and how it was a blend of futuristic and practical style. I remember admiring the way Wale rocked them.
J: I loved the entire Nike Basketball "Galaxy" collection, but most specifically the Foamposites. I was in amazement at the hype around the shoe and was impressed by the entire theme and how Nike added that galaxy print across them.
"adidas has a rich history with streetwear and hip hop, so the fact that they're adding another chapter to their legacy with a reggaeton artist is important to me."
What was sneaker culture like growing up in Puerto Rico?
C: We grew up about an hour and a half away from the metropolitan area so we weren't exposed to the sneaker, graffiti, and skateboarding scenes. I give all the credit to the Internet and the NBA in terms of how I discovered all of the new releases and latest trends. In high school I had a Spanish teacher that would let us use the computers if we finished our work early and I'd be sure to finish my work quickly so I could browse through the Flight Club site and salivate over grails.
Has Puerto Rico's sneaker culture evolved since you first became interested in it?
C: We're seeing heavy influence from Latin culture and artists like Bad Bunny. Puerto Rico has sneaker culture without sneakers because most releases are not available there. There aren't any major retailers or boutiques around so customers are forced to try online. The average kid in Puerto Rico might not be super intuitive about sneakers, but they're at least aware of what's going on, and that's a big leap from where we were 10 years ago. Another thing I've noticed about this new generation is that aside from collecting, they also want to create more by starting their own brands and making their own shoes.
J: I think sneaker fans want to express more of their individuality, and they do that by customizing their sneakers. In Puerto Rico, it's pretty common for you to catch someone wearing a Nike Air Force 1 that's been painted with the owner's own flair.
Carli, what about the Bad Bunny x adidas Forum speaks to you?
C: I love these because there aren't a lot of Puerto Ricans that have their own collaboration with a major brand. Another reason is that adidas has a rich history with streetwear and hip hop, so the fact that they're adding another chapter to their legacy with a reggaeton artist is important to me. And third, in a practical sense, I love how comfy they are and the vibrant colorways that they come in. They look really heavy but don't feel like that at all.
Do you have any favorite colorways?
C: Even though I don't own them, I love that "First Cafe" colorway, but out of the ones I own, I love the "Blue Tint" because they remind me of an ocean sky.
Are there any other Latin artists that you believe deserve their own sneaker collab?
J: I believe that Myke Towers should get his own sneaker collab. I've always been a huge fan of his music, but I know that he's a legit sneakerhead and used to camp out for releases when he was still coming up in the music industry. I can see him catering to the OG crowd, especially if he did a partnership with Jordan Brand.
Let's shift over to your Sole Mates selection, Josué — the Nike Lunar Force 1 Fuse "Area 72." What about this sneaker resonates with you?
J: This pair is special to me because of the personal connection I have with it. I had already been invested in the sneaker game for a year when the "Area 72" dropped, but its release was the first time that I felt compelled to drive an hour and a half to the closest House of Hoops in Puerto Rico. I had intentions of picking up the KDs or the Kobe's but when I got there, the only pair left in my size was the Lunar Force 1 Fuse. I ended up picking them up and I wasn't completely hyped about them right when I purchased them, but over time I learned to love them.
You traveled all that way, so it definitely makes sense to not want to walk away empty handed.
J: Exactly. I gradually appreciated all of the shoe's details like the glow-in-the dark elements, reflective Swooshes, gradient accents and the overall "Raygun" motif.
"I appreciate the art and design nuances of sneakers because I feel like wearing them expresses a part of me that I want to share with the world."
What can we look forward to from Mofongo Kicks in 2023?
C: We want to keep growing and connecting with more people. There are a lot of people that identify with what we're doing and we want to strengthen those relationships digitally and physically by doing more city pop-ups. It's our five-year anniversary this summer, so we'll celebrate that and continue to inspire people to be proud of their cultural heritage and continue to express that through fashion.
J: Professionally, I'd love to continue to build Mofongo Kicks into a stable entity where we can do this full-time. Personally, I want to grow this year by becoming a more seasoned graphic designer. Mofongo Kicks is what reignited my passion for design and I want to use it as a platform to showcase my style and express Puerto Rican and Latin culture. Lately, I've been inspired by Latin music and vinyl covers from '60s Afro-Cuban artists, and I want to translate those elements from my culture into our merchandising and products.
Why are sneakers and their stories important to you?
C: Sneakers started as an outlet for me to express my individuality, but on a personal level, they saved my life. When I first moved to the US, I was really homesick and had no direction, but sneakers gave me something to be passionate about. This industry never even crossed my mind, but seeing the progress that we've made is a blessing and I hope we continue to make it bigger so I can give back to other kids back home and provide guidance for those who are striving to build their own brand.
J: Sneakers are nostalgic for me. Additionally, I appreciate the art and design nuances of sneakers because I feel like wearing them expresses a part of me that I want to share with the world. That's what keeps me going.