"A Jazz Club Is Whatever You Want It to Be": Three Days at the Blue Note With Ezra Collective
Drummer Femi Koleoso and bassist TJ Koleoso discuss inclusivity in jazz and the secrets behind the quintet's legendary live shows.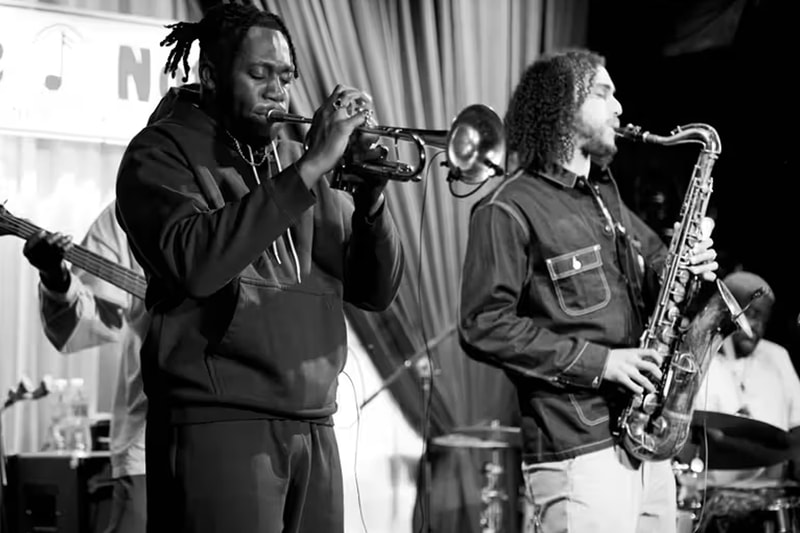 1 of 2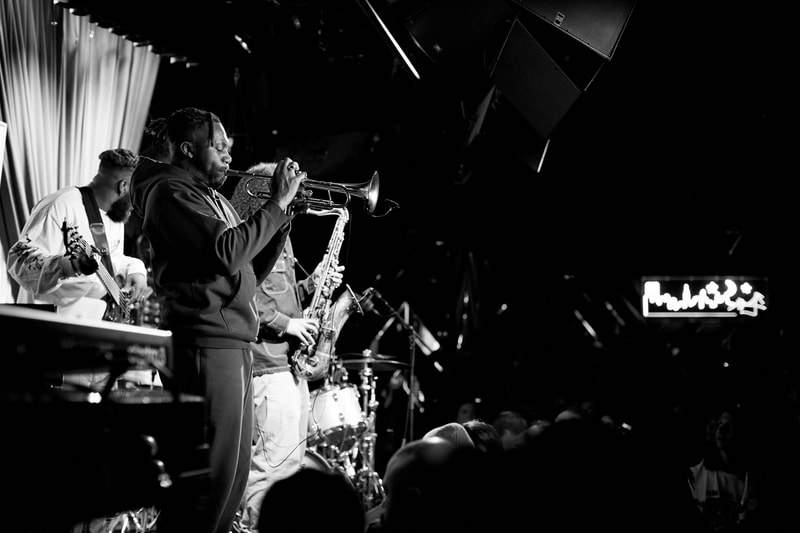 2 of 2
"We're not at the top of the mountain just yet!" Ezra Collective drummer Femi Koleoso shouts to a joyous Saturday night crowd at the Blue Note Jazz Club in New York City. Ezra Collective has just torn through a rousing rendition of "Victory Dance," a standout track from Where I'm Meant To Be, their recently-released second studio album. "Victory Dance" is a fast-paced, triumphant number that's infused with a healthy dose of Afro-Caribbean flavor, the type of song that makes listeners want to get down, even when they're sandwiched between the Blue Note's densely-packed tables.
It's the third of six consecutive sold-out shows the London-based quintet is playing at the legendary venue over three days, and although everyone from Ray Charles, Dizzy Gillespie, Robert Glasper and Norah Jones have played the club since it first opened its doors in 1981, it's hard to think that the Blue Note has ever witnessed a scene quite like this.
"A jazz club is whatever you want it to be!" Femi booms as the crowd vigorously waves their napkins, filling the venue with whirring cloth helicopters while dancing shoulder-to-shoulder, jostling tables, and knocking over drinks as the band tears through a dozen of its most energetic numbers.
Femi speaks openly about the importance of community and belonging in jazz, and Ezra Collective's sound is every bit as inclusive as their personal ethos. Heavily influenced by everything from UK dance music to Fela Kuti, John Coltrane and J Dilla, the band's music is a high-energy, free-spirited jazz gumbo with touches of everything from Afrobeat, hip-hop, calypso and dub to reggae, jungle and salsa.
That unique sound is appreciated by a wide cross-section of fans, from younger audiences who may have become aware of the band from their work with Jorja Smith, JME and Kojey Radical to longtime jazz devotees who'd rather discuss Miles Davis and Freddie Hubbard's differences in embouchure.
"Being able to evoke joy with our playing is a privilege."
"No matter how people found us, or what kind of music they like, we just want to give any Ezra Collective listener an injection of good vibrations for their soul," Femi says over breakfast at Soho House, the morning before the band began their Blue Note run. His brother and fellow band member, bassist TJ Koleoso, nodded in agreement. "Being able to evoke joy with our playing is a privilege."
Femi and TJ grew up playing in church bands and, in their early teens, began attending Tomorrow's Warriors, a famed London jazz development program that also served as an incubator for talents like Nubya Garcia and Moses Boyd. While there, the Koleoso brothers met tenor saxophonist James Mollison, keyboardist Joe Armon-Jones, and trumpeter Dillion Jones, who was replaced by the Koleoso brothers' longtime friend Ife Ogunjobi in 2019. "Ife and I met when we were 12 years old," Femi reminisces. "When he was 19, I took him to Madrid for the first time, and now here we are — eating and drinking at Soho House in New York. It's mad."
Ezra Collective is celebrating its 11th anniversary as a group in 2023. Besides the two albums and two EPs they've released (2016's Chapter 7, 2018's Juan Pablo: The Philosopher, 2019's You Can't Steal My Joy and the above-mentioned Where I'm Meant to Be in 2022) and the awards they've collected (like the Best Jazz Act at 2022's Mobo Awards), they've become legendary for their live shows, like their performance at Glastonbury in 2019 or a recent appearance on NPR's Tiny Desk series.
Despite their wildly successful live shows, Ezra Collective recorded Where I'm Meant To Be in isolation during lockdown — conditions that are antithetical to their community-minded, joy-focused ethos. Now, back out on the road and performing for joyous audiences, Femi and TJ feel like they're exactly where they're meant to be.
"It's a beautiful thing to have a musical idea in the restricted headspace of lockdown, then see a crammed dance floor jumping and celebrating when you finally perform it live."
"The distance between writing and performing felt so huge over the last two years," Femi notes. "But it's a beautiful thing to have a musical idea in the restricted headspace of lockdown, then see a crammed dance floor jumping and celebrating when you finally perform it live. I've been living with "Victory Dance" for three years now, but most people haven't heard it live, and that makes it all the more magical when they finally do. We played in front of 10,000 people in Hong Kong recently, and that city had just opened back up. It was bloody exciting to feel the energy when that song hit off."
"That exchange of energy isn't something we take for granted," says TJ, nodding in agreement. "It does something for our souls as well."
And that energy that the band brought to Hong Kong has circled the globe right back to the Blue Note, the tiny-in-stature-but-towering-in-prestige temple of jazz music right off of the West 4th Street stop in Manhattan's Greenwich Village. The synergy between performers and their audience is always a key piece of any live show, but it's different in a more intimate venue, one where viewers are within arm's length of the performers. You're close enough to reach out and touch the stage in a venue like the Blue Note, and that level of connection, both to the performers and the music, makes for a communal experience fueled by joyous energy and musical improvisation.
Improvisation is one of the pillars that makes jazz — especially live jazz — so singular, and it's also a key piece of Ezra Collective's show. The backing rhythm of a song, be it a bass line, keys, or a drum pattern, serves as a canvas of sound, one that an explosively creative soloist can paint with different colors each time. Solos swoop and soar through the skies of their backing rhythms, sometimes communicating their intent through a barrage of staccato notes, and sometimes conveying it with the silent spaces between their playing. Though there's a wonderfully abstract, of-the-moment quality to a great solo, it's always based on a central idea and never played without specific intention — more a gestural George Condo painting than a splattered Jackson Pollock canvas.
"Your subconscious takes over when you're locked in on your solo," TJ says. "An innate conversation between melody, harmony, and rhythm starts happening. It's a bit like when you're talking. You're not thinking about what words you're going to say next, you're just in the flow and one person or another might jump in and react to what you're saying, except here we're talking about notes and rhythms instead of words."
Both brothers are quick to note, however, that the formula for soloing — and, from a wider lens, the formula for putting on an appealing, accessible, joyous live show — also involves a measure of restraint. Jazz can be complex music, and will occasionally scare off potential listeners due to the perceived level of intellectual snobbery that's historically accompanied it.
"I know what it feels like to be alienated from an art form you love. Ezra Collective is a rebellion against that feeling."
"I know what it feels like to be alienated from an art form you love," says Femi. "Ezra Collective is a rebellion against that feeling. I want someone who goes into a jazz club feeling inadequate or stigmatized, for whatever reason, to feel like they're on top of the world when our set is over."
"I remember when we were playing one of our first shows at [famed UK jazz venue] Ronnie Scott's," he continues "and the staff was like 'someone wants to come in, but they're wearing a tracksuit and trainers. Is that OK?'" Shaking his head in disbelief, Femi continues: "I was like 'look at what I'm wearing, fam — I'm going to be even less 'dressed' on stage than whoever this person is. Let them in.'"
That "person" who gave Ronnie Scott's staff pause with his roadman attire turned out to be none other than grime legend JME, whose wife had brought him to the club as a birthday present. The band worked references to some of JME's biggest hits into their set, leading him to tweet that Ezra Collective was his "favorite band ever." Then, in 2019, JME attended the band's sold-out show at Roundhouse [another famous London venue], and hopped on the stage mid-set to freestyle over "Quest For Coin," a track off of You Can't Steal My Joy. Soon after that, JME met Ezra Collective at the studio and recorded "Quest For Coin II," a remix of the original track.
"I never thought all of that would happen when I told the staff to let that person in," reminisces Femi. "I've just always tried to break those barriers in any way I can, and provide an environment where everyone is welcome."
A lot has changed for the band since their first gig at Ronnie Scott's, and ahead of the three-night, six-show run at the Blue Note, the Koleoso brothers were experiencing a wide range of emotions, from pride to excitement and nostalgia. "As a jazz lover, it's a massive honor to play the Blue Note," Femi says, with an approving nod and grin from TJ. "But at the same time, I'm even more excited to see how different we can make the Blue Note look and feel — I want someone watching a video of the performance to be unable to tell if it's the Blue Note or Fabric [a massive dance venue in London]." As an aside, both brothers said if they could see any jazz musician, living or dead, perform at the Blue Note, they'd see John Coltrane. "The whole point of hi-fi systems is to try and get as close to John Coltrane being in the room as possible!" TJ exclaimed with a laugh.
The six sold-out shows at the Blue Note, each pulsing with energy, went off without a hitch. Even the preternaturally calm and reserved Joe Armon-Jones — who seems to transform when he gets behind the keyboards, expressing himself by pouring out sharp notes and staggering solos with stunning skill — couldn't hide his excitement. "The energy in there was mad," he said after a Saturday show.
I second Armon-Jones' assessment of the weekend, as I attended two shows, and they were every bit as joyous, inclusive and memorable as the band intended them to be. And, yes, each was different — from the set list to the solos to the stories. For his part, Femi Koleoso had a hunch the weekend would go down that way in advance as well. "I wouldn't be surprised if the Blue Note flips into a big dance party after one song," he'd prophesized while eating breakfast the Friday morning before the shows.
Six sold-out shows at the Blue Note to finish a sold-out North American tour served as a fitting victory lap for Ezra Collective, and although the band took a moment to celebrate their accomplishments after their run at the iconic venue, they're always working, striving and looking forward to what's next. Femi's next pursuit? Further fleshing out the differences between the performing headspace and the recording headspace, and finding the "perfect mistakes" that naturally occur in the recording studio.
"When I play 'You Can't Steal My Joy' live, I know I've only got one shot to get it right, but when we're recording, we can edit out a mistake," he notes. "Because we can do that, though, the criteria for a 'mistake' is different, and we have a ton of room, both to let things happen organically and to explore the ideas that come from that." This Dilla-esque mindset of embracing imperfection and the human touch while recording keeps the band honest in their playing and their creative process. "When we put out 'Lady,' our Fela Kuti remix, we were really proud about how real, live and in the moment it sounded, but we knew it was a properly recorded jam too," Femi concludes. "It's all about catching that balance."
"All these experiences, both on the stage and in the studio, are going to influence and impact the music we write, and how we communicate with our audience," TJ says as our conversation winds down. "Doing all these things is sort of like writing music in real-time, and I'm excited to see what that music sounds like when we head back into the studio. That layer of the unknown is a beautiful thing, and as we grow older, it excites me more and more."
"We're on a journey with our best friends, and I can't wait to see where it takes us next," Femi says, getting up to head to Ezra Collective's next adventure.