Nicki Minaj Is Launching Her Own Record Label
Confirming the news during the latest episode of 'Queen Radio.'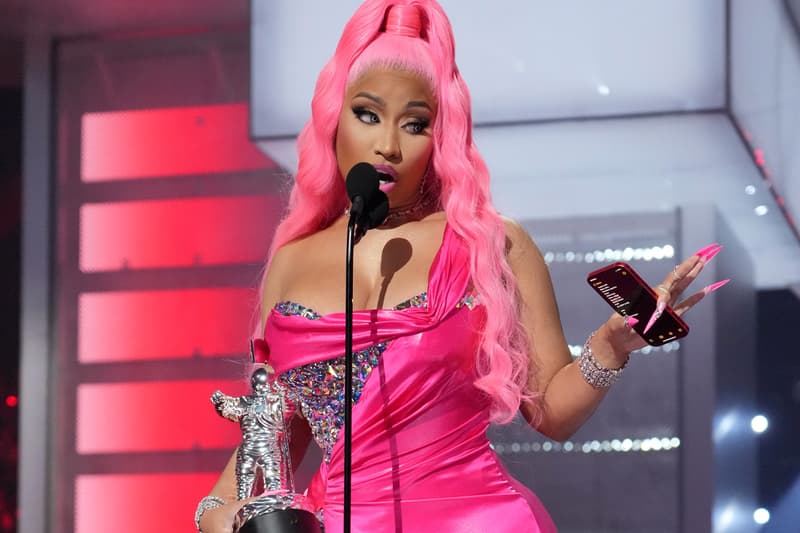 Nicki Minaj is officially setting up her own record label.
The artist revealed the news during the latest episode of her Queen Radio show, confirming key details about her newest venture such as the first few artists and what fans can expect from the label. "Well, I have a record label now. And because I believe so strongly in loyalty, and because I've spend my whole life giving to others that turn around and sh*t on me…Paddy Duke is the first A&R on my label," Minaj announced. "I'm not going to tell you guys the name of the label yet, right. But I'll tell you guys that on the next show. We'll do a next show pretty soon."
She further noted that her label will be more than "just rap, or Black, or anything" and will instead feature a diverse range of music genres. Minaj is set to work with Nana Fofie with her new label, sharing that she found out about her and Davido via Fofie's mashups on YouTube, "Because I thought they were her songs and then the Nigerians came on my comments after and said 'That's Davido!' I said, 'Okay, Nigeria.'" The rapper gave Fofie her flowers in a conversation with the Dutch-Ghanian star, who was there with her during the episode. "I've been obsessed with you for a very long time…And I always promised you when I started…but I didn't want to, you know, lock you into anything and if I wasn't ready to do what I needed to do with you, what I think you deserve…you have one of the most beautiful singing voice. One of those effortless, warm voices," she said.
Elsewhere in the interview, Minaj also reflected on how she wants to support other artists the same way Lil Wayne supported her all these years ago. "When I came in this game I didn't have no paperwork with Lil Wayne. But he had us on tour, he had us in a studio, he was getting on my mixtapes. So I understand the importance of having somebody else doing the heavy lifting for you. I understand why people are coming out and they're so, you know, microwaveable and they're here today and gone tomorrow, because there's no structure," she explained. "There's no real person that believes in them. That's like, 'Nah, I'm gonna make it my business to see you shine.' That's why I never wanted to do a label before because I said to myself …unless I'm ready to really put these artists on I'm not gonna ruin anyone's life."
"Y'all know how I do shit for people that's not even signed to me," she added. "Imagine what I'm going to do to the ones that signed."
In related news, Minaj leads this week's Best New Tracks alongside J-Hope and J. Cole.