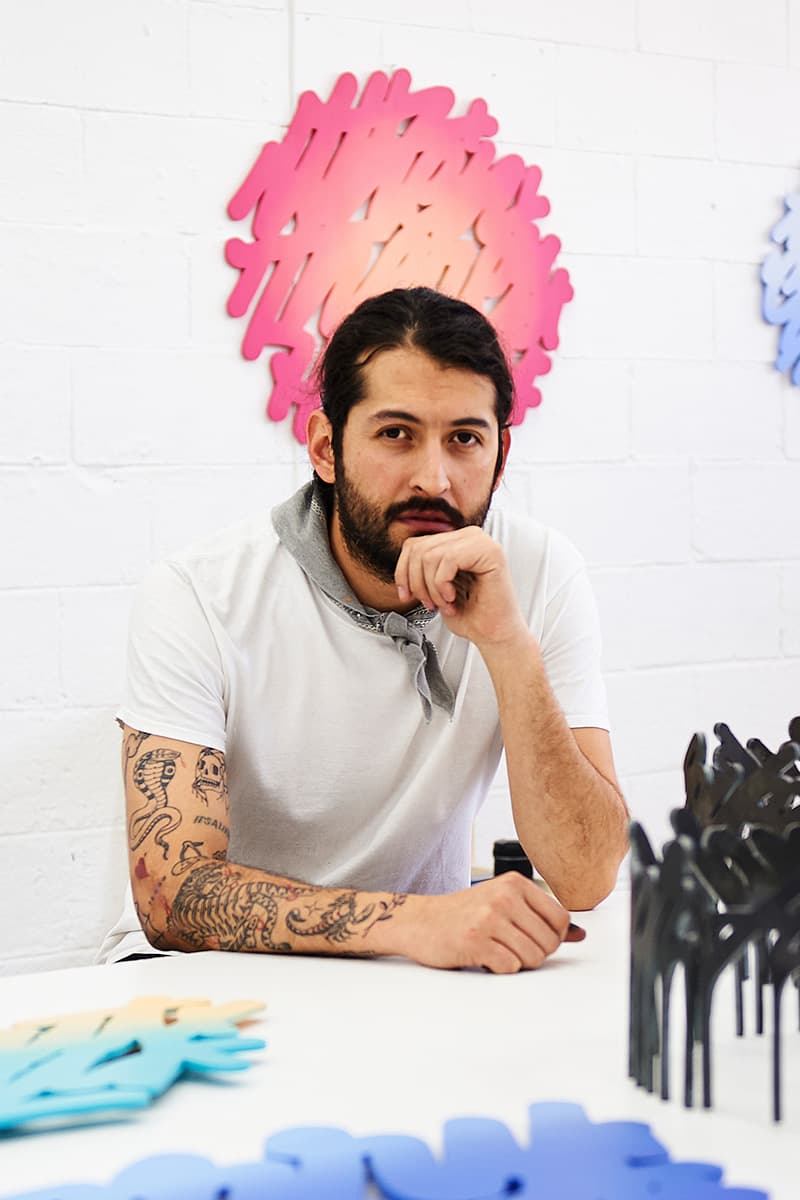 Meet Ricardo González, the Mexican Designer and Artist Behind It's a Living
On the topic of artistic expression with an exclusive preview of his upcoming exhibition in Japan.
Meet Ricardo González, the Mexican Designer and Artist Behind It's a Living
On the topic of artistic expression with an exclusive preview of his upcoming exhibition in Japan.
---
"It's a Living" is not just a statement, it's a philosophy of life for Ricardo González, a Mexican designer and graphic artist who's about to host his solo show in Tokyo, Japan.
His signature stroke is easily recognizable in large-scale murals all over the world, from commercial work for brands like Apple, Nike, HUF, and Vans, to stickers that may stumble across in the streets. The ambiguity in his typographic messages creates a continuous dialogue between the viewer and the artwork. According to Ricardo, "one word is one image" and an image can be interpreted in many ways. His focus on using typography as an exploration tool aims to question our daily lives while also creating a positive impact.
"It's a Living" is the name of Ricardo's studio, brand, and personal philosophy. The phrase resonated with Ricardo the moment he saw it as a shoulder tattoo on Death From Above's drummer, Sebastien Grainger — it wasn't until later he realized he was doing what he loved and living off of it that he decided to adopt the phrase as his own.
Ricardo was able to recognize the elements and situations occurring around him at a very young age. From getting mesmerized by the cursive letters he saw at his grandmother's house, to learning how to express his ideas via spray paint, street culture, skateboarding, and urban environments. His love for lettering also dates back to his adolescent years in Durango, Mexico, where he was rather focused on graffiti for a few good years until he decided to move to Canada to study graphic design. After graduating from Mohawk College in Hamilton, he then moved to New York City to enroll in a postgraduate program majoring in typography design.
His talent and dedication would eventually grant him the opportunity to exhibit in group shows, which helped establish his notoriety in the art world. Later on, he landed collaborations with the likes of Bentley, Google, Facebook, Airbnb, and Coca-Cola. Now, he's even sponsored by Krink, an artist materials brand, and New York-based creative studio.
Hypebeast was given a preview of Ricardo's works for his upcoming art show, which draws inspiration from jazz guitarist Wes Montgomery's album, "A Day In The Life." Not only do the two share the same name, but the exhibition also uses its narrative and peaceful soundtrack to mark Ricardo's artistic beginnings.
The upcoming solo show also signifies the sixth time Ricardo has showcased his works in Japan. Both Tokyo and jazz music have influenced Ricardo's art in numerous ways. He never misses a chance to attend the vinyl bars in the city ever since he first showed his work there. His favorite spot is JVS, a jazz, blues, and soul bar in the heart of the Japanese capital that has previously collaborated with HUF, and is now a favorite amongst the skate team.
In contrast to Ricardo's usual paintings, "A Day In The Life" will be the first time the artist presents three-dimensional artworks, with a portion of those based on Montgomery's album tracks such as "Watch What Happens" and "Trust In Me." Ricardo's It's a Living colorful style can now be appreciated on these laser-cut, wooden, spray-painted canvases, while keeping his love for typography at the forefront. In addition, there are dark metallic pieces made to emulate a dripping effect that could be read as a wink to the KRINK's effect, or as a statement to Ricardo's rooted philosophy of "AMOR"/"LOVE".
"A Day In The Life" by It's a Living a.k.a. Ricardo González opens on February 15th at hpgrp GALLERY.
hpgrp GALLERY TOKYO
Ohararyu Hall B1, 5-7-17,
Minamiaoyama, Minato-ku, Tokyo