Palace Spring 2023 Collection Full Look
Featuring collaborations with adidas and UGG, GORE-TEX trousers, new Tri-Ferg hoodies and more.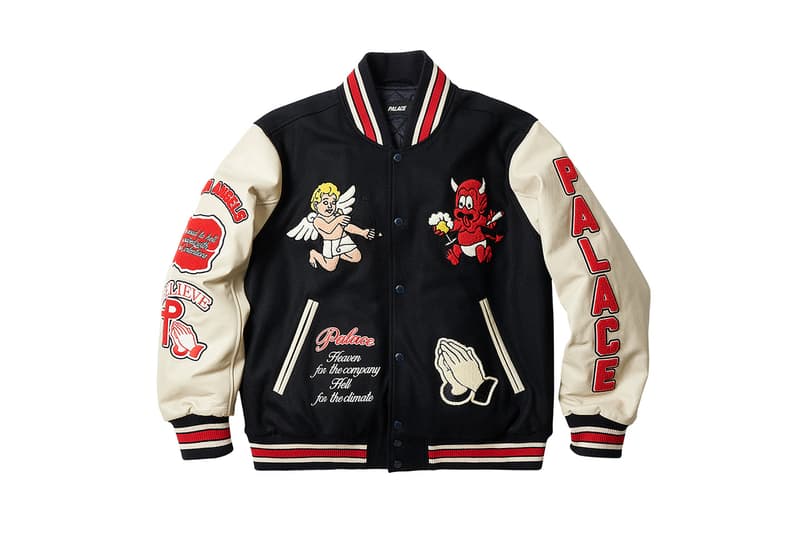 Hot off the heels of unveiling its expansive Spring 2023 lookbook, Palace has officially unveiled its newest capsule in full. Releases for the new assemblage will kick off this Friday, February 3 via its European and US markets in-store and online while a launch in Japan will follow on Saturday, February 4.
For this new season, the British label has readied a plethora of new apparel, footwear and accessories for its crazed streetwear fans. Stand-outs from the collection include a wealth of the brand's signature Tri-Ferg logo sweatshirts, shirts adorned with playful knits and patterns, collaborative projects crafted alongside adidas and UGG, and GORE-TEX trousers and caps.
Peep the full Palace Spring 2023 collection here below.
Outerwear
For Spring 2023, Palace's jackets are sure to keep you warm. Puffer coats feature quarter-zip constructions with frontal, branded pockets in several confident hues, while toned-down quilted versions take a quieter approach to logowork. Varsity jackets stand out in vivd tones with big, bright patches on their back — one, in particular, sees angel and devil motifs above lettering that reads "Good Girls go to Heaven, Bad Girls come to Palace." Elsewhere, GORE-TEX coats are ready to brave the elements, while fleece-covered iterations would rather a cozier day indoors.
Knitwear
Palace's latest knitwear offerings are playful to the max. Two sweaters offer a graphic contrast: one fronts an illustration of a devil with a glass of champagne and a red-hot blunt, while another pictures a sweet angel aiming its bow down below. Meanwhile, two sporty iterations don an Italian Palace emblem on their front chest, with "Campione" branding. Monotone offerings follow, with zip-up iterations in blue and grey, and striped designs are attention-grabbing in mixed bright tones.
Sweatshirts
As spring is a transitional season, there's a healthy helping of mid-weight hoodies, crewnecks and fleece jackets to be had in Palace's Spring 2023 collection. Color-changing Tri-Ferg logos, snakeskin details and cherub and devil embroidery make their presence felt on pullover hoodies, while zip-ups come with a built-in sheisty for added protection against the elements, or a zip-off quilted liner for extra warmth. adidas' hooded Firebird track top can be seen in a trio of colors. A selection of zip-up fleece pieces and crewneck sweatshirts (most notably with chenille patches) complete the offerings.
Shirting
This season's shirting is big and bold — if simplicity is your thing, you'll likely want to look elsewhere in this collection. Long and short-sleeve button-ups feature all-over graphic prints, while there's also a short-sleeve croquet-style shirt for a dash of street luxury. Last but not least, hybrid button-ups combine tartan bodies with single-colored sleeves and button-down collars.
Tops