Giannis Antetokounmpo Scores Career-High of 55 Points in a Win Over the Washington Wizards
His third straight game with over 40 points.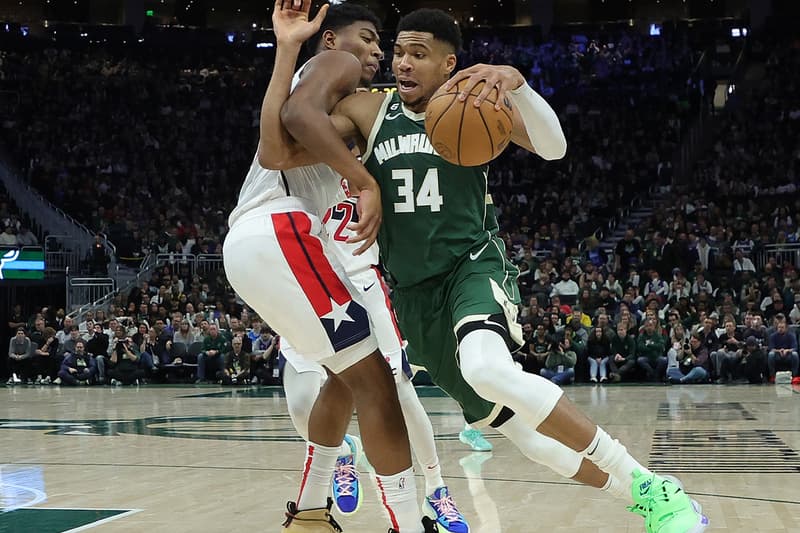 Milwaukee Bucks star Giannis Antetokounmpo showed no signs of stopping, scoring a career-high 55 points in the 123-113 win over the Washington Wizards last night.
The Greek Freak dropped 55 points, 10 rebounds and seven assists, making this game the third in a row where has scored over 40 points. This is also his fifth game in the last seven where he scored over 40. The two-time MVP now has eight 40-point games, tying with Dallas Mavericks' Luka Doncic. Antetokounmpo is now also the the third player since 1977 to have a three-game streak of 40 points and 10 rebounds.
So far, this week has seen the NBA on fire. On Monday night, 22 players scored at least 25 points across the league, where 10 of those recorded at least 30 points, five hit 40 points and two hit over 50 (Klay Thompson with 54 points and Donovan Mitchell dropping 71). Just last week, Doncic recorded the first ever 60/20/10 game in NBA history. The NBA has come a long way from the days of Wilt Chamberlain and Michael Jordan, with each week, player elevating the standard of play on the court. It is evident that modern NBA is unprecedented and that the game will only go up from there. Take a look at the Greek Freak's stats below.
Giannis had a career night in the W over the Wizards ?

?55 PTS (career-high)
?10 REB
?7 AST pic.twitter.com/p96YSrGmZO

— NBA on TNT (@NBAonTNT) January 4, 2023
55 PTS (career high)
10 REB
7 AST
20-33 FGM
15-16 FTM@Giannis_An34's career night and third-straight 40-point game powers the @Bucks! pic.twitter.com/C04P9yfXUh

— NBA (@NBA) January 4, 2023
Giannis might have scored a career-high 55 points tonight… but he's focused on consistency.

(he's also gone for 40 and 10 in three straight games) pic.twitter.com/L7J3VWNnU1

— NBA (@NBA) January 4, 2023
Giannis joins Moses Malone and Russell Westbrook as the only players since 1976-77 with 40+ points and 10+ rebounds in three consecutive games!

Dec. 28: 45 & 22
Dec. 30: 43 & 20
Tonight: 55 & 10 pic.twitter.com/MiWVYZW4Ra

— NBA (@NBA) January 4, 2023
In other sports news, Pelé's funeral drew large crowds, bidding farewell to the legend in an eight-mile long procession.