Equinox Banned New Years' Resolution Members
Many are calling its "We Don't Speak January" campaign tone-deaf and exclusionary.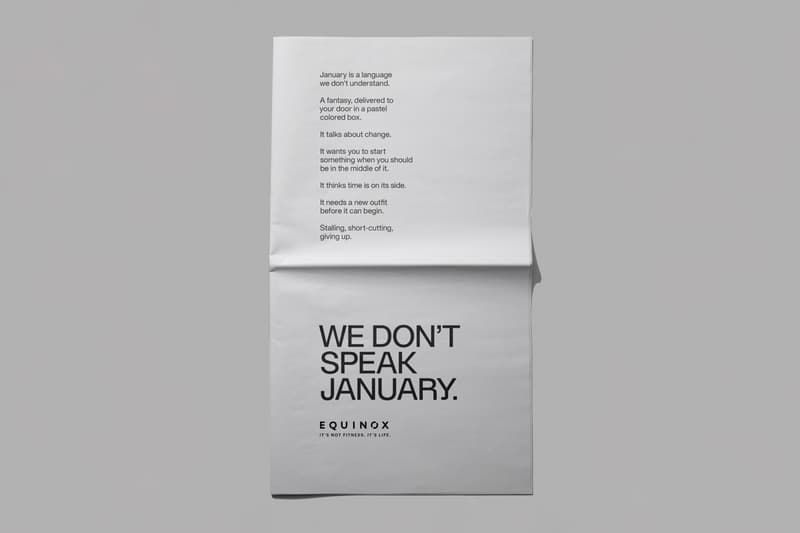 Kickstarting fitness goals on January 1, 2023 has been somewhat of an unofficial tradition for as long as we can remember, but this year many workout hopefuls were disappointed when they were turned away at Equinox. The American luxury fitness company decided to ban signing New Years' resolution members as part of its now controversial campaign to start the new year.
Taking to social media, Equinox shared the reasoning for its "We Don't Speak January" campaign, accompanied by a hashtag that read "#ItsNotFitnessItsLife." "January is a language we don't understand. "A fantasy, delivered to your door in a pastel colored box. It talks about change. It wants you to start something when you should be in the middle of it. It thinks time is on its side. It needs a new outfit before it can begin. Stalling, short-cutting, giving up."
Aside from posts on social media, Equinox launched ads throughout its locations nationwide and put up billboards in major cities reading "January promises and doesn't deliver, we don't speak January," "January will not text you back next month, we don't speak January," "Why does January always want to start next week?"
The campaign has been met with widespread criticism and some choice support. On social media, many are calling the initiative tone-deaf and exclusionary for shaming people simply hoping to start 2023 with a push toward fitness. The bold campaign celebrated by some was developed by Collins agency and was developed to "snub short-term resolutions" and as Will Mayer, Vice President and Executive Creative Director of Equinox, noted intends to question the "norms of the wellness industry."
It's not you, it's January. #ItsNotFitnessItsLife pic.twitter.com/Bg6lBnSUR2

— Equinox (@Equinox) January 1, 2023
In case you missed it, Bad Bunny explains why he threw a fan's phone into the water.