Best New Tracks: Lil Yachty, Rich Brian, Daniel Caesar and More
10 music projects to dive into this weekend.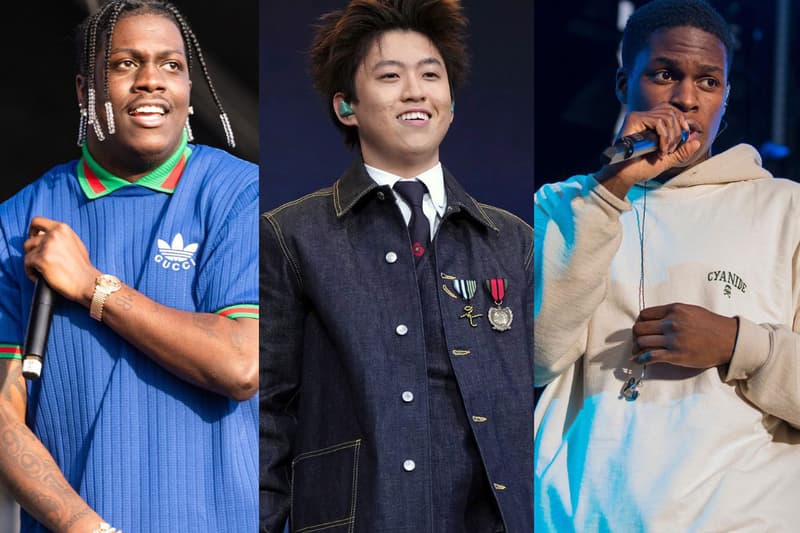 As the week in music comes to a close, HYPEBEAST has rounded up the best projects for the latest installment of Best New Tracks.
This week's lineup is led by Lil Yachty, who delivered his long-awaited "psychedelic rock" album, marking a new venture into the genre for the rapper. SG Lewis also released a new album, entitled AudioLust & HigherLove. Elsewhere in music, deem spencer announced his upcoming sophomore album and dropped its first single "27." Cordae and Anderson Paak teamed up for a new track, produced by J. Cole. Other new singles in the mix include contributions from Rich Brian, SZA, Daniel Caesar, midwxst and Denzel Curry and more.
Lil Yachty – Let's Start Here

Lil Yachty has continued to evolve on his latest full-length release, Let's Start Here. The psychedelic rock album opens up a new chapter for the rapper, who was inspired to venture into the genre by his love for Pink Floyd's Dark Side of the Moon.
Listen: Spotify | Apple Music
midwxst x Denzel Curry – "Tally"

Produced by Charlie Heat and Kennedy Sabin, "Tally" juxtaposes the bars of 19-year-old midwxst and legend Denzel Curry with layered instrumentation, from horn samples to Spanish guitar. There's also a black-and-white music video, shot by Ari Nissenbaum, that pits the two artists within the plot of a gangster narrative.
Listen: Spotify | Apple Music
Skrillex x Bladee – "Real Spring"

Skrillex and Bladee have assembled an uptempo dance track, following up on their recent features on Yung Lean's mixtape Stardust. The song comes with a music video that shows a montage of cuts from the time they spent together in Japan. It's also another preview of what's to come on Skrillex's first new album in nine years.
Listen: Spotify | Apple Music
Rich Brian – "Sundance Freestyle"

Following the debut of his first-ever film, the Justin Chon-directed Jamojaya, Rich Brian is celebrating his progress by laying it down on a new track. Named after the iconic film festival where the drama was first screened earlier this week, "Sundance Freestyle" is an uplifting, punchy anthem from the 88rising rapper, arriving with a music video directed by frequent collaborator Daniel Cloud Campos.
Listen: Spotify | Apple Music
Cordae x Anderson .Paak – "Two Tens"

Close friends Cordae and Anderson .Paak linked up for a vibey rap single with a retro feel. The song also features production from J. Cole. It may not be the last that listeners hear from this trio of heavy hitters. Cordae recently revealed that he, .Paak and Cole have recorded an entire mixtape worth of music, though he hasn't shared if he plans on releasing more of it.
Listen: Spotify | Apple Music
Daniel Caesar – "Do You Like Me?"

Daniel Caesar has returned with "Do You Like Me?," his first solo release since last year's collaboration with Badbadnotgood, "Please Do Not Lean." The singer shared that the song is about a woman in his life who he has deep respect for and could possibly double as a hint as to what fans can expect from the highly-anticipated follow-up to 2019's Case Study 01.
Listen: Spotify | Apple Music
SG Lewis – AudioLust & HigherLove

SG Lewis' second studio LP is an in-depth exploration of intertiwining contemporary and classic sounds, particularly on standout cut from the project called "Oh Laura." SG Lewis describes the new song as the "most different to any of my previous work. I wrote it with TEED, who also co-produced it at Sleeper Sounds in London, and later rewrote the verses with Ed Drewett, and it has been stuck in my head since the day we made it. It's a fictitious tale of betrayal, and is heavily inspired by 80's pop music."
Listen: Spotify | Apple Music
deem spencer – "27"

In tandem with announcing his forthcoming sophomore studio album, adultSW!M, due for release on March 3, rapper deem spencer shared the first single from the project. "27" is produced by Spenser Williams and hears the artist reflect on the loss of his grandfather. "The song '27' is me pleading for the universe to protect me from the cliche curses of fame," spencer said. "Throughout the song, I deal with the struggle between fear of death and my desire to live a complete life."
Listen: Spotify | Apple Music
SZA – "Kill Bill (Acoustic)"

SZA has delivered an acoustic rendition of one of fans' most loved tracks from SOS. On the alternative version of "Kill Bill," the R&B singers slows down, crooning out vengeful bars over just soft guitar chords.
Listen: Spotify | Apple Music
slowthai – "Selfish"

On his upcoming album UGLY, Northampton-born artist slowthai is plunging more into rock than ever before, which listeners have been given a first taste of with the new single "Selfish." slowthai says that his "second album is what was relevant to me at that moment in time, the present. And this album is completely me — about how I feel and what I want to be… it's everything I've been leading up to."
Listen: Spotify | Apple Music